During the holiday season, two things are certain. One, you will get into a fight with a family member. Two, "Last Christmas" by Wham! is the greatest Christmas song of all time. Considering that neither of these things are especially uplifting, we've put together a handy guide to the best non-Grinchy activities around town.
Looking for charitable suggestions? You can find fun ways to give back right here. Tally ho, Scrooge McDuck.
Meyerson Symphony Center. The Dallas Symphony Orchestra will play several concerts that feature Santa in a supporting role. Try the Deck the Hall or Christmas Celebration holiday concerts.
Santa in His Galleria Village. If you haven't been good for the last eight months or so, you still have time to shape up before Santa attempts to wedge himself down your chimney. Take the kids (who, of course, have been perfect angels all year long) for a visit with the big man and his elves. Through Dec. 24, Galleria Dallas near Saks Fifth Avenue.
Visits and Portraits with Santa Claus. We know this is just for kids, but isn't it tempting to have a seat on Santa's lap and tell him what you want for Christmas? World peace, peace and quiet, a day without email– we're not sure Claus is up to those particular miracles. But whatever your tyke wants, NorthPark's Santa will listen and do his best to make wishes come true. Parents are free to snap a pic with their own camera, or purchase a professional portrait. Arrive at his cottage around 10:30 a.m. Monday-Saturday (noon on Sundays) and St. Nick will share tales of life in the North Pole. Through Dec. 24, NorthPark Center near Macy's.

Holiday at the Arboretum: It's a Fairy Tale World. Continuing the Dallas Arboretum's fairy tale theme, this year's Christmas display will feature the seven flower castles all decked out for the holidays. Inside the newly renovated DeGolyer Estate, you'll find magical winter scenes and fairy tale character vignettes amid the other holiday décor, tastefully executed by Michael Hamilton. While you're there, indulge in a holiday tea party, visit with Santa, say hello to a live reindeer and costumed characters, and pose for pictures. Through Dec. 30, Dallas Arboretum.
Photos With Santa. Kill a few birds with one stone whilst doing your holiday shopping at Watters Creek. Pay a visit to Santa, and snap a cute photo of the kids to send to faraway friends and family. Through Dec 24, Watters Creek in Allen.
Brunch With Santa. No, Santa doesn't really need that second cookie. But it's the holidays, so cut that man some slack, will ya? Enjoy a tasty brunch with entertainment for kids and the chance to visit with a jolly man in a red suit. Dec. 17, Rosewood Crescent Hotel.
A Christmas Carol. Good for the whole family. Charles Dickens' classic tale of greed and redemption comes back to the stage again this year, courtesy of the Dallas Theater Center. Directed by Joel Ferrell, the cast will regale us with the tale of how old Ebenezer Scrooge's heart of stone softens as he's led through his past, present, and future. Through Dec. 24, Kalita Humphreys Theater.
Horse-Drawn Carriage Rides. Maybe we read the Little House and Anne of Green Gables books too many times as kids, or maybe we're disenchanted with modern America. Or maybe we're just sappy. Regardless, we love a carriage ride, particularly when the scenery is festive and there's a nip in the air. Watters Creek is offering free evening rides on weekends during the holidays–great for distracting the kids while Dad's off buying presents and perfect for snuggling up to a date. Through Dec. 17, Watters Creek in Allen.
Lone Star Christmas. The Gaylord Texan has more than 400,000 square feet of "hall" to deck, so you can bet their many merry elves will be working overtime. The resort's holiday celebration consists of 1.5 million lights, a 54-foot Christmas tree, and a gingerbread house a person could actually live in. And if that wasn't enough, there's "Shrek the Halls," a display of giant, colorful ice sculptures (hand carved by visiting artisans from Harbin, China) featuring everyone's favorite cranky ogre. His friends are all accounted for, too: Fiona, Puss In Boots, Gingy, Po, Alex the Lion, King Julian, and the Penguins. Also a must-do: the Kung Fu Panda Awesome Snow Tubing adventure. Grab an inner tube (and maybe mom or dad– double-tubes are available) and slide down eight lanes of real snow. Through Jan 1, Gaylord Texan Resort.
Madeline's Christmas. Everyone's favorite redhead is back. Disaster strikes the old house in Paris that's covered with vines when all the children (and their beloved Miss Clavel) come down with the flu. But on Christmas Eve, there's a knock at the door. The Rug Merchant appears with his magic carpets, which allow the children to fly home to their families for the holiday. Through Dec. 22, Dallas Children's Theater.

The Nutcracker. Find FrontRow's guide to North Texas Nutcracker productions here.  The Dallas Children's Theater has an especially kid-friendly puppet production, and the Texas Ballet Theater's version (playing at the Winspear in Dallas and the Bass Hall in Fort Worth) sprinkles the audience with snowflakes, a touch that delights children and adults alike.
Santa Claus: The Musical. If you can't wait for Santa to climb down your chimney, your prayers have been answered. Old St. Nick is coming to town early for a special treat. See the story of how one guy in a red suit landed in the North Pole and became a Yuletide tradition. Through Dec. 23, Casa Mañana Theatre.
The Trains at NorthPark. Each holiday season, more than 80,000 visitors watch as Texas's biggest, fanciest toy train whizzes by the mini Dallas skyline on a journey across an equally shrunken America, making stops in New York City, Washington DC, and of course, the North Pole. We can feel the excitement already. Proceeds benefit the Ronald McDonald House of Dallas, and discount tickets are available at area Tom Thumb grocery stores. Through Jan. 1, NorthPark Center, Level Two near Barneys New York.
Holiday at the Center. Santa will be on hand to celebrate the season with the AT&T Performing Arts Center. Along with the tree lighting festival, the evening's entertainment includes craft booths for kids, horse-drawn carriages, food trucks, and a performance by a Jersey Boys cast member. Dec. 2, Outside the Winspear in Sammons Park.
Christmas Celebration. Us trendsetters have been listening to Christmas music since mid-November. The Dallas Symphony Orchestra gets in on the action closer to the actual holidays. Conductors Joshua Habermann and Lawrence Loh lead the orchestra, the Dallas Symphony Chorus, and the Christmas Celebration Children's Choir through the season's greatest hits. Santa Claus will ditch the North Pole a little early to appear in person. Dec. 2-18, Meyerson.

Children's Medical Center Holiday Parade. What a lovely way to usher in the holiday season. Gather up your brood and join a crowd of thousands to see this procession of floats, dancers, marching bands, and other performers make its way down Commerce Street. If you want to fork over some extra cash, you can reserve bleacher seats online. Otherwise, you can slum it with the rest of us on the street (we promise not to elbow you). Sponsorship proceeds benefit Children's Medical Center. Dec. 3, downtown Dallas.
Holiday Magic on Ice. Whether it's the result of genetic programming or years of conditioning, we're still enchanted by figure skating, and we're willing to bet some of you are, too. Santa, operating under the alias "Missile Toes," and celebrity skaters will perform back flips and other stunts on ice. Stick around afterward for a countdown to the lighting of the Galleria's enormous tree. Dec. 3, 10, 17, Dallas Galleria.
Holidays at Park Lane. During the holidays, you can see Santa just about everywhere you can shop for Christmas presents. But only at the Shops at Park Lane will you find live reindeer. Rudolph was too busy getting ready for his all-night ride, but his more ordinary-nosed pals will be there. Plus, enjoy live music and a free shuttle to and from the parking lot. Every Saturday in December through Dec. 25, The Shops at Park Lane.
Deck the Hall. The Dallas Symphony Orchestra will perform classic Christmas favorites, and kids will have the chance to tell St. Nick what they'd like to see under their tree. Some of the proceeds from the concert will help support DSO education programs. Dec. 10, Meyerson.
Candlelight at Old City Park. Wouldn't you love to travel back in time to see how our ancestors celebrated the holidays (minus the chamber pots and diseases, of course)? While our crack team of scientists is working on that, check out the next best thing: Candlelight at Old City Park. This event features carriage rides, storytelling, blacksmithing, hand-weaving, carolers, and more, all cast in the cheery glow of candlelit paths. Dec. 10 and 11, Dallas Heritage Village at Old City Park.
Holiday Tea at Fearing's. We see this as the perfect opportunity to get dressed up and sip a beverage (champagne for adults, tea for kiddos) with our pinky fingers in the air. The masters of culinary delight in Dean Fearing's kitchen have created a menu of holiday treats and tea sandwiches as well as special options for young diners. Dec. 11 and 18, Fearing's.
A Christmas Carol. It would be Grinchy of us to complain about the sheer number of Sugar Plum Fairies and Scrooges running around town this holiday season. Instead, we'll just use Charles Dickens' cautionary holiday tale as a reminder to be generous and grateful for what we have. Ebenezer Scrooge, a greedy old man, has a rude awakening on Christmas Eve when the ghosts of his Christmases past, present, and future haunt him into a change of heart. The Fair Park production uses the same sets, costumes, props and special effects created for the 2008 Kodak Theatre production in Los Angeles, and stars George Wendt, Tatum O'Neal, Reginald VelJohnson, and Charles Martin Smith. Dec. 16-18, Music Hall at Fair Park.

Camp Bowie Christmas. At this festive holiday neighborhood crawl, there's a strict no-Scrooge policy. Leave the humbugs at home and bring an unwrapped toy for Toys for Tots, then partake in all the holiday happenings the boulevard has to offer. See some of Fort Worth's most notable chefs battle to build the best gingerbread house, enjoy holiday treats from local vendors, and take in a reading of 'Twas the Night Before Christmas. Santa will even make an early appearance. Dec. 17, 1 p.m.

A Child's Christmas in Wales. In A Child's Christmas in Wales, Welsh poet Dylan Thomas weaves a fantastical tale of the holidays spent in his hometown of Swansea, invariably buried under a thick coating of snow. The Undermain Theatre brings his prose to life with traditional music and carols that adults and kids alike can enjoy for one night only. Dec. 18, 2 p.m.
Christmas with the von Trapp Singers. There are few film scenes as unforgettable as Julie Andrews flinging herself down the mountain in The Sound of Music, declaring that "the hills are alive." And although the story of the original von Trapps has long been immortalized on both stage and screen, the musical legend of Georg and Maria lives on through their great grandchildren: Justin, Amanda, Melanie, and Sofia. JAMS, as the quartet likes to be called, usually performs folk and classic songs in both the American and European tradition, plus tracks from the Rodgers and Hammerstein musical that made their family famous. And since Christmas music happens to be one of our favorites things, we're especially looking forward to this evening of story and song. Dec. 21, Bass Hall.
Dallas Jingle Bell Run. The extra five pounds we're gained is a sure sign that the holidays have already taken their toll. Thus it is with a sense of duty to our skinnier selves that we lace up our running shoes and jog for a good cause. Choose from a one-mile fun run or a 5K. What's that? A party at the finish line with more food and drink? What the heck, we'll do better in the new year. Proceeds benefit the Trinity Strand Trail. Dec. 21, starts at the Hilton Anatole.

Auntee Explains X-Mas. Auntee pops up every season to reinterpret classic Christmas stories in her own special way. Expect storytelling, song, pantomime, and a whole mess of other stuff. Through Dec. 25, Jubilee Theatre.
The Beulaville Baptist Book Club Presents a Bur-less-Q Nutcracker. Writer/actor Mark-Brian Sonna is back with his spoof on ballet's bread and butter. Deep in debt, the ladies of the Beulaville Baptist Book Club hire the Beaumont Ballet to perform The Nutcracker as a last-ditch fundraising effort. Unfortunately, the dancers eat some bad piña colada casserole, and the women must scramble to find a replacement cast. The Velvet Kittens Burlesque Dancers just happen to be available. Through Dec. 27, Stone Cottage at the Addison Theatre Center.
Ebenezer Scrooge. Apparently, no one ever gets tired of this yearly production (30 birthdays and counting). No humbug-ing here, though, since it'd be pretty disappointing if everyone's favorite crank didn't show up to dance and sing at this lovable hole-in-the-wall. Fans would probably hold a riot with picket signs that say "Let Ebenezer Dance!" Through Dec. 23, Pocket Sandwich Theatre.
Highland Park Village Carriage Rides. Cozy up with friends and family as you clip and clop your way through Highland Park, home to some of the prettiest lights around town, in a horse-drawn carriage. The rides depart from swanky shopping center Highland Park Village, giving you a chance to cross deserving friends and family off your Christmas list. Reservations are required, and many date slots are already sold out. Visit the Threejays Carriage website to check availability. Through Jan. 1, Highland Park Village.
Vintage Carriage Rides. Reserve a horse and buggy to transport you to a not-so-faraway land filled with the Christmas spirit: Highland Park. The beautiful houses are decorated with equally beautiful displays of holiday lights. Bring a thermos full of hot chocolate and make merry. Once again, reservations are required. Through Dec. 31 (no rides on Dec. 24), departs from Highland Park Methodist Church.
Highland Park Carriage Rides. Get as close as you can to a jaunt in Santa's sleigh with a carriage ride through the shimmering lights of Highland Park. Through Dec. 29, Knox-Henderson neighborhood by Flowers By Bill.
Irving Berlin's White Christmas. Irving Berlin's White Christmas is dusted off just about every holiday season for a quick, crowd-pleasing run on Broadway. And there's nothing wrong with that. The musical recounts a heartwarming story of love and cheer (two showbiz friends meet the women of their dreams while performing at a cozy Vermont inn) set to Berlin's classic tunes. It's proven nigh irresistible to everyone whose heart is not two sizes too small. Through Dec. 4, Bass Hall.
Rockin' Christmas Party. A season extra for souls young and old. Six merry performers and a band bop their  through hits of the `60s, `70s, and `80s. Through Dec. 18, WaterTower Theatre Company.

DIFFA Dallas' "Turn Up the Cheer" Holiday Wreath Collection. This party promises to feature some of the most unique holiday wreaths you've ever seen. Created by local and national designers, these masterpieces will be up for silent auction. Hop from Nest to Mitchell Gold + Bob Williams to Design Within Reach (don't worry, they're all across the street from each other) for three themed parties where you'll eat, drink, and bid on the door decor that would best greet your holiday guests. Proceeds from the auction go to North Texas AIDS service organizations. Dec. 1, three locations (Nest, Mitchell Gold + Bob Williams, Design Within Reach).
How The Edge Stole X-Mas. The Grinch didn't really steal Christmas. It has and always will be 102.1 Edge that puts a damper on the cheery Christmas music. If you're not into music that makes you want to fall asleep beside the fireplace, just head-bang at this winter rock concert. Lineup includes: Rise Against, Awolnation, A Day to Remember, Taking Back Sunday, The Naked and the Famous, and The Joy Formidable. Dec 2, Verizon Theatre.
Per la Notte di Natale. UNT puts on a program of original Christmas carols heard in Europe's oldest cathedrals from the Middle Ages to the High Baroque. Get ready for the celebratory sounds of William Byrd, Michael Praetorius, Johann David Heinichen, Pietro Antonio Locatelli, Johann Sebastian Bach, and Antonio Vivaldi played on 17 different early instruments. Dec. 2, University of North Texas, Murchison Performing Arts Center's Winspear Performance Hall.

My Favorite Things. With over 150 singing members, the Turtle Creek Chorale really knows how to fill a concert hall. We doubt you'd find a Grinch among them. The choir's passion for the season translates to this annual concert of holiday favorites, which will include en masse renditions of "We Need A Little Christmas," "The First Noel," "Jingle Bells," "O Holy Night," "Silent Night," and more. Dec. 4, 11, 21. Meyerson.
Handel's Messiah. An ode to his Christian faith, Handel's Messiah includes the well-known "Hallelujah" chorus. You might think you don't know it, but you do. It's that tune that involuntarily pops into your head anytime something miraculous happens, and it's a sure sign of the holiday season. For a truly spectacular experience, head west for the Fort Worth Symphony Orchestra and the Southwestern Seminary Master Chorale's performance, conducted by David Thye. Dec. 5, Bass Hall.
Edna Jean's Annual Trailer Park Christmas. According to Miss Edna Jean Robinson, she's a Sunday school teacher, a "goddess of the trailer park," and an all-American girl. Except, of course, Edna Jean isn't really a girl. She's the drag queen alter ego of comedian Richard Curtain and the host of this long-running fundraiser. Edna Jean and guests will spread delightfully tacky Christmas cheer, while you bask in the knowledge that all this ridiculousness is for a good cause. This year's beneficiary is the holiday gift project for students at Oak Lawn's Sam Houston Elementary School. Dec. 6, JR's Bar and Grill.
Fiesta Navidad presented by the Dallas Symphony Orchestra. How about that? Mariachis aren't just for birthdays. Mariachi Los Camperos de Nati Cano (a Grammy Award-winning group, by the way) will perform traditional tunes to help refuel anyone running low on Christmas cheer. Dec. 6, Meyerson.
Charlie Daniels Band Holiday Show. Have a countrified Christmas with Charlie Daniels (you probably know him as the "The Devil Went Down To Georgia" guy). The veteran country-western singer's white beard makes him look like a more political version of Santa. Dec. 7, Winspear.

Winter Series. The Dallas Black Dance Theatre opens their 35th season with Camouflage, an all-male ballet choreographed by Ben Stevenson, artistic director of the Texas Ballet Theatre. For a little yin to that yang, the program continues with the DBDT premiere of Vespers, an intense all-female piece choreographed by Ulysses Dove, and concludes with Elisa Monte's Pigs and Fishes. Dec 8-11, Wyly Theatre.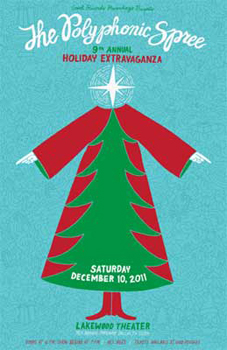 Holiday Extravaganza featuring the Polyphonic Spree. Tim DeLaughter's merry band of elves spread holiday cheer for a ninth year. The Spree will button up the evening with two sets, one Christmas music, one rock 'n roll. Supporting acts include We're Not Dudes and Syncopated Ladies, and you can help make the season bright by bringing a new, unwrapped toy to donate to Toys for Tots. Dec. 10, Lakewood Theater.
Linda Eder Holiday Show. Linda Eder made her Broadway debut in Jekyll and Hyde, but she won't be pulling out any alter-egos for her one-woman show. It'll just be her and her golden pipes on the concert stage, singing the songs of the season that you know and maybe still love after they began playing on the radio ad nauseum over a month ago. Dec. 11, Winspear Opera House.
A Spune Christmas in Denton. We are aware that on Sundays, you watch football. But on this particular Sunday, you can do four things instead of just one. Here they are: 1) Spread holiday cheer. 2) Listen to Seryn, Doug Burr, Spooky Folk, and more play live. 3) Watch Cowboys beat the Giants. 4) Eat free tamales and drink super cheap (cans of Coors are a buck). As an added bonus, the show is all ages, so feel free to bring the coolest kiddo you know. Dec. 11, Dan's Silverleaf.
Trans-Siberian Orchestra. Before Paris Hilton went and made a mockery of the genre with Repo! The Genetic Opera, there was Christmas Eve and Other Stories, the Trans-Siberian Orchestra's debut rock opera that remains by far the band's most popular album. That's why the TSO always seems to show up around the holidays, ready and willing to perform "Christmas Eve (Sarajevo 12/24)." If you don't instantly recognize the first few chords, we're going to assume you've been hibernating for the past decade. Dec. 11, American Airlines Center.
KwanzaaFest. We know that Christmas isn't the only seasonal celebration happening this time of year. The more the merrier, we say. John Wiley Price, beleaguered but still in possession of the holiday spirit, spearheads this annual event featuring musical performances (Tyrese is this year's headliner), a holiday market, family activities, a 5K walk/run, and more. It's free to attend, but there are only a few ways to get your hands on tickets. Go here for all your ticket options. Dec. 11 and 12, Fair Park Automobile Building.
A Spune Christmas in Dallas. Spune Productions sprinkles the Christmas magic from Denton to Dallas with two holiday shows showcasing the label's various talents. At Dada, you'll find Telegraph Canyon, Air Review, The Fox and the Bird, Datahowler, and Bethan. Also, there will be free tacos and beer. (See? Magic.) Dec. 16, Club Dada.
Second City Dysfunctional Holiday Revue. Even if you haven't heard of Second City, you've heard of the comedians who trained there: Bill Murray, Mike Myers, Tina Fey, and Stephen Colbert, to name just a few. Cheer yourself up with a hilarious evening that rips on everything that makes the season merry and bright (think clueless significant others and couples therapy with Joseph and Mary). Dec. 16 and 17, Wyly Theatre.
Celtic Thunder Christmas. A certain buddy of ours taught us that the best way to spread Christmas cheer is to sing loud for all to hear. And these Irish lads, who can't seem to stay away, are seriously singing. Hear Irish songs like "Whiskey in a Jar," and all your Christmas favorites just days before the big holiday. Dec. 17, Verizon Theatre.
Christmas in the Park. The holidays should be the happiest time of year, but for some, it's difficult to think about presents when it's hard to afford essentials. The S.M. Wright Foundation is dedicated year-round to helping needy families in the Fair Park/South Dallas community. But for one day in December, the foundation organizes a big event to spread holiday cheer. Those in need are invited to come for basics, like food and clothing, as well as toys (including big stuff, like bikes) to help make a child's Christmas wish come true. Since someone once told us it was better to give than to receive, you can help make the day a success by donating money or volunteering your time. Dec. 17, Fair Park.
Mannheim Steamroller. For years we've operated under the mistaken impression that the folks behind Mannheim Steamroller were like Christmas elves, in that they only existed during the holiday season as purveyors of Yuletide cheer. Not true. Mannheim Steamroller offers a full line of bath products, hot chocolates, and grilling spices, plus one seriously spooky Halloween album. We stand corrected. But happily, this particular concert is devoted to the group's distinctive arrangements of old and classic carols, which we'll happily enjoy even a couple days after Christmas. We've been holding out for their version of "Rudolph the Red-Nosed Reindeer." Dec. 26 and 27, Meyerson.
Get the D Brief Newsletter
Dallas' most important news stories of the week, delivered to your inbox each Sunday.