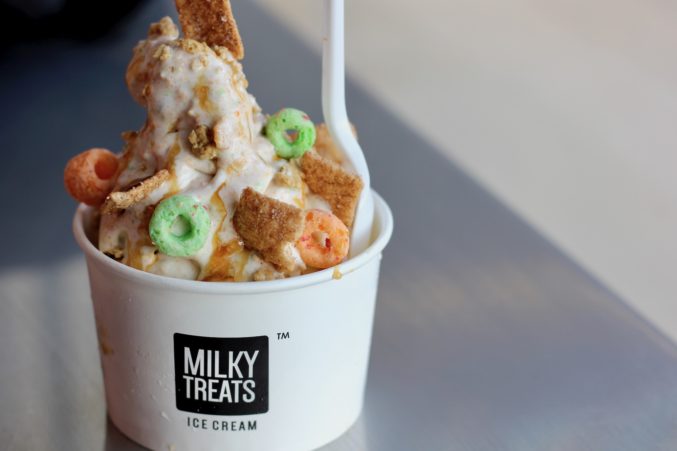 Milky Treats is Serving Cereal-Infused Swirls in Plano
Bring your iPhone and your appetite.
By Daniel Walker
Published in Food & Drink
August 13, 2018
10:50 am
I'll spare you the tired explanations about how hot it is in Texas and how ice cream is a necessary way to "cool down" or "beat the heat." You've read it before. You know it's really hot. And you also know how awesome ice cream is, no matter the outdoor temperature. All you need to know is that there is a new ice cream joint in town and it's good, and deserves your attention.
Milky Treats recently opened in a fairly inconspicuous corner of a Plano strip mall (at 7000 Independence Pkwy.) and the new spot brings a delightful twist on frozen desserts. The ice cream shop comes from three friends who've been together since middle school, who left their accounting jobs in corporate America to invest themselves fully into their passion for food. Prior to opening, owners Nico Nguyen, Karmen Lau, and Trinity Nguyen traveled the country to indulge in many of the latest unique and trendy dessert concepts. After eating at dozens of new and exciting shops, they eventually settled on a trend that they felt would be perfect for the Dallas suburbs.
Their new shop, Milky Treats specializes in the "milky swirl" and the "milky donut." The "swirl" in question is essentially a soft-serve vanilla ice cream blended with any of the available cereals into a smooth, cereal-flavored treat. The "milky donut" utilizes a warm, pressed doughnut stuffed with one of their 15 house-made ice creams.
Last weekend, I packed my two kids into the car and made the drive out to Plano to see what Milky Treats had to offer. We sampled a bit of everything. I chose from one of their signature creations, the "Cinnamon Jack" with Apple Jack and Cinnamon Toast Crunch ice cream blended with granola and topped with caramel. With the use of a powerful, high-speed blender the ice cream comes out smooth and creamy, the cereal and oats seamlessly incorporated into the vanilla ice cream for one consistent flavor. It was excellent and I finished it quickly. I decided that I needed another. Next, I created my own treat with Frosted Flakes-blended ice cream and a crushed toffee topping. It, too, did not last long.
We tried the milky buns, too. The doughnut itself is fine, but their lineup of ice creams held some intriguing options. They'll let you sample through the flavors to help you make a decision, which we took advantage of. We tried a purple ube, a bright orange Phuket Thai tea, a fresh strawberry, and a slightly ominous-looking black velvet. They're doing a nice job with their ice creams here. Smooth and creamy, perfect when slightly softened inside a hot doughnut.
The shop itself caters to anyone yearning for a new hot pic for their Instagram, with a dedicated selfie wall and suggested hashtags for your convenience. But whether you're doin' it for the 'Gram or just like eating good food, Milky Treats is worth a visit. Check them out 7 days a week from 2 p.m. to 10 p.m.
Bring your iPhone and your appetite.