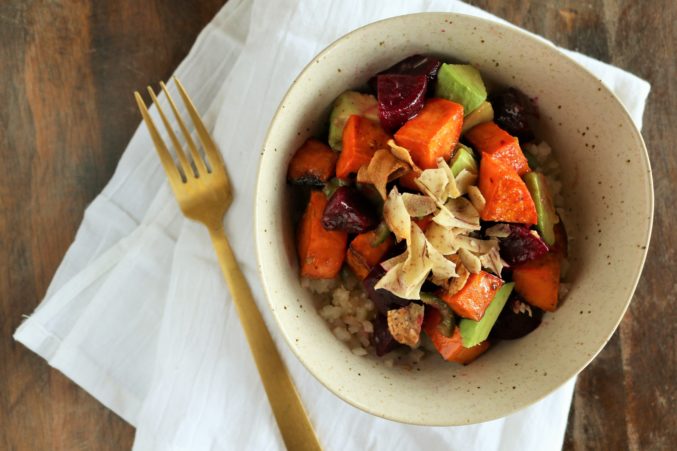 Dish Pirate: Beets and Sweet Potato Bowl from Pōk the Raw Bar
Enjoy the best that Dallas restaurants have to offer without ever leaving your home.
By Melissa Tate
Published in Food & Drink
January 24, 2018
11:30 am
Want to enjoy the best that Dallas restaurants have to offer without ever leaving your home? Our new recurring feature, Dish Pirate, will help you bring the city's robust dining scene to your kitchen.
Whether you're looking to eat healthier or put your kitchen to use a little more in 2018, the Beets and Sweet Potato Bowl from Pōk The Raw Bar is exactly what you need. Pōk popped up in the West Village in Uptown last year and has been going strong since. The restaurant recently began offering this vegan-friendly bowl and it is super easy to make at home.
Half of the short list of ingredients can be purchased already prepared while the other half is fresh produce that just needs to be chopped. Cauliflower rice is all the rage now and super easy to find in the frozen section of your local store. I used garlic and herb just to add a little extra flavor. Any ginger or Asian dressing can be substituted for miso if you can't find that exact item. Taro chips can be found on their own or you can purchase the mixed veggie chip bag and indulge on the other veggies while you prepare your poké bowl. My favorite shortcut item from this ingredient list is the blanched beets. Love Beets is a brand of ready-to-eat beets that are amazingly delicious and make cooking so much easier. I used honey and ginger for an extra kick.
Recipe (Serves 1)
Ingredients:
1 small package frozen cauliflower rice or refrigerated cauliflower pearls
1 small sweet potato, roasted with 1 Tbsp olive oil, salt and pepper
2-3 small blanched beets
1/2 avocado
1 serrano peppers
1/4 cup salted taro chips
1/4 cup Miso dressing
Directions:
1. Cook cauliflower rice as directed on package, set aside.
2. Heat oven to 400 degrees F. Peel sweet potato and cut into small cubes. Drizzle with olive oil, sprinkle with salt and pepper. Place on sheet pan and roast in oven about 15-20 minutes turning once half way through.
3. Prepare other vegetables by cutting beets into cubes, slicing avocado and deseeding and chopping peppers.
4. Combine roasted sweet potatoes, blanched beets, avocado, and serrano peppers in mixing bowl.
5. Mix toppings while gradually adding in miso dressing.
6. Place cauliflower rice in serving bowl and top with marinated mixture.
7. Top with salted taro chips.
8. Enjoy!
This recipe is incredibly filling on its own but can be paired with a nice tuna steak if you want a little more protein.