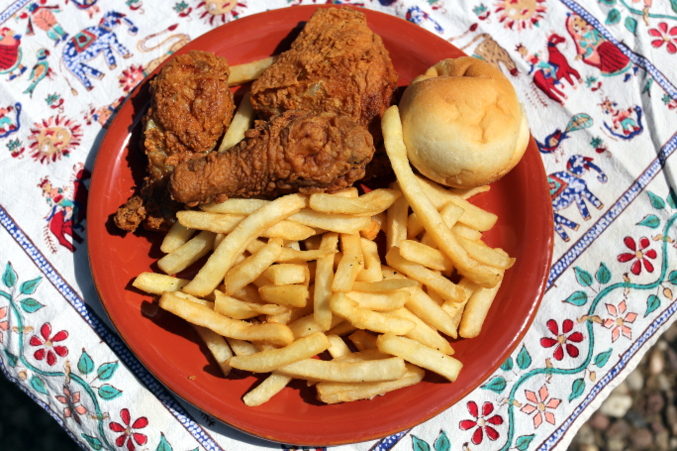 French Fry-Day: Bubba's Cooks Country
Let's discuss the difference between fresh and frozen.
There is no doubt in my mind that hand-cut fries taste better than frozen fries. Over the last few months of writing about Dallas French fries, I have concentrated on hand-cut fries. I've also focused on securing samples from mid-level restaurants and casual spots because I don't want to have to go in a place and sit down to eat them. My method of testing is picking up a couple of orders and eating one in the parking lot and taking the other home to photograph. Scientific? Hardly, but I am consistent.
The reality is most fries sold in Dallas are frozen, even those served in high-end restaurants. Hand-cut fries are labor intensive and finicky. Frozen fries don't require prep and use less oil. Chefs can turn a frozen fry into a satisfying experience by tossing them in butter and fresh herbs or seasonings.
Last week I introduced you to Dr. Potato of the Idaho Potato Commission. He writes about potatoes every day. When I asked him about frozen fries and the different grades available and he gave me some insight.
I know from your posts that you love the crispy bits and variations in caramelization that usually happens with fresh cut fries. Part of this is due to what happens to fresh potatoes, some may have sugar ends (an accumulation of sugar at one end of the potato which fries up darker than the rest) or a sugar streak along the length of the center of the potato (the nutrients and sugar are transferred from the plant to the tubers underground down this center) and these are typically eliminated when processing potatoes for frozen fries. They are pulled off the lines after cooking and may become hash browns or tots. We use the whole potato, peels that are not fried may become cattle or hog feed, water for processing can be used to fertilize fields for crops.

The standard for frozen fries has evolved to be a very crisp, light colored fry, such as served at McDonald's. These are blanched in water for a short period of time, allowing much of the sugar to dissipate, then air dried, then blanched in oil, dried, and frozen and bagged. So, the potatoes are really triple cooked by the time a guest picks up a bag. Using these multiple steps, the final fry may be more dependent on a clean flavor and crispy-ness on the oil than the variety or source of the potatoes.

High end chefs have found they can easily customize the flavors of fries by using a pre-specified cut size and lengths. Catering, hotels, and high volume, non-commercial operations have found frozen fries to be the perfect solution to labor savings, training, and space allocation. And much as it doesn't sound logical, frozen fries are always more economical than doing fresh. What most operators don't calculate is the waste if the potatoes are peeled before frying, and the biggest cost of French fries which is the oil uptake. A cheap commercial fryer with a slow recovery will invariably use more oil than the newer models.
With this knowledge in my brain, I pulled up to the drive through at Bubba's Cooks Country in Snider Plaza. Opened in 1981 by Mary Beth and Paul Vinyard family, this tiny business focused on fried chicken is, like Burger House down the street, a neighborhood favorite. Bubba's was the inspiration for the Vinyard family's brand of Babe's Chicken Dinner House restaurant. They opened the first one in 1993 and now run nine locations.
I asked the nice lady who spoke through the box atop the menu if they made their own fries or if they were frozen. She said, "we just fry them here." Once the bag with my order was in my car, I pulled into a parking spot and opened a Styrofoam box to find long and lightly colored fries piled on top of three pieces of chicken. They were firm, not soggy, and lightly sprinkled with a blend of seasoning. I don't like the dense texture of the potato that has been frozen, but these fries were helped by a gentle hint of fried chicken flavor from the oil. The small nubs didn't crunch, they were oilier than the longer ones.
Overall, these fries are good, but not great. I might have liked them before I started this series, but I am a bona fide French fry snob, a distinction that makes me a hit at cocktail parties and an intolerable dining partner.