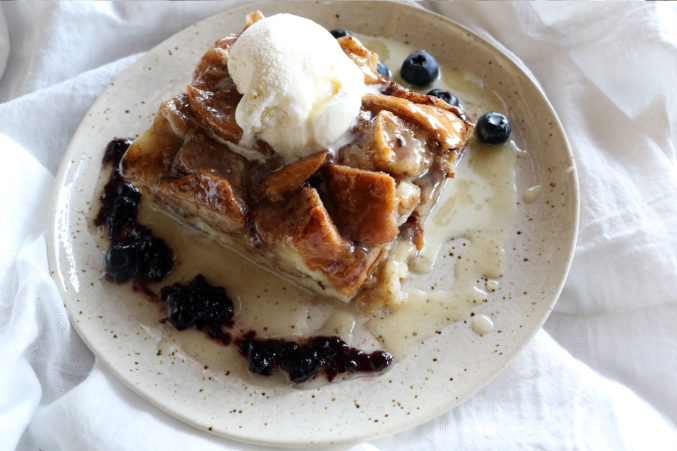 Dish Pirate Mother's Day Edition: Nancy's Bread Pudding
Share this sweet treat with mom.
By Melissa Mackaly
Published in Food & Drink
May 10, 2017
1:50 pm
If you have a sweet tooth and have been to Boulevardier in Bishop Arts, there's a good chance you've had Nancy's Bread Pudding. The dish has been a staple on the restaurant's menu for years. Nancy Tate is the late mother of chef-partner, Nathan Tate. And the woman that would have been my mother-in-law. About 6 weeks ago, I married Nathan's older brother and Nancy's first born child, Evan Tate. I have only seen pictures and heard stories about Nancy, as she passed a short while before I met Evan. But I know, without a shadow of a doubt, I would have gotten along with her well.
Before I sat down to write this I called my father-in-law, Garvin Tate, to ask some questions about Nancy. We talked about how they had met at The University of Massachusetts in the late '60s. Nancy was from Boston and Garvin was from Highland Park. They of course fell in love and he whisked her back to Texas where they lived on his family's farm in Rockwall for their entire marriage. They went on to have three very tall, strapping young men: Evan, Nathan, and Brandon.
When I asked Garvin about Nancy's cooking—when she started, how she had learned—he said: "Well, you have to do a lot of cooking for the Tate boys. They were always big eaters." Garvin worked outside of the home so Nancy was in charge of the boys, the meals, and always looking for extra ways to make some income and stay active herself. She started a catering company which catered to some Dallas Cowboys events, some movie sets here in Dallas, and so on. She took over as owner of a local restaurant, The Goliad House, for a little over a year before passing it on to someone else. She taught folk art painting, mentored at an elementary school, served as president of the Soroptomist Club and was even named "Rockwall County Volunteer Woman of the Year." And during all of this time she wrote a weekly recipe column for the local paper called "Cooking with Ease". Can you imagine doing all of those things and then actually referring to anything as "ease"?
I asked Garvin if Nathan had watched his mother cook as a child, if that is where he got his love for food. He said he wasn't quite sure that was the case, as Nathan and Nancy had never really cooked a lot together but that Nathan had always been fascinated with food. That as a young child someone asked Nathan what he wanted to do when he grew up and he answered: "I don't know for sure but I know I want to have my own refrigerator." Well, he has definitely accomplished that. He has several of his own. One at home, one at Boulevardier and another at Rapscallion.
Like I said earlier, Nancy's Bread Pudding has been a staple at Boulevardier and was recently added to Rapscallion's brunch and dinner menus. As a Tate, I encourage you to try it. And I encourage you to make Nancy's recipe in your own kitchen at home and share it with a special person in your life.
Dish Pirate: Nancy's Bread Pudding
Inspired by: Chef Nathan Tate
Recipe (Yields approx 16-20 servings)
Ingredients:
Bread Pudding
1 loaf of brioche style bread, cubed (I used French bread)
3-4 cups milk
6 eggs
3 cups sugar
2 Tbsp vanilla
2 Tbsp cinnamon
2 sticks butter, sliced
Bourbon Sauce
1 cup heavy cream
2 cups sugar
1 stick butter
1/4 cup bourbon
Zest of half a lemon
Preparation:
1. In a casserole dish combine milk and cubed bread. This mixture should be very wet and the amount of milk will vary slightly depending on what kind of bread you use.
2. Whisk eggs, sugar and vanilla together and pour over bread. Soaking cubes.
3. Top everything with sliced butter and cinnamon.
4. Bake at 325 degrees for 30 minutes.
5. After 30 minutes, remove bread pudding from oven and stir to incorporate all ingredients.
6. Return to oven and bake another 30 minutes.
7. With about 10 minutes left of baking, start to prepare your bourbon sauce.
8. Combine heavy cream, sugar and butter in saucepan. Bring to a boil, remove from heat, then add the bourbon and lemon zest.
9. To serve, top the warm bread pudding with the bourbon sauce.
Both Rapscallion and Boulevardier serve Nancy's Bread Pudding with house-made vanilla bean ice cream and huckleberry jam.