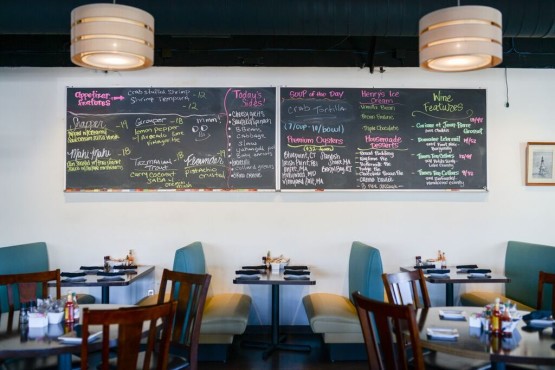 Rex's Seafood and Chophouse in Lakewood Locked out of Premises
Rex's Seafood and Chophouse in Lakewood has been locked out for failure to pay rent.
Rex Bellomy opened a humble seafood market on West Lovers Lane in January 2006. Customers loved Rex and his shop. Gradually he added a small lunch menu. Then came dinner service. Rex's became a popular neighborhood hangout.
Last October Bellomy debuted Rex's Seafood and Chophouse in Lakewood in the space formerly known as Genaro's Mexican Cuisine. The concept seemed to be a good fit for the neighborhood despite a rough opening. Matt Shelley checked it out for SideDish.
Bellomy's son Beau was also having a rough time. He was trying to open an outpost at the Dallas Farmers Market. Rex's at the Market, like the other restaurants around it in The Market building, suffered from long construction delays. Most of the "artisinal vendors" were behind their projected business plan before they finally opened their doors. All of them seem to be busy when the DFM is bustling. Weeknights at the DFM business is scarce everywhere.
This morning a ran across a post on Lakewood Dallas' Facebook page. Member Jason Pappas published a picture of a notice in the door of Rex's Seafood and Chophouse in Lakewood. Failure to pay rent. Maybe this will get worked out.  I hope so. I hate to see businesses fail. But I have an unsettling feeling in my bones about what is going on in the Dallas restaurant scene. There are too many restaurants opening, rents are high, and there are not enough customers or talent to go around. Mediocre will not make it.
I've left a message for Rex who, according to an employee at his West Lovers Lane location, is "working on an offer."