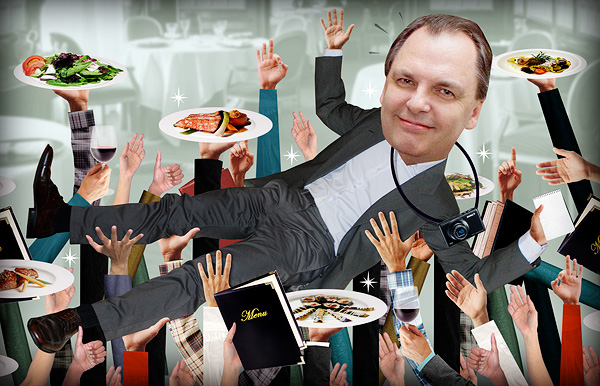 My Five Cents: CraveDFW Co-Founder Steven Doyle in Jail. Let's Clean Up the Food Writing Community
His situation brings up a larger conversation about the local food-writing community.
Steven Doyle, co-founder of the local food blog CraveDFW, is behind bars again. Doyle is facing a handful of legal issues: two DWIs, felony possession of a controlled substance, misdemeanor hit and run (of a motor vehicle), and some family court issues in Kansas. Friday he pled guilty to possession of cocaine and was sentenced to 90 days in jail. As of this moment, he has not made bond.
Doyle is no stranger to controversy. Over the years, I've watched his cases mount on Dallascounty.org. He has certainly made more than his fair share of mistakes and bad decisions. Hopefully, 90 days in jail will be the jolt he needs to change the focus of his life. I realize many other people in this city have similar issues, but I report Doyle's situation because he is what is considered now to be a member of the food media.
I spoke with his business partner Robert Bostick this morning. "CraveDFW will go on," Bostick says. "It may move slowly, but I will keep it going until Steven does his time and can come back."
Many people who work in local restaurants, bars, and public relations businesses are familiar with Doyle's dark side. Most of the people I speak with on a regular basis say Doyle has a heart of gold and his intentions are honorable. They hear about his brushes with the law, and they feel sorry for him. Yet Doyle frequently posts pictures of himself drinking at local bars and restaurants with late-night time stamps. "He always uses Uber when he is with me," one "friend" told me this morning. What kind of a friend is that?
I'm not here to dump on Steven Doyle, but his situation brings up a larger conversation about the local food-writing community and the industries surrounding it. The wheels are off. The FTC has established plenty of new rules and regulations for social media reporting, but they are trampled by "writers" without consequence. Bloggers, Yelpers, Facebook page administrators, and public relations companies are running wild without paying attention to their responsibility to readers, clients, and customers. A me-first-no-pay mentality prevails in DFW unless the pay is for buying fake Twitter followers. I'll go one step further and say if you own a public relations firm or a restaurant and you invite someone with a drug or alcohol problem or a history of taking free meals without disclosing that fact to a food-related function, then you are a large part of the problem.