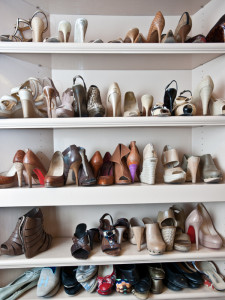 By Dawn Mellon.
Fall is my favorite season. Despite the fact that I've lived in the south for more than a decade, I still hold on to the thought that I'm going to walk outside and see the leaves on my trees turning from green to red, yellow and orange; to sit at football games sipping hot chocolate; and, best of all, to don all my favorite jackets, sweaters and boots that have been so patiently waiting to be released from summer storage. In reality, I have five palm trees in my yard and I've yet to see their leaves turn orange (which is probably a good thing); at the beginning of the football season, I try to cool myself with a fan, and by the end, I try to keep myself dry with an umbrella; and, worst of all, my fall attire spends so much time in storage, by the time they're 'released,' they already have a bad attitude.
While I have no control over Mother Nature, I still enjoy preparing for the new season, even if it doesn't arrive exactly the way I've become accustom. For me, preparing for the season is like a gourmet cook preparing for Thanksgiving dinner. It all begins with careful planning and some tried-and-true recipes, except, of course, I begin in the closet instead of the kitchen (another good thing since I'm certain I was in the shoe department when our dear Lord was handing out culinary skills).
Conquering your closet may seem like an arduous task. But, the results will pay back enormously. I promise. In my first column I wrote about the importance of the way you dress, noting that how you dress on the outside is a reflection of who you are on the inside. Continuing with that premise, your wardrobe should not only be a representation of you, it also should be a representation of your lifestyle. Therefore, the first step is honestly looking at your life, how you spend your time, and bringing your closet in harmony with your life. If you spend your days chasing after young children, you probably don't need all the clothes you wore before you left your job as a pharmaceutical rep to become CEO of your home. Similarly, if you spend your week in corporate America, you need career attire, but, you also need casual clothes for the weekend.
After you have a realistic understanding of the type of clothes you need for your lifestyle, consider my tried-and-true recipes for turning your closet into a wardrobe sanctuary:
1.  Purge, purge, purge – Donate, consign or burn clothes, shoes, jewelry, handbags and accessories that fall into these categories:
– don't align with your lifestyle
– don't fit
– don't flatter your body type
– haven't worn it in over a year and don't foresee doing so in the near future
– isn't in style
– is a classic, but needs to be replaced
2.  Divide
– divide your clothes by type (slacks, blouses, etc), by color, and, in some cases, by style (long sleeves/short sleeves, long dresses/short dresses, etc.)
– divide your footwear by type (shoes, boots, booties, etc.) and by color
– separate your 'sentimental' clothes (sorority sweatshirts, the dress you wore to your baby shower) from those you actually wear
– divide your jewelry by color of metal and then color of stones
-divide your handbags by type (evening bag vs. every day bag) and by color
3.  Organize your clothes
– replace all your mismatched hangers with one style for blouses, one style for skirts and one style for slacks (I can't emphasize enough the importance of this step! Could you imagine what a store would look like if all their merchandise was hung on mismatched hangers?)
– some people prefer to divide their clothes between casual attire, work attire, etc. and others like to combine them, so do whatever works best for you
– hang your clothes according to the way you've divided them – by type, by color, by style
– for sweaters, I prefer to fold them and then hang them on a slack hanger, otherwise I forget about them if they're folded in drawer
– store your 'sentimental clothes'
4.  Organize your footwear
– put your shoes in clear boxes (which you can find at the Container Store) and tape a photograph of them on the outside of the box (if you don't want to take photographs, at least, type out a description on your label maker (chocolate brown suede pumps, for example)
– your shoes will fit in the standard women's shoe boxes
– your booties will fit in men's shoe boxes
– your boots will fit in long boot boxes
– organize them by color (lightest to darkest) and type (shoes to tall boots)
– keep 'special footwear' (evening sandals, hiking boots, etc.) separate from your every day footwear
5. Organize your jewelry
– put your jewelry in clear plastic 13x9x2-inch boxes with adjustable partitions (which you can also find at the Container Store) and label them on the outside (for example, 'silver,' 'black/silver, 'two-tone')
– put bracelets on black felt bracelet holders according to color
– for over-sized pieces, use the clear plastic boxes without adjustable partitions
– place all the jewelry containers and bracelet holders on shelves in your closet, if possible
– you can mix your fashion jewelry with your fine jewelry or you can separate them, your choice
6. Organize your belts
– clear out a drawer in or near your closet, and put drawer dividers in them (they hook together to make a sort of 'honeycomb shape)
– roll your belts and put them in the drawer dividers with the buckle facing up
7. Organize your hosiery/socks
– similar to organizing your belts, put dividers in a drawer in or near your closet, fold your hosiery and your socks and arrange them by color
8.  Organize your handbags
– for evening bags and small clutches, separate them into two small clear boxes – one for gold-toned bags and one for silver-toned bags
– for every day bags, put them in color order on a shelf if you have room in your closet
– if not, put them in clear containers on your floor, so they're easily accessible
While your head may be spinning, keep in mind, you don't have to organize everything at once.  Your wardrobe wasn't built in a day, and your closet isn't going to be organized in a day.  The leaves on my palm trees will never look like the oak trees up north; I will never drink hot chocolate at a September football game in Texas; my boots won't see the light of day before the end of October; and I will never make an edible Thanksgiving dinner, BUT I will know where to find every pair of jeans, every belt, every sock and every handbag in my closet. I CAN conquer my closet, and for that, I will be happy!
Dawn Mellon is a Dallas-based fashion stylist and mother of two teenagers, Andrew and Erica, known for effortlessly dressing some of our fair city's loveliest ladies for all manner of tony appearances. Over the next few months, the fashion maestro will be joining us here on D Moms daily to share her expertise on how to build a killer wardrobe and don it with confidence.

Get our weekly recap
Brings new meaning to the phrase Sunday Funday. No spam, ever.