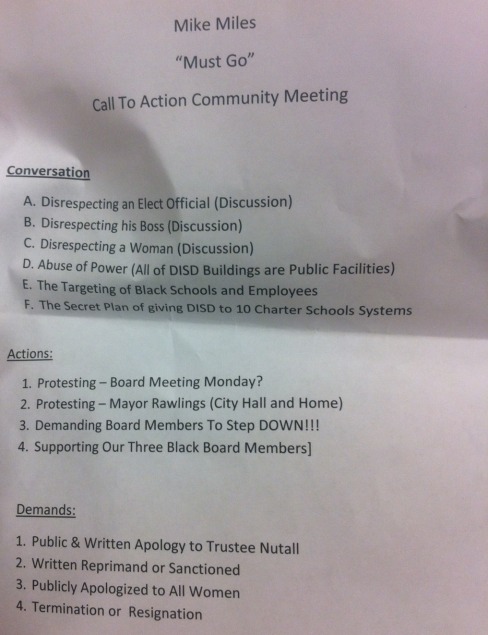 Some updates on the Nutall-Miles squabble:
• At a southern Dallas community meeting last night in which both Mike Miles and Bernadette Nutall were in attendance, the audience grew tired of Miles explaining how the level of instruction at Dade was hurting kids and demanded he address the more important issue: How he hurt Bernadette Nutall's feelings. From the DMN:
After Miles spent about 20 minutes explaining the situation at Dade, some in the audience could wait no longer to speak. The group of about 70 at CitySquare Opportunity Center wanted to know why Miles had police remove Nutall from the campus Monday.
"People want to get to the point," one man stood and said. "Everybody wants you to get to the point."
"We want an apology," another woman yelled.
So, let's just be clear: This is not about helping kids — a value which I have argued should supersede all others when evaluating actions taken in a school district. This is about apologizing to Bernadette Nutall. Now that we're crystal on that …
• What did Miles see at Dade when he toured it last week, on Wednesday? (I've previously said it was on Friday. He toured on Wednesday, decided to remove the principal, two administrators, and 10 teachers later that day, and the announcement was made on Friday.) He noted broadly to those in attendance what he saw, but let me give you some more specifics: He saw an entire classroom session where students had no books, no paper, no pens or pencils. He saw a teacher try to pretend in front of the class (and Miles) that the students had been working on their lesson plan the day before, and the students openly mocked her, letting it be known that was a lie. He saw absolute disregard for the authority of teachers. Example: Students getting up in the middle of class instruction without permission, wandering off to snack machines to get a soda or a bag of chips, then ambling back in without fear of reprisal. He saw a young first-year teacher struggling to find the right way to engage her students in the material, and when Miles took her outside and gave her instructional coaching, she thanked him profusely — making it clear she had no such coaching at the school. He saw a school that needed immediate, dramatic action.
•  Bernadette Nutall continues to say she was carried out of the building. The confrontation was captured on the school's surveillance tape. I've talked to folks who've seen it. I await its release.
• Nutall has repeatedly suggested she was kept in the dark about this. Last night, Nutall admitted she first found out about the moves at Dade some 24 hours before the public, on Thursday afternoon, during the very long school board meeting. She received texts from people in the Dade community informing her that the principal and others were being removed. (A DISD official had tried to contact Nutall to let her know previously, but Nutall never got back to that person.) Nutall pulled Miles aside and asked him if he was changing principals. He told her yes, and two administrators, and 10 teachers. He also told her the new principal was Hispanic, with 20 years' experience. From what I'm told, Nutall did not like it that the principal "did not look the kids." (The school is about three-fourths black, one-fourth Hispanic.) From that moment on, every move Nutall has made has been pulled from her tired, worn playbook: involve local demagogues like Juanita Wallace, make this about Miles' arrogance, make this about racial politics, make this about her instead of the poor learning environment of the kids.
• After the meeting last night, an agenda (pictured above) for a second meeting was circulated. The meeting was to take place last night as well. As you can see, everyone was very concerned about what they heard regarding a poor learning environment for kids.
• Also last night: The young-old split is becoming more apparent. The way we all see this battle is generational. Old folks, old Democrats, old minorities, they see this as some sort of Civil Rights struggle. Young folks — in other words, people who are of the age to have kids in the school system — see kids on a pipeline to prison and don't want to hear excuses anymore about why they are supposed to support the status quo. That doesn't mean they are Miles fans. It means they are tired of listening to black leaders who have shown no results in two decades say, "Do things our way." There were young black people at that meeting who wanted a stern but rational conversation. The same old tired faces did not.
• Miles did say he understood that the lack of trust between the school district and the black community was based on Dallas' history, and that such distrust was understandable and legitimate. For a primer, see Jim Schutze's excellent post from Wednesday on this.
• I talked to folks who were in Dade Middle School two days ago. Their takeaway: These kids are tough. They're poor, they've seen a lot. But they're not unreachable. One talked to a group of kids that was asked, "What do you want to see out of the changes happening in your school?" They said they wanted the bullying to stop, they wanted the gangs to be marginalized, they wanted to be challenged by their teachers. Once again, the focus is clear. Or should be. Let's help these kids. If that means doing the impossible — getting Bernadette Nutall to understand proper governance — then let's figure out how to do the impossible.
Get the D Brief Newsletter
Dallas' most important news stories of the week, delivered to your inbox each Sunday.