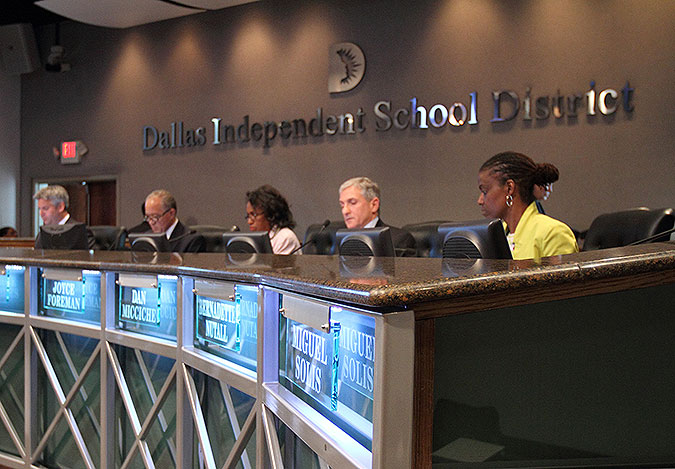 Before this evening's planned address to the Dade community, here are some quick-hit thoughts and notes on the ongoing Miles-Nutall flap:
• There were a couple of good blog posts that came out today about this. One was Rudy Bush saying that Bernadette Nutall crossed a line. The other was a Jim Schutze recap which had this wonderful quote from Nutall:
"It's a crisis there. I'm not the focal point there. I'm not the story. It's a crisis, just like the mayor went to the Ebola crisis and [County Judge] Clay Jenkins went to it, President Bush and the Katrina crisis."
• Mike Miles and Bernadette Nutall met late yesterday afternoon to discuss the Dade incident. Trustees Miguel Solis and Lew Blackburn were there to act as moderators. It was relatively cordial, given the fact they'd just come from a Katrina-level crisis. Everyone agreed they could have handled the situation better. Miles said his concern is about clear lines of authority and proper governance. Nutall said she was concerned she wasn't involved in the decision making on such an enormous, important decision. Everyone agreed to try harder.
• At some point today, something odd happened: According to sources in Dallas ISD's Police and Security department, one of the two lawyers for the school board contacted the department and asked for a number of very specific answers to questions regarding the Dade incident — the names of the officers who escorted Nutall out of the building, the policy that gave officers the right to do so, etc.  The problem: By school board policy, the lawyer can only act on behalf of the board as a whole. By policy, that means such a request must come from board president Solis. I asked Solis if he made such a request. He said no, he had not. He said he was soon going to make a different request to the attorney on behalf of trustee Foreman. So, if the school board lawyer did indeed act on behalf of another trustee in requesting information from Dallas ISD (in what sure looks to me like the start of some sort of "investigation,"), then the lawyer broke school board policy. IJS.
• Joyce Foreman, Lew Blackburn, and Nutall have asked Solis to hold a special meeting to discuss whether Miles had the authority to have Nutall escorted out of the school meeting after being told she could not attend. (Spoiler alert: the answer is yes.) Solis told me, "I have no plans to hold such a meeting. If we are going to have a meeting, it would be to clarify our roles, responsibilities and procedures, and what the limits of our roles are as trustees."
• Here's a fun flashback for you: Remember in 2011 when Nutall and Blackburn tried to have security remove a citizen from a board meeting? Carla Ranger does! Who was the removed person? Why, Joyce Foreman, of course. From the blog post:
 Two of them – Trustees Bernadette Nutall and Lew Blackburn – tried to order security officers to remove a citizen who was speaking with me at the Board horseshoe – after the meeting was over. Was that citizen bullying anyone? No, she was simply speaking with me – her Trustee. Citizens and media sometimes walk to the horseshoe to speak with Trustees.

Was this simply an attempt by two Trustees – Blackburn and Nutall – to intimidate and bully a citizen – Joyce Foreman who serves on the Dallas ISD Bond Committee? It certainly appeared to be a totally inexcusable abuse of their authority.
• Meanwhile, back at Dade: Soon-to-be-former NAACP Dallas chapter president Juanita Wallace (or one of her minions) placed leaflets on cars with the headline, "The Community Request [sic] Mike Miles' resignation today!" Why did the community request such a thing? Wallace's leaflet has the answer:
"He's a bully, He's a Willie Lynch, He's unfair, He's abusive, He hates his blackness, and He's a gangster!"
•  So, that's constructive, no? The meeting tonight should be fun. Now, did it have to come to this? Of course not. The sad thing is that much of District 9 is very poor, and as such they need the best representation possible. Had Nutall shown, at any point in the past 18 months, that she could be a reasonable advocate for positive change, would Miles have included her in his plans? Of course he would have. He desperately needs help in communicating with an angry, confused community of teachers, parents, and kids. (At least one teacher at Dade resigned today; more may be on the way.) But Nutall can't work with anyone. She's destructive, she has a martyr complex, and she runs to the media to leak everything she can find (or, more often, manufacture) to undercut Miles. Why in the world would he ever trust her?
• All that said, Miles has to get this right. He's down to his last bullet with the Dade community. I talked to two parents last night who are Miles fans but who say he has to own this, take responsibility for all the missteps to date, even the ones that weren't his fault. They're right. The proof he can do just that starts this evening.
Get the D Brief Newsletter
Dallas' most important news stories of the week, delivered to your inbox each Sunday.