When G. Brint Ryan left public accounting to build what's now a global leader in tax services and accounting, he had countless doubters. "Everyone told me I was making a mistake," he recalls. And today, Ryan is still ascending to new levels of success. "This past year marked 30 years of uninterrupted revenue growth for the company." 
And in 2022, Ryan is off to a hot start acquiring its biggest competitor Marvin F. Poer and Co. in February and Boston-based Greystone Property Tax Advisors early in May. The two acquisitions cement Ryan as a U.S. leader in property tax consulting.
Education: University of North Texas (MS, BS-Accounting)
Birthplace: Big Spring, Howard County, Texas
Best Advice: "The greatest risk of all is not taking one. Everyone told me that I was making a mistake when I left public accounting to start Ryan and that it would never work. I didn't know any better, so I took the risk. Everyone was wrong."
Destinations of Choice: "Travel is one of my passions, so I have many favorite places to visit. Two of my favorite places in the world are Watercolor, Florida and my Wild Horse Creek Ranch in Howard County, Texas."
Dream Car: "A Formula 1 race car…on a world-class track. I'm a car guy and have lots of cars. Ferraris, Lamborghinis, and McLarens are great, but there is nothing like pulling 4 to 5 G's cornering at 150 miles per hour."
Second Home: "Yes, we have several other homes. We love the beach and we have a beachside house in Watercolor, Florida. We also love the desert and we have a home in North Scottsdale, Arizona. Both are just great escapes for us."
Proud Moment: "One of the great things about Ryan is that we do well when times are good, and we do great when times are bad. The pandemic was definitely a new challenge for us, but we still managed to grow by helping our clients through it. 2020 marked 30 years of uninterrupted revenue growth for the company."
Future Forecast: "I'm incredibly excited about the technology initiatives we are working on at Ryan. No part of the business is untouched by the rapid technology transformation we are seeing in our industry. The digitization of our services and the platforming of our tax software application suite will forever change the way we work, improving both the team member and client experience tremendously."
Walk-up Song: "'He Reigns' by Newsboys. I have been incredibly blessed, both personally and professionally, and I know that God is the source of those blessings. It's my favorite song and it reminds me who's really in charge."
Hobby/Passion: "Taking money away from the government! Seriously, fulfilling our purpose to liberate our clients from the burden of overtaxation, freeing their capital to invest, grow, and thrive, is my passion. It's a huge challenge, and I love it."
Local Fare: "I have several favorites, including Mi Cocina, Ojedas, Avilas, and Mesero, to name a few. I eat anything Tex Mex."
Client's Concerns: "Our business model is uniquely suited to allow us to pivot to address both a changing economy and workplace. As our clients face their own challenges, they reach out to us to help them recover much-needed capital and to interpret new and changing tax opportunities at these critical times. Our culture empowers our employees to make the transition to remote work seamlessly and to continue to provide world-class client service in new and innovative ways. These are just some of the reasons our clients continue to rank us above our competition."
Get the D CEO Newsletter
Stay up to speed on DFW's fast-moving business community with weekly news reports, interviews, and insights.
Author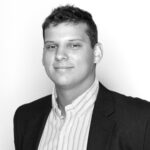 Ben Swanger is the managing editor for D CEO, the business title for D Magazine. Ben manages the Dallas 500, monthly…