The Dallas Symphony Orchestra announced its 2023-2024 season this morning, promising a concert series full of big spectacles, famous guest stars, and passion projects from music director Fabio Luisi. You can read the full announcement here, but for this post, I've curated a personal and opinionated guide to concerts I think will be the year's best.
Here, in no particular order, are my top 13 picks to help you plan your DSO subscription next year.
A world premiere from Anna Clyne and Jeremy Denk
Anna Clyne is a really exciting, colorful, tuneful English composer who often gives her pieces interesting concepts. She can range from light-hearted (the delightful "Masquerade"; Spotify link) to experimental (her piece "<<rewind<<" is written to sound like somebody hit a giant rewind button on the whole orchestra; use the same Spotify link). I love her cello concerto, DANCE (Spotify link).
In late March 2024, we'll all get to see the world premiere performance of her new piano concerto, a DSO commission featuring pianist and author Jeremy Denk. Luisi will conduct, and after the intermission, he'll lead the DSO in one of the biggest, most dramatic works in its repertoire: Mahler's Symphony No. 5. I have to admit, Mahler's Fifth doesn't fully work for me. But my opinion is a minority view, and this looks like a good chance for me to reconsider.
Ukrainian night at the DSO
Cellist Inbal Segev, who premiered and recorded Clyne's DANCE, is coming to Dallas in November with a world premiere of her own: Ukrainian composer Victoria Vita Polevá's new cello concerto. It is part of a Ukrainian-themed night that also features composer Anna Korsun and Ukrainian conductor Kirill Karabits.
Barnstorming Italians and Russians
What do you get when you combine Italian music and Russian music? A night of unbridled passion, fire, and extroversion. The vodka and vino will flow. In May, we'll get the twin bill of Rachmaninov's ever popular Rhapsody on a Theme of Paganini—a Russian take on Italian music—followed by Alfredo Casella's Symphony No. 2—an Italian take on Russian music. I've never heard the Casella before, but I just checked sound clips and it sounds like a passionate outpouring, complete with church bells, gong thwacks, and organ. (Earlier this week, by coincidence, I streamed Casella's Concerto for Orchestra [Spotify], and it was an absolute delight. Think Respighi's Pines of Rome, but not quite so catchy.)
Daniele Rustioni conducts and Uzbek star pianist Behzod Abduraimov takes the solo part.
The classical series' opening weekend
This September and October, Luisi brings together two themes of his tenure at the Dallas Symphony: American music and big over-the-top melodramas. In the first category, we'll have William Schuman's American Festival Overture and Aaron Copland's lovable clarinet concerto (played by the New York Philharmonic's principal clarinetist, Anthony McGill). In the second category, there's Franz Liszt's hour-long epic symphony recounting the legend of Doctor Faust—which the DSO has never played before.
Fabio does Pops
The week before the classical series kicks off in September, Luisi will be in town for a rare appearance in the Pops series. He'll be presenting two works by African American composers William Levi Dawson and James P. Johnson, plus "selections from the American songbook" with soprano Karen Slack and tenor Issachah Savage. There's a spot of Gershwin in there, too.
Shostakovich's revenge masterpiece
Dmitri Shostakovich fell out of favor with Josef Stalin and the Soviet regime in the late 1940s, particularly after he was commissioned to write a great "victory" symphony celebrating the triumph of the Soviet armies in World War II and responded with a deliberately flippant, joke-filled piece. He was fired from his teaching job, and his music effectively banned, except for a humiliating commission to write a piece describing Stalin as a "great gardener."
During this period, he worked on his Tenth Symphony, which he finally revealed to the public when Stalin died. It's some of his most personal, anguished, and passionate music, but what everyone remembers is two specific moments. First, there's a shocking four-minute passage that is a direct portrait of Stalin himself. It's some of the most evil-sounding music ever written. Second, there's the finale, where the last image—brought to you by pounding drums—is of Shostakovich dancing on his oppressor's grave.
This will be my third time seeing the symphony live, and let me tell you: it is incredible. My advice? Watch The Death of Stalin before you head to the concert hall.
The extraordinary young conductor Krzysztof Urbański is a perfect match for the music, and in the first half, he'll team up with fellow Pole Jan Lisiecki for Chopin's First Piano Concerto. It's Chopin. 'Nuff said.
Movies in concert
If you like the experience of watching a great movie with live orchestral soundtrack accompaniment, you'll get plenty of opportunities this year. The Dallas Symphony will play along to Amadeus, Harry Potter and the Prisoner of Azkaban, and The Polar Express.
We'll also get a March concert where special guest Danny Elfman will present his own soundtracks to Tim Burton movies. Including his non-Burton work, you might have heard Elfman's music in Batman, Scrooged, The Nightmare Before Christmas, Men in Black, Good Will Hunting, Spider-Man (the Tobey Maguire ones), Charlie and the Chocolate Factory (the Burton one), Nacho Libre, Fifty Shades of Grey…OK, you get the idea. He's a big deal.
Remembering JFK
Yes, this new work is called JFK: The Last Speech, and it features a narrator (operatic bass-baritone Eric Owens) reading extracts from JFK's October 1963 speech in memory of Robert Frost. Adolphus Hailstork has composed the new music, and the October concert date is very nearly 60 years to the day from the speech itself.
I'm even more excited about Samuel Barber's Toccata Festiva, an absolutely exhilarating organ-and-orchestra wall of celebratory sound. The Barber piece, by the way, was written in the midst of the 1960 presidential election. See how these programs tie together?
A slice of Japanese music
The main attractions of this pre-Thanksgiving program are Tchaikovsky's last symphony (Pathétique, which means sad, not pathetic) and Benjamin Britten's piano concerto, the happiest and most jovial piece Britten wrote for a full orchestra. But don't overlook the first piece on the program: Yasushi Akutagawa's Triptyque, which uses the DSO's string section only. It's a personal specialty of conductor Yutaka Sado, who has also recorded the work (Spotify).
The 45-minute breakup ballad
The very last concert of the season, all the way out at Memorial Day 2024, might just save best for last. Vasily Petrenko is a conductor I got to see several times when I lived in England, and he's one of the most exciting, charismatic conductors working today. (After one concert, when he arrived in the lobby to sign autographs, Petrenko was holding his son in one arm and a pint glass of beer in the other. That's how they roll in England.)
The features here are Prokofiev's tipsy, psychedelic Piano Concerto No. 2 and William Walton's thrilling Symphony No. 1—quite simply the most melodramatic piece of music ever written about a breakup, and I know about Taylor Swift. Walton got dumped by a rich young widow and was so despondent he wrote an absolutely epic symphony, ending in triumph, of course, but with plenty of fist-shaking and sarcasm along the way.
Rounding out the program is a world premiere by Andrea Basevi, which doesn't have a title yet but does call for the DSO Children's Chorus.
The Book with Seven Seals
Fabio Luisi's ultimate passion project is Franz Schmidt's enormous The Book with Seven Seals, a super-rare, super-long musical representation of the Book of Revelation. There's also a prologue set in heaven. This is nearly two hours of fire, brimstone, singing, organ playing, and huge-orchestra sonic effects.
Luisi originally tried to present the Book in spring 2020, but we all know what happened then. Hopefully this time he gets to pull the concerts off.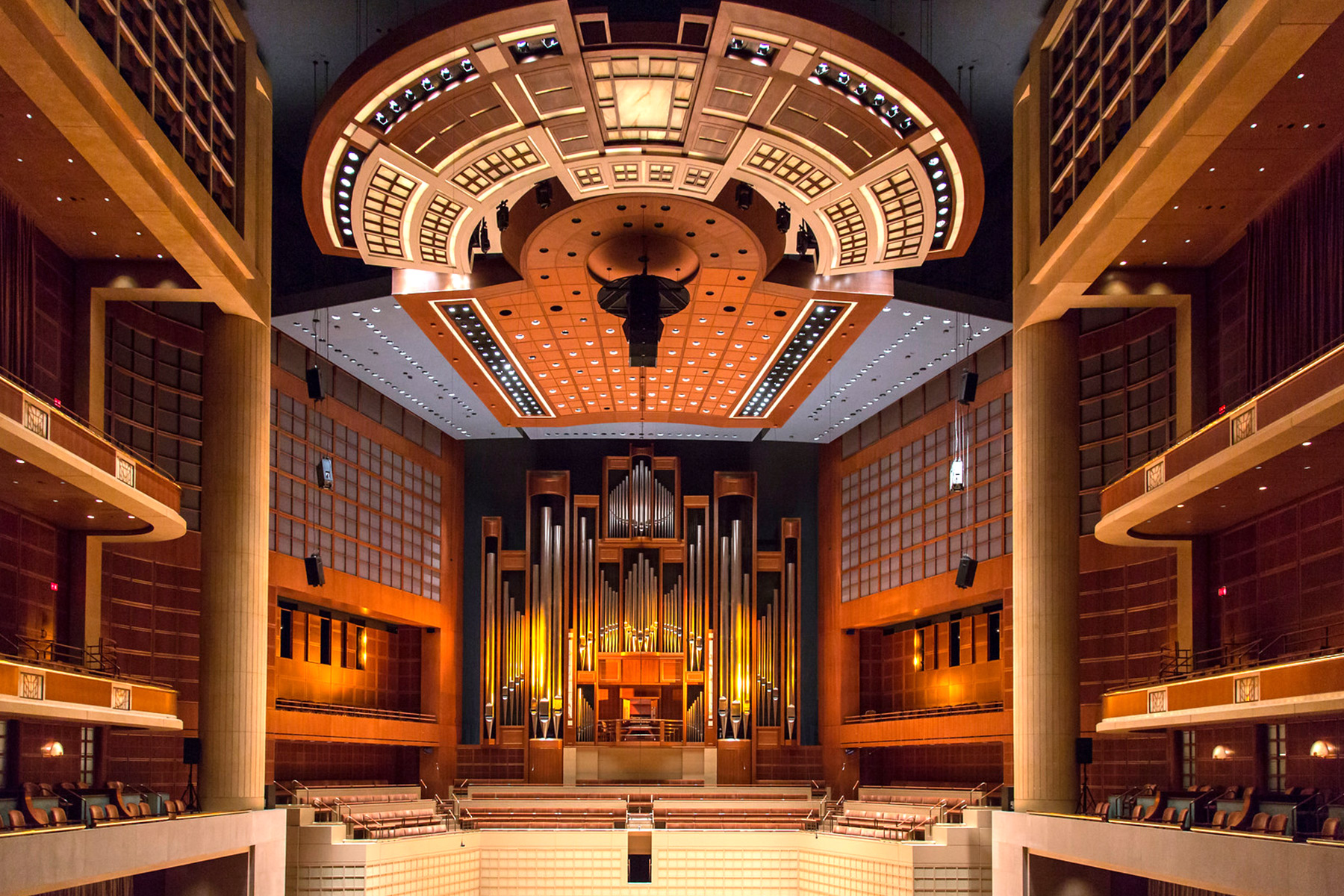 Want to hear a musical representation of the year 2020?
I don't, to be honest. But Year 2020: Concerto for Trumpet, Violin, and Orchestra arrives in February 2024, a DSO commission from Southern Methodist University composer Xi Wang. Guest stars Karen Gomyo and Tine Thing Helseth are two of the world's most acclaimed players of the violin and trumpet, respectively. After the intermission, Luisi will conduct our organist-in-residence, Bradley Hunter Welch, in Saint-Saëns' legendary Organ Symphony. (Welch gets a solo feature on April 7, when he ditches the orchestra for an afternoon organ recital.)
A whole lotta Wagner
My knowledge of Wagner operas began with Bugs Bunny, and to be honest, it's mostly still on that level. But if you're a Wagner obsessive, get excited for May 2024, when the DSO will present the first two parts of the Der Ring des Nibelungen operatic super-cycle: Das Rheingold and Die Walküre. Fabio Luisi has won a Grammy Award for his Wagner. Oh, wait, I know one more thing about Wagner operas. Die Walküre are the helicopter guys!
Bonus hint at seasons to come: nearly no Beethoven!
The DSO is only playing two Beethoven pieces this year, a remarkably restrained showing from the most famous composer of all time. Why? Well, I have an educated guess: 2027 is the 200th anniversary of Beethoven's death, and if there's one thing orchestras love, it's an anniversary festival.
Bonus concert without orchestra: Daniil Trifonov
This is a heck of a superlative to throw around, but piano music is my personal comfort zone, I listen to a whole lot of pianists, and I feel qualified. Right now, Daniil Trifonov is the best pianist in the world. Sure, there are legends still alive and performing, like Martha Argerich, but if I had to pick one person to go see live tomorrow, I'd pick Trifonov.
He's doing a solo recital at the Meyerson on March 18. Trifonov is exhilarating, smart, creative, poetic, and everything else you could possibly want in performance. He's bringing a suite by Rameau, a sonata by Mozart, Mendelssohn's Variations sérieuses (yes, it just means "serious"), and Beethoven's Hammerklavier sonata. This is an unusually, well, serious program—not a lot of light-hearted tunes in the Hammerklavier—but it's Trifonov. Don't you dare go out of town that week.
Get the FrontRow Newsletter
Get a front row seat to the best shows, arts, and things to do across North Texas. Never miss a beat.
Author
Brian Reinhart became D Magazine's dining critic in 2022 after six years of writing about restaurants for the Dallas Observer and the Dallas Morning News.