Dallas Symphony Orchestra
Music
Violinist Randall Goosby is a global star in the making, and he was just one of the highlights of this DSO program. The concert will be available for on-demand streaming in February.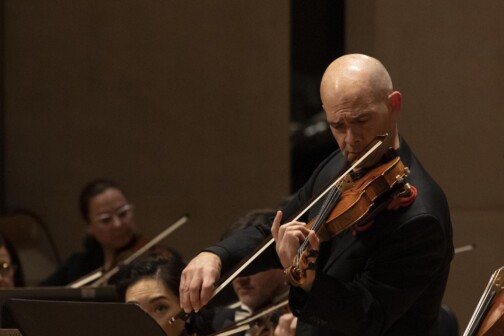 Music
Alexander Kerr joins former DSO principal horn David Cooper for a collection of trios for horn, violin, and piano.
Philanthropy & Nonprofits
Plus: United Way snags record-breaking $15 Million Perot family gift, and Fashion Group International brings out the stars.
D CEO Awards Programs
D CEO and Communities Foundation of Texas honored DFW nonprofits and the companies that support them at The Factory in Deep Ellum.
Philanthropy & Nonprofits
Performers at the annual fundraiser will include Cynt Marshall, Anne Chow, Jorge Baldor, and Brad Ramsey.
Arts & Entertainment
It was all part of the DSO's C-Suite Christmas program, which will air Dec. 24 on Bloomberg TV.
Arts & Entertainment
Trammell S. Crow, Chad Houser, T.D. Jakes, Lynn McBee, and even D CEO Editor Christine Perez will headline Dallas Symphony Orchestra's third annual C-Suite Christmas.
Philanthropy & Nonprofits
Writing a check is no longer enough when it comes to the role North Texas businesses play in supporting nonprofits. (Plus, winners revealed.)
Classical Music
The Dallas-based musician will trace her musical evolution in A Constellation of Sorts on Monday night.