A familiar, plastic red block is multiplied by the thousands to create Grasp. Eyes adjust to the cascading pieces creating depth; a life-sized red man stepping forward. Muted grey hands reach from behind a wall of the same hue. They take hold of him, slowing his movement toward the path he would ultimately follow. The emotional connection is not a projection, but a subjective account of life for the viewer to interpret themselves, says Sawaya.
"Going from lawyer to full-time artist, all these people were telling me no. The result of that emotion I was having was this piece here; these grey arms pulling at this red figure who's trying to break free," he says.
It all started when a young Nathan, shot down at his request for a dog, tore down his Lego City and created a life-sized pup from the pieces. It was an aha moment.
"It wasn't what's on the front of the box, it's 'Can I use these bricks to create something original?'" says Sawaya.
With the traveling exhibition The Art of the Brick, on view at the Perot Museum through August 18, Sawaya used the toy to recreate famous pieces of art, original works, and an interactive element, The Science of the Brick, that rouses the engineer in each viewer. The artist also created a piece specially for the Perot, a replica of Dallas' iconic Pegasus sculpture, which is on display near the entrance of the museum.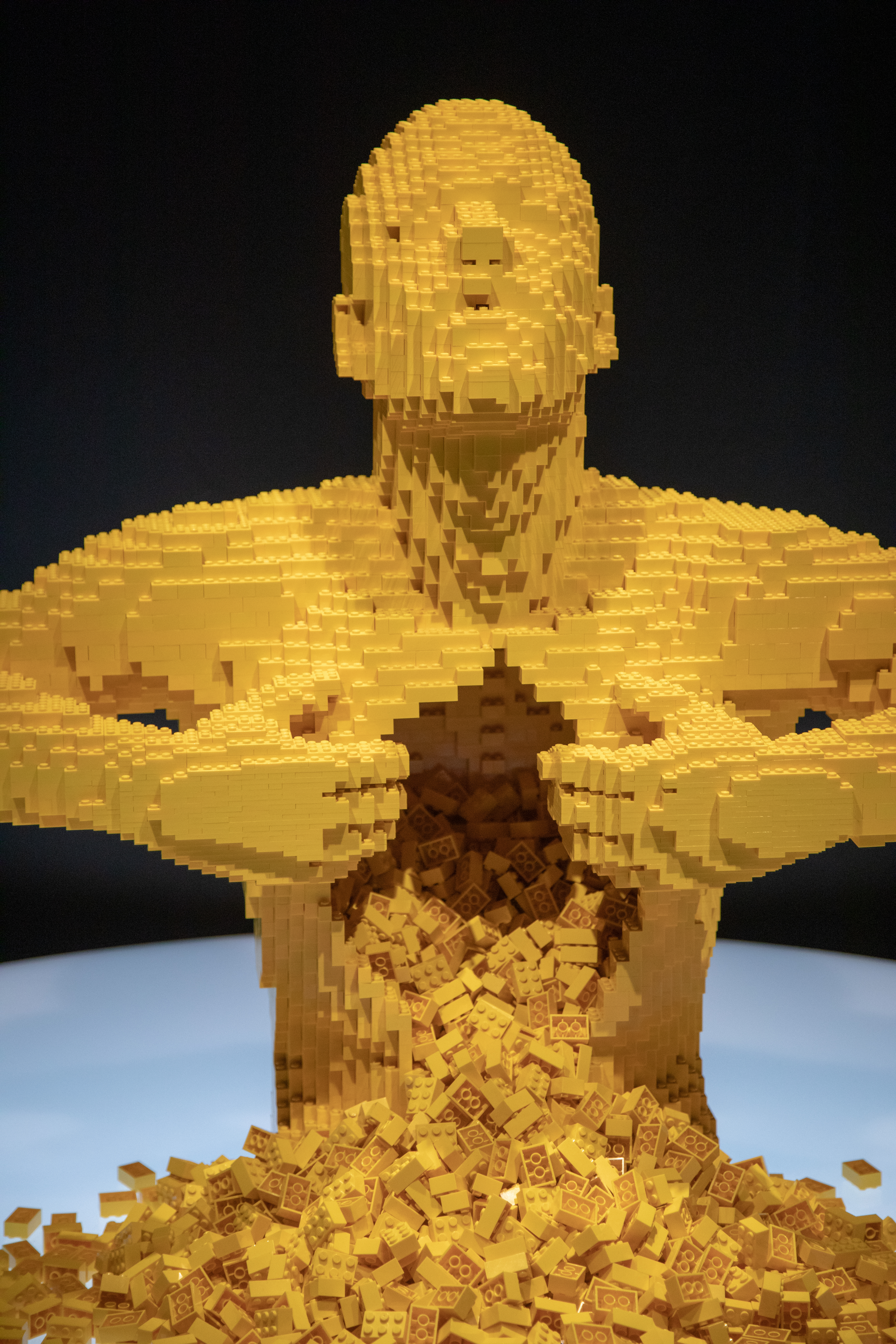 Moving through the exhibit, the designer is woken within viewers with whimsical pieces that seem to be imagined by one's inner child. Sawaya brings to life the events that have transformed his perspective through a medium often revered as a simple toy. Viewers are engaged with emotion from the characters in pieces like Grasp, Trapped and Yellow. Each has a story to tell about the human condition.
"I want the viewer to have their own interpretation, that's their role," Sawaya says. "By making it monochromatic, [this] gives it more universal feeling."
Desired paths are easily lost in transitions, from the fully-imagined world we built as children at play, to the world we build for ourselves at work – a play place of its own kind.  In Yellow, the piece rips itself open. Spilling onto the world's surface, the color often associated with creativity and clarity.
"It's simply about that transition, that opening one's self up to the world. That mirrors what happened to me in my own life."
In Pieces is a multimedia collaboration that takes interest in society's grasp on identity as a cultural creation, heavily branded and commercial. Combined with Sawaya's unique sculptural style, and Dean West's captivating hyper-realistic photography, the collection calls on the construction of identity, using pieces of life to create something new.
"Everyone's constructing their own identity, mostly online," says Sawaya, "but we wanted to tap into, 'What is identity, and how do you construct it?'"
Get the FrontRow Newsletter
Get a front row seat to the best shows, arts, and things to do across North Texas. Never miss a beat.