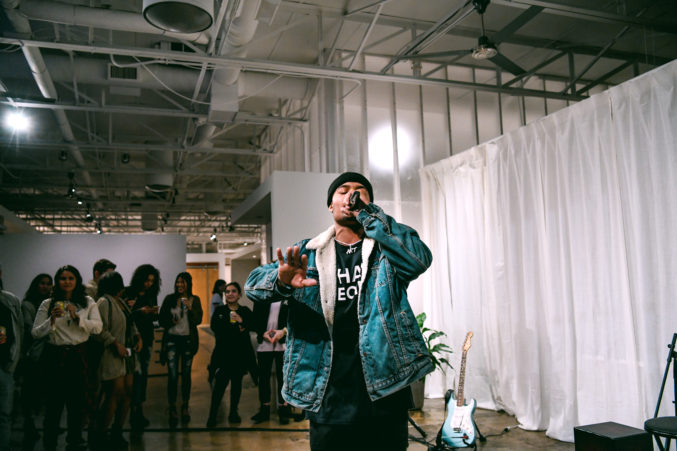 Dallas' Coolest New Concert Series is in a Watchmaking Studio
Breda watch company is building a creative community in its Deep Ellum headquarters.
In a series partnered with Breda Watch Studio, Loft Stories is an event created by Meagan D'von Funk and Bryson Funk. This connection provides a space for local musicians to share their stories in an intimate setting. Loft Stories' eighth event collaborated with CultureHype and Axiom Music for a distinctive set of musicians; Prestonn, Seysei, and Buffalo Black.
I was still a bit unsure I'd arrived when the entrance parted, producing an orange camouflage mini dress and knee-high boots. A woman's frame peeked from the door, dark hair falling bone straight over her shoulders, except for two spirals curling from her middle part. I walked up, still undecided until the lights and the wind picked up her mindful gaze, luminescent from her glow and a few stones placed between her smize.
"You're the princess! Pop princess Seysei!" I'd just seen her in a music video a few days before. Too awestruck to be embarrassed, I introduced myself and stumbled into the studio.
A long white table sat below the steps, covered end to end in rich Italian leather securing rows of watches beneath overhead lights. Bass made low rumbles through the studio leading to the lounge area and stage – tonight's story was only a few steps away. My black booties made a dull thud as I moved through this cool, expressively minimal space. Fashionably late never felt so good.  
Walking toward the music and mingling guests, my eyes followed the metal rungs of a tall black ladder. A petite frame in skinny pants attentively adjusted a spotlight, while some viewers cautioned from the ground. Coming down the ladder, curator of Loft Stories, Meagan D'Von Funk greeted me. At eye level, she was warmly curious and welcoming. Next to her was her husband Bryson Funk, musician and co-curator of Loft Stories.
"We really wanted to break down the barrier between the kind of stage persona, the internet persona, and we really wanted that to be more of a one-on-one personal connection between the artist and the guests," D'Von Funk said.
For the platform they've given other artists, D'Von Funk said she's had guests come back and thank them, as it inspired them to abandon their fears and pursue their passions.
The purpose for Loft Stories is to be a bridge for musicians like Bryson Funk.
"Everything we do is for the artists here." Funk said this function creates a space for new artists to excel in the local music community.
"We also want to act as a vehicle for their personal stories giving them that platform to talk about their real-life stuff," D'Von Funk said.
The night drew in a crowd and the lounge area filled. Hip-hop artist Prestonn bumped back and forth, acquainting himself with the stage. He was prepared to perform, wearing a wily but child-like grin. Heavy bass and snares caught the audience's attention as a wavy, energetic Prestonn connected with listeners less than four feet away. He moved effortlessly, shoulders in tandem with his feet, keeping time with the production's kicks. Denim sat broadly on his shoulders, as he danced his black jeans folded and bagged into his worn white kicks.
The bay-area turned DFW artist's music shares a sentiment about hip-hop as a versatile culture rooted in individualism.
"As an artist, that's one thing that I strive to be, [is to be] all things. My music and my sound just come from what I've heard and what I like, so if you hear that Travis Scott sound it's probably because I like it."
Defiant of being put in a box, Prestonn is a musical artist and proclaims himself to be simply that. He ends our conversation with a comment on green perspective.
"Dallas is really becoming a new LA in a way, but we're missing big cities like a Dallas," Preston drew closer as another artist warms the crowd in the room where he'd performed. "The grass isn't greener on the other side, it really just depends on how you water it."
Seysei beams, vindicated as she riffs over notes drawing the group of attendees closer. Accompanied by piano, guitar and drums, the group began an intimate and acoustic take on upbeat pop song, "Call Me Baby." She is an Indian pop singer with a distinctive difference: her Nagaland heritage. Revealing her life in intimate pieces, Seysei shares her struggles, delivering a silver-lining with each performance. It's easier to be complacent than run with the potential you've been given, she said this can be especially stifled culturally.
"You only have one life, you have to take full advantage of the potential you have and then put the hard work in, because if God has given it to you, he's going to see you through it," Seysei laughs. "So why wouldn't you?"
Heavy synth and snares created a futuristic and new dimensional tone as Buffalo Black delivered an earthy presence. Black mused on states of consciousness, channeling the truth behind his hustle with soul expressionism and a commitment to 'get on your grind' – an idea that comes, toiling over personal perspective. Black enveloped himself in the music, becoming part of its message. He seemed to lose control, like the words suggest, and the audience's eyes open wide as he dropped, completing a fantastic roll right under my feet.
"I like to tell stories through movement, I have a lot of respect for dancers," Black said.
This platform allows a few moments for listeners to see who Black is outside of his musician persona. The Oak Cliff artist said he does not hear a lot of progressive hip-hop in the city, but he is here to stay and intends to tell a story that reveals his greatness.
Prestonn moved on the floor with Black's performance, and soon he is about three feet from him. Moving toward each other, these artists are starkly different. Yet they remain in the same realm that the culture of hip-hop provides, and even more, the accepting nature that true artists share.
Collectivism calls upon an overarching sense of individualism, in this delivery of art to interested locals. The end of show is brought to a close, and as the group begins to spread and breath from its close quarters, the artist's exhale, breaking into smiles and commending each other's performances.