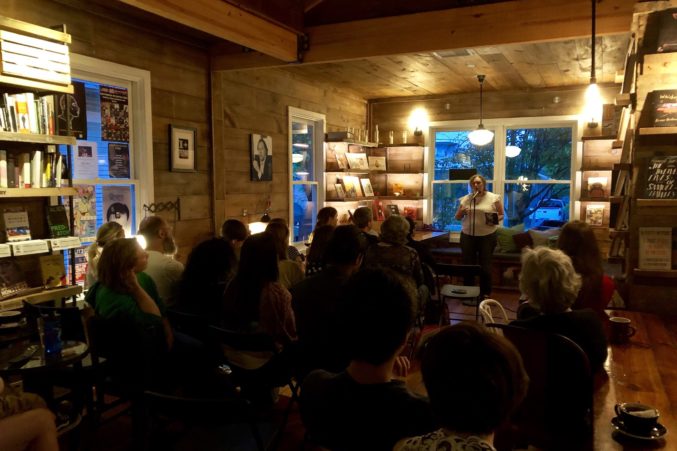 These Dallas Poets Find Beauty in the Ordinary
They'll read from their new book at Wild Detectives on Wednesday.
Nadia Wolnisty was inspired to write poems by two things: trauma and Wikipedia.
Wolnisty co-authored the poetry book You Gotta Let It Go Before It Takes You Over along with Paul Koniecki. The two poets are doing a reading at Wild Detectives this Wednesday at 7:30 p.m.
Both Koniecki and Wolnisty started dabbling in poetry at a young age. Wolnisty wrote poems when she was 10, but only started sharing it in the last two years. Koniecki started writing in seventh grade to woo a girl.
"In Mr. Gorski's seventh grade science class I wrote a poem to Jennifer Grams, the girl I had a crush on. It read, 'the depth of my heart cannot be measured by any system of accounting except to be weighed in Jenny Grams.' I didn't do well at the Science Fair, but I'd found my calling," says Koniecki.
Most of us think first of romance when we think of poetry, from "roses are red, violets are blue," to the often misinterpreted sonnets of Shakespeare. Koniecki's first experience with poetry fits the stereotype. But if he was first inspired by love, Wolnisty describes her experience as being sparked by trauma. Poetry "felt right" as a way to express herself with a deeper layer of meaning.
"Most of my poems are about keeping folks at arm's length, or never letting people all the way in. I have a lot of trauma in my life. But the thing is, I really love people," says Wolnisty. "If you read carefully, you'll note most of my poems are secretly love poems, just about vultures, owls, mud, and pears first."
Neither Koniecki nor Wolnisty particularly like to be tethered to traditional forms of poetry. They aren't usually the type to count the syllables in each line or obsess over iambic pentameter. In fact, you'll hardly find a rhyme scheme in their book. Instead, they each tend to write in free verse, which lets the poet run wild with their thoughts. Paul likes form a bit more than Nadia does.
"I think form can be very good, but can become a crutch, or a way to have technique with no soul," Wolnisty says.
Poetry is in vogue right now. From Instagram poets gathering thousands of likes, to new poetry books reaching the top of the New York Times' Best Seller list, it's a good time to be a poet.
There's something about it that speaks to its reader on a deeper level. Sometimes poetry can provide us solace in a way that prose never could. For Wolnisty, the non-grammatical elements add an element of mystery. You can add another layer to a poem just by inserting a line break.
"Cooking the raw details of what we all experience is a privilege. Short or long, when it's right, it's right, and it dings the tuning fork of your soul," Koniecki says.
You Gotta Let It Go Before It Takes You Over turns everyday experiences into something beautiful. Koniecki was inspired by working artists and their day-to-day sacrifices. His section of the book is called "Tuchola, my cubicle." Wolnisty's title came from explaining what she is most afraid of. Her section is titled "I Would Never Go Sky Diving Because I Don't Want a Stranger That Close to Me."
The two came to collaborate by accident. Koniecki met Wolnisty through his wife, poet Reverie Koniecki.
"I chanted 'be my friend!' while avoiding eye-contact and waving my little fists," Wolnisty laughs. "Our publisher, Jason Ryberg with Spartan actually put us together."
"Spartan recognized Nadia as a true original force of words and the collaboration came from there," explains Koniecki.
Their collaboration led to a book of poems, the title of which came from their publisher, Ryberg. The masterful use of words from both poets creates an experience that is like escaping from your body for a few hours. Reading their work makes you wonder how you could have gone so long without seeing such incredible things in the world around you.
"The world is an uncaring, terrible place. People die all the time. Having a body is a mistake. But it's not all a drag. Sometimes, there's really nice stuff in it, like seashells, cow eyes, and sunflowers that soak up radiation," Wolnisty said.
The book was published by Spartan press in August, and you can get your own copy from Spartan Press' website, Deep Vellum Books, or the Wild Detectives. The poetry reading will be Wednesday, October 10, 7:30 p.m. at the Wild Detectives. Koniecki and Wolnisty will share their work, and there will be open mic time afterwards in case you're feeling inspired.