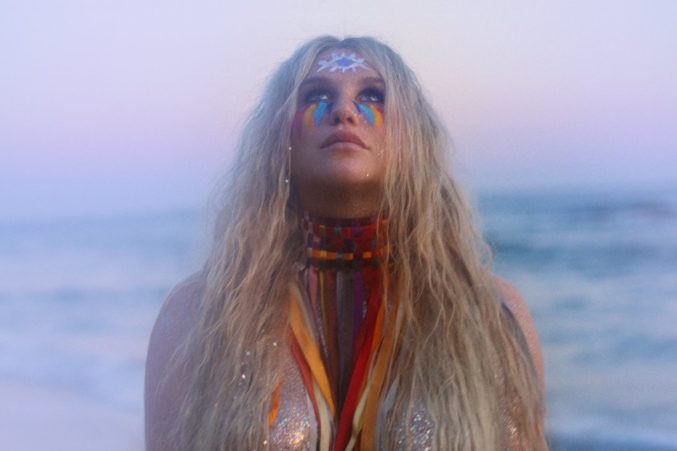 With Kesha and Macklemore At Dos Equis, Dallas Got Two Pride Parties
The co-headliners took fans to space and the beach.
Wednesday night at the Dos Equis Pavilion, Kesha and Macklemore took the audience to different parties celebrating the same thing. When Kesha emerged from a glittery UFO at the drop of a purple curtain, she got right to it:  "First and foremost, happy motherfucking Pride," she announced, referring to the celebration as her favorite holiday. "Thank you for being you and a light in this world."
With a shout-out to her LGBTQ friends, family and fans, she launched into "We R Who We R," a song "about being yourself unapologetically, about basic human rights [and] about equality, which is something I'll fight for until I'm six fucking feet under the ground." The spaceship that delivered her was modeled after the artwork for her most recent album Rainbow; she commanded the stage in a studded white bodysuit and elaborate headpiece decorated with glittery stars.
Rainbows were everywhere. On Kesha's dark western shirt later some multicolored fringe on the sleeves matched her skirt, and the colors burst from a lit-up confetti cannon she shot during "Blow." (This place about to blow, she sang and it did.) Her fans' outfits, bright hair dye, flower crowns and plenty of body glitter mirrored the rainbows so present on Kesha's latest. At one point in the show, Kesha asked a fan to bring their rainbow flag up to the stage, which she took and tied to her mic stand. Throughout the night, as fans yelled their love to her on stage, she reciprocated, at one point emphasizing with, "I fucking love you, too," before sliding into to "Your Love Is My Drug."
For her approximately hour-and-a-half set, Kesha opened by showcasing more of the country and soul pop direction from Rainbow with "Woman," full of middle finger waving and gold background visuals to go along with the lyrics of being a "motherfuckin' woman," and "Boogie Feet." However, most of her setlist pulled many of her older hits from back when she was professionally known as Ke$ha. For "Take It Off" towards the end, Kesha introed the song as an invitation for anyone who was feeling hot to take off any article of clothing and throw it on stage for her to collect, specifying that she needed at least one bra before the song could begin. While many of these songs featured lyrics about partying and being young, they traded synthetic club-ready beats made for faster, rock versions that made heavy use of Kesha's onstage band.
With these new renditions, there were a few moments that highlighted the range of Kesha's voice. In "Timber," she took on the whole song that included an impressive take on Pitbull's rap. In another moment, she called back to her Nashville roots with an indulgent, drawn out cover of Dolly Parton's "Jolene," giving her own spin that made heavy use of echo effects and added to the ethereal feeling of being in space, with accompanying visuals that made it seem as if the audience was looking out the window of a spaceship.
When the opener Wes Period, a pop and hip-hop artist from Los Angeles, dedicated his song "Love Alone" to "keeping families together, it was the first of many acknowledgements that the Dos Equis Pavilion was a safe space for tonight. Macklemore continued to loud cheers of agreement, "Regardless of the color of your skin, regardless of your sexual orientation, regardless of the bathroom you choose to use, regardless of where your passport says you're from, you are welcome at this show and our shows in the future," he said, urging people to celebrate diversity rather than be afraid of it. That launched him into "Same Love," a song about LGBTQ equality, where the audience joined in on the well-known chorus: And I can't change, even if I tried / even if I wanted to.
Just as the audience enjoyed catharsis and acknowledgement, so did the artists. It was hard to imagine Kesha, as she led her chapter of the party to close the night, as someone who's gone through everything she has in the past few years when her producer Dr. Luke sexually assaulted her and a string of wrenching court proceedings— including his counter-suit for defamation— followed. Even the stripped-down "Bastards," written with the line don't let the bastards get you down as a result of a negative social media comment from a stranger, had similar determined sentiments to that of "Woman."
It wasn't until "Praying" in her encore, as she delivered a powerful and emotional performance with the rest of the crowd cutting through the piano accompaniment to sing along, that she seemed to remember her pain. She acknowledged it too as she ended the song, taking a moment to almost breathe a sigh of relief before thanking her fans for their support through the good and the "really shitty" times.
But after her moment, she reverted back to a Kesha classic— "Tik Tok"— that made way for plenty more dancing and confetti to close.