Vicky, a docent at the Museum of Street Culture, is giving a tour of an exhibition of Mary Ellen Mark's photography of poverty in America. Mark spent years documenting Erin Blackwell Charles, known as "Tiny," a teen runaway who spent much of her life on the streets of Seattle. Our tour guide strikingly captures the essence of Mark's work, relating it to her own life on the streets.
Vicky is a client of the homeless services agency the Stewpot, an integral part of this "museum" in a corner of downtown Dallas. Mark's black-and-white photos are displayed both inside the Stewpot and outside on the walls of the historic buildings surrounding it. Seeing this while interacting with people who have experienced homelessness firsthand is an eye-opening and intellectually stimulating experience. The art, presented in this context, gains a new power outside a more pristine, typical gallery.
Alan Govenar, the founding director of the Museum of Street Culture, chose to feature Mark's work to raise awareness of the harsh reality faced by many Dallas residents experiencing homelessness. Being paid for their work as docents at the museum, as well as other part-time jobs associated with the project, is giving some of those residents the help they need. (One docent was even able to save up enough to rent a small room.)
It's part of the ambitious plans for Encore Park, the space that includes the Stewpot, the historic 508 Park building, an amphitheater, and a community garden. The museum will use all of these spaces, inside and outside, across from the First Presbyterian Church of Dallas on the southwest corner of Young Street and Park Avenue.
Its first exhibition, Looking for Home: A Yearlong Focus on the Work of Mary Ellen Mark, focuses on Mark's photos of Tiny, unfolding in several phases. The first installation, "Streetwise: Tiny and Runaway Children in Seattle," opened last October, while "Tiny and Her Children" is running now. Work that focuses on later years in Tiny's life will be displayed in phases beginning in April and June.
Inviting museum-goers to visit a street often crowded with people using the Stewpot's services is part of the point. Programs such as "Picturing Homelessness," an exhibition of children's artwork developed by the museum and the Stewpot's Saturday Kids' Club, are focused on dismantling stereotypes about the homeless.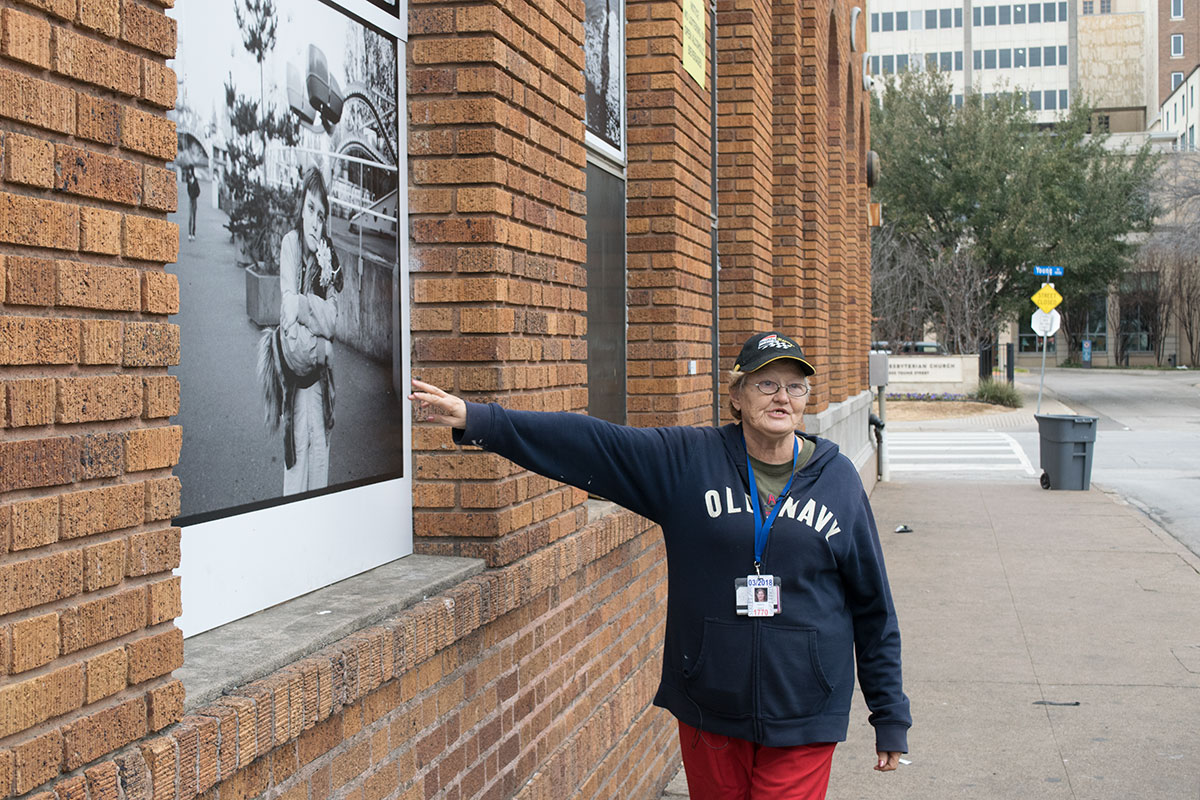 The club raises awareness of and helps at-risk children who are inclined to experience homelessness or have experienced homelessness. Children have created pieces of artwork symbolizing what homelessness means through their eyes, their colorful work showing innocence and optimism.
The Stewpot's art program will also host events such as "Just Call Me An Artist", exhibiting paintings and drawings created by Stewpot clients and museum docents, exchanging "homeless" for a more uplifting label: "artist." To promote a sense of community, the Stewpot's STREETZine has includes updates of progress at Encore Park and the Museum of Street Culture with pieces written by Govenar and contributing writers.
Encore Park's executive director, Pat Bywater, also points to the project's focus on preserving Dallas history. For example: Robert Johnson, the legendary bluesman, recorded at the 508 Park building when it was a recording studio in the 1930s.
"If Johnson had not had his guitar playing abilities he might have been homeless," Bywaters says.
When renovations are complete at the Encore Park complex, it will include recording studios and an open art studio, along with other elements of "street culture." Giving a tour of Encore Park, Bywaters excitedly discusses plans for the future, stopping every so often to talk with Stewpot clients.
Establishing the Museum of Street Culture can rewire perceptions of the homeless and of museums, juxtaposing the realities of street life with inclusive art and music.
On Feb. 25 at the Nasher Sculpture Center, Museum of Street Culture director Alan Govenar will speak with director Martin Bell following a screening of Bell's Oscar-nominated documentary, Streetwise, a 1984 documentary that also follows Tiny's life on the streets of Seattle.
Get the FrontRow Newsletter
Get a front row seat to the best shows, arts, and things to do across North Texas. Never miss a beat.