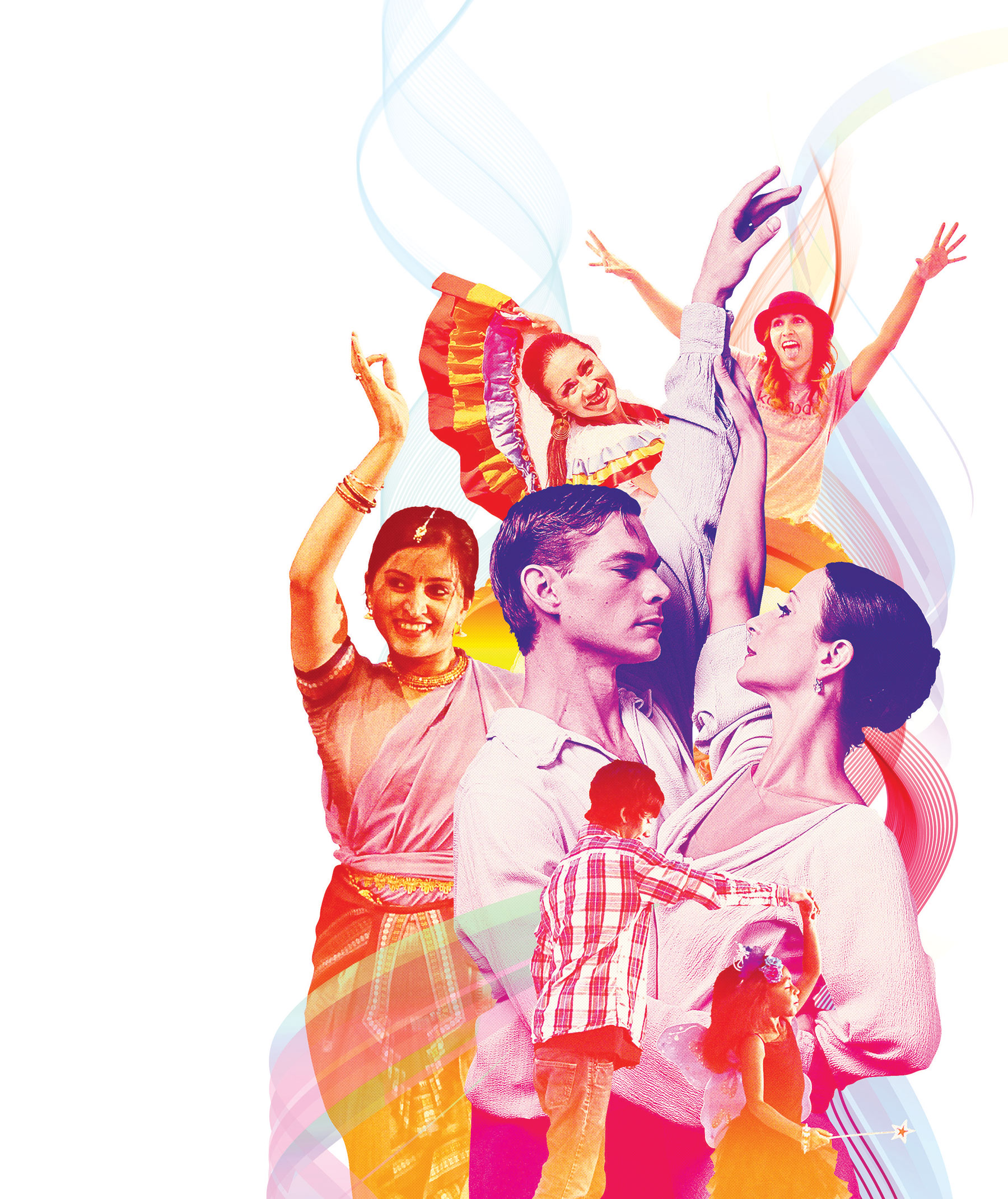 The 25 Things You Must Do In Dallas This April
Spring has sprung and the dance season has begun. It's a busy month in Dallas.
April gets knocked as the cruelest month, but from our perspective, it has to be one of the most joyful times to be in Dallas. Spring has sprung and the dance season has begun. Here are the 25 things you must do this month.
Dance Season Begins in Dallas
If you are at all interested in dance, this is your month. Ballet lovers will want to pencil in Texas Ballet Theater's Masterworks (April 17–19) program—Balanchine's formless, jazz-infused Rubies; the sexy, demanding Petite Mort set to Mozart; and a neoclassical piece choreographed by TBT artistic director Ben Stevenson—as well as Swan Lake, interpreted by Russia's St. Petersburg Ballet (April 21 & 22). For contemporary dance fans, TITAS presents New York's Parsons Dance Company (April 25). Dallas Black Dance Theatre's second company, DBDT II, has its Spring Fiesta (April 10 & 11), usually chock-full of exciting young talent and new works.
The 80 companies participating in Dance Planet 19, presented by the Dance Council of North Texas, guarantees something for everyone (April 11 & 12). The Folklorico Festival (April 2–4) has the Ollimpaxqui Ballet Company of Dallas and Roy Lozano's Ballet Folklórico of Austin in a blending of Mexican and Texan tradition. Meanwhile, Anita N. Martinez Ballet Folklorico celebrates its 40th year (and its founder) with Anita!, a special gala performance (April 23) that will find all of the organization's performing companies, from children to adult, brightening up the Winspear stage.
Theater/Dance
Colossal
Apr. 2–May 3
For proof theater is a full-contact art form, look no further than Colossal. With a running game clock ticking away every breathless minute, the play follows a University of Texas football player who struggles with issues both physical—a hit taken during a game leaves him partially paralyzed—and emotional, as he keeps secret his relationship with the team's co-captain. The Dallas Theater Center production captures the balletic violence of America's favorite sport while exploring the problems at the root of its macho culture. Wyly Theatre, 2400 Flora St. 214-880-0202.
Music
Swans
Apr. 4, 7 pm
Swans is one of the only bands from New York's early '80s no wave scene left standing; they've been leveling listeners for three decades. Fronted by the shaman-like Michael Gira, the group transforms what in lesser hands would be standard three-minute rock songs into Category 5 hurricanes of guitar, drums, and bad intentions that might last 20 minutes. But they aren't indulgent. With the notoriously picky Gira at the helm, rest assured every pulverizing note has been painstakingly selected for maximum effect. The band's most recent album, last year's To Be Kind, was recorded by John Congleton and features contributions from locals Daniel Hart (Dark Rooms) and Sean Kirkpatrick (Nervous Curtains). Trees, 2709 Elm St. 214-741-1122.
Museums/Galleries
Concentrations 59: Mirror Stage—
Visualizing the Self After the Internet
Apr. 10–Dec. 6
How do we define the self in the age of the selfie? When we can create new—and improved?—versions of ourselves with a carefully managed social media stream? This exhibition will feature a series of single-channel videos from international artists exploring how new technology shapes the way we perceive identity. The latest in the DMA's contemporary Concentrations series, Visualizing the Self After the Internet has artists looking into the black mirrors of digital devices to see what looks back. Dallas Museum of Art, 1717 N. Harwood St. 214-922-1803.
Opera
Dog Days
Apr. 24–May 1
A family battles to retain its humanity in a post-apocalyptic wasteland where food is scarce and hope is scarcer. But the man outside their door—dressed as a dog and howling like one—seems to have already lost that particular fight. Dog Days is as nerve-rattling as it sounds, a contemporary opera that pummels its audience with the horror and debasement of a world that is dead but won't admit it yet. Fort Worth Community Arts Center, 1300 Gendy St., Fort Worth. 877-396-7372.
Music
Ariana Grande
Apr. 1, 6:30 pm
You might be forgiven if you gave up on Grande before you even heard a note of her music, figuring she is merely the latest pop diva to roll off the Disney-Nickelodeon assembly line. And maybe she is, but someone decided to massively upgrade the vocal range on this model. Miley Cyrus and Selena Gomez never received legit comparisons to Mariah Carey (at least not for their singing). She could probably stand to learn a new hairstyle, though. American Airlines Center, 2500 Victory Ave. 214-222-3687.
Happenings
Earth Day Texas
Apr. 24–26
About 70,000 people will attend this free event at Fair Park. At the Eco Expo, more than 1,000 exhibitors will tout their green achievements. There will also be tree climbing, live music, and plenty to eat and drink. Lieutenant Governor Dan Patrick will be one of the key speakers. After a pint of local beer, ask him how he could possibly still deny that mankind is contributing to climate change. 1121 1st Ave.
Happenings
The Illusionists
Apr. 7–19
This all-star squad of prestidigitators and conjurors—"The Expendables of magic!" said someone in our office—has something for everyone, with a crew that includes more traditional David Copperfield types and newer Criss Angel acolytes. Their stunts run the gamut from card tricks to box escapes, and there are old standbys like pulling birds out of hats and sawing people in half. But a flair for the spectacular and a sizable bankroll (it was a hit on Broadway) make this production more than your average magic show. Music Hall at Fair Park, 909 First Ave. 214-565-1116.
Museums/Galleries
Jos de Gruyter and Harald Thys
Apr. 8–June 12
How do you create your own disquieting universe in 20-plus post-everything video works? De Gruyter and Thys did it by using a mix of untrained actors and makeshift mannequins constructed of Styrofoam and thumbtacks. Which seems like a pretty effective way of creeping out most people. To introduce themselves to Dallas, the Belgian artists will exhibit 50 such "dolls," pieces that only the spookiest children would consider inviting to a tea party. The Power Station, 3816 Commerce St. 214-827-0163.
Theater/Dance
Newsies
Apr. 29–May 10
The newsboys of this Tony Award-winning musical find themselves splashed on the front page when they go on strike in protest of a price hike. Newsies deals with topics that could be ripped straight from today's headlines—workers' rights, income disparity, journalistic integrity—while telling a classic tale of the little guy versus the powers that be. Winspear Opera House, 2403 Flora St. 214-880-0202.
Opera
Iolanta
Apr. 10–18
In Tchaikovsky's final opera, the titular blind princess is oblivious to the facts that she is both blind and a princess. Her father, the king, plays matchmaker and tries to fix up his daughter with a dashing duke, while the princess catches another man's eye and finds what she didn't know she was looking for. Yep, that old story. Anyway, the libretto for Iolanta was written by Tchaikovsky's younger brother, Modest. Modest Tchaikovsky! That's a great name. Winspear Opera House, 2403 Flora St. 214-871-2440.
Music
X
Apr. 9, 7 pm
Los Angeles, X's 1980 debut album, captured the glitz and sleaze of the city it was named for, a lightning-in-a-bottle scenario that the band wasn't able to completely duplicate on subsequent releases. (Wild Gift, released the following year, comes close.) But if X never managed to top Los Angeles, at least the group is finally getting some recognition for the criminally overlooked album, playing sets that draw heavily from the classic without getting bogged down in nostalgia. Trees, 2709 Elm St. 214-741-1122.
Theater/Dance
The Burnin'
Apr. 9–11
Inspired by deadly tragedies at two black nightclubs, this musical uses its real-life basis as a launching pad for explorations of race, identity, and survival. This neo-spiritual finds hope in the resilience of those who persevere through catastrophe, although the rebuilding is never simple. South Dallas Cultural Center, 3400 S. Fitzhugh Ave. 214-939-2787.
Music
Music From Yellow Barn:
In Return for My Song
Apr. 24, 7:30 pm
The Nasher's Soundings series has a reputation for being sonically adventurous. Music From Yellow Barn: In Return for My Song builds on that, as percussionist Ian Rosenbaum and the Parker String Quartet join forces to create a musical rollercoaster that's all unbearable tension on the way uphill, all hands-in-the-air release on the way down. Nasher Sculpture Center, 2001 Flora St. 214-242-5100.
Theater/Dance
Billy Goats Gruff
Apr. 11, 12:30 pm
Sung in English and produced by the Dallas Opera especially for kids, this rendition of the classic bedtime story about the three goats who outsmart a troll retains its anti-bullying message while promoting kindness and school attendance for good measure. Arrive early for fun family activities in the lobby before the show. Winspear Opera House, 2403 Flora St. 214-871-2440.
Music
Bad Religion
Apr. 4, 7 pm
Punk rock has historically been a young person's game, and the idea of a band becoming an institution in a genre that's taken pains to reject most established hierarchy seems almost heretical. That suits Bad Religion just fine, as the years haven't diluted the group's aggressive, machine-gun pop or its willingness to break with convention. House of Blues, 2200 N. Lamar St. 214-978-2583.
Happenings
Arts & Letters Live:
Billy Collins and Aimee Mann
Apr. 11, 7:30 pm
Collins, a former U.S. poet laureate, has a knack for lyrical writing that is begging to be set to music. Mann, for her part, has always written lyrics strong enough to breathe without an acoustic guitar. The musical poet and the poetic musician are a perfect fit for a night of conversation and performance for the Dallas Museum of Art's Arts & Letters Live series. Winspear Opera House, 2403 Flora St. 214-871-5000.
Theater/Dance
Lydia
Through Apr. 19
An El Paso family keeps its secrets buried deep until it takes in an undocumented maid to care for Ceci, the teenage daughter who was brain-damaged in a car accident days before her quinceañera. The arrival of Lydia, the only person able to communicate with the vegetative girl, at first seems like a godsend. But Lydia's presence and a series of tragic decisions bring years of dysfunction and rage boiling to the surface in Cara Mia Theatre Co.'s Elevator Project production. Studio Theatre at Wyly Theatre, 2400 Flora St. 214-871-5000.
Music
Britten, Beatles, and Bond
Apr. 23–25
The Turtle Creek Chorale has reached across the pond for a performance of familiar offerings from Ralph Vaughan Williams, Adele's biggest hits, and everything in between. Dallas' all-male choir will also run through a medley of tunes from Liverpool's four greatest exports and will shake—not stir—things up with renditions of "Goldfinger" and "A View to a Kill." Dallas City Performance Hall, 2520 Flora St. 214-526-3214.
Theater/Dance
La Traviata
Apr. 25, May 3 & May 9
Produced for the Fort Worth Opera Festival, Verdi's blockbuster La Traviata is filled with the kind of melodies that dig their way into your brain and become a part of life's internal soundtrack. It's the story of forbidden love among the Parisian upper crust, a real tear-jerker where the division between tragedy and happily ever after is shown for the thin line it is. Bass Performance Hall, 525 Commerce St., Fort Worth. 877-396-7372.
Happenings
Big D Reads
Apr. 1–26
A month-long event is a big commitment. But hear us out. Every year in April, Big D Reads, D's literacy nonprofit, asks the city to crack open the same book and participate in a cool shared experience. This year, it's Charles Portis' True Grit. (Yes, it's also a Coen brothers movie. Yes, we're screening it.) Pick up one of the 17,000 free copies floating around town, and take part in discussions, comedy shows, and more. It all culminates in a big outdoor festival on April 25. Klyde Warren Park, 2012 Woodall Rodgers Frwy. 214-540-0118.
Theater/Dance
All My Sons
Apr. 17–May 10
A cautionary tale about buying into the American Dream without checking the price tag, Arthur Miller's All My Sons is a classic post-World War II play about social responsibility and fragile family bonds. Miller's first successful work contains all the uniquely American hallmarks of his later pieces in its critique of capitalism and its portrayal of a tragic everyman. WaterTower Theatre at Addison Theatre Centre, 15650 Addison Rd., Addison. 972-450-6244.
Happenings
The Pin Show
Apr. 4, 6:30 pm
Dallas never looks snazzier than at this showcase for designers, artists, stylists, buyers, and photographers in the fashion industry. Held at the new Bomb Factory, the show is a chance for indie designers (including one of our favorite local purveyors of ladylike lace gloves, Hardly Alice) to mingle with fashion lovers of all shapes, sizes, and incomes. The Bomb Factory, 2713 Canton St. 214-932-6501.
Music
Mozart's Requiem
Apr. 16–19
Mozart's Requiem is a staple, but the real draw here is the U.S. premiere of a piece co-commissioned by the Dallas Symphony Orchestra. The triple concerto is dedicated to and performed by chamber ensemble the Trio Jean Paul, a group that has set the bar for expressive, masterful performances somewhere above the stratosphere. Meyerson Symphony Center, 2301 Flora St. 214-692-0203.
Museums/Galleries
Nate Lowman and David Salle
Apr. 11–Aug. 23
The artists in this  exhibition opening during the Dallas Art Fair have one thing in common: they are each at the top of their respective fields. Lowman and Salle (the Contemporary has also added Anila Quayyum Agha to the exhibit) also share a certain postmodern knack for flipping established conventions upside down, turning symbols that appear historical into cutting-edge, modern work. Dallas Contemporary, 161 Glass St. 214-821-2522.