If you struggle with dry, flaky skin, or notice that your face has an uneven texture, it may be time to get to scrubbing! Not sure why it's important or what brands to look for? Check out our list of the best face scrubs for men to try.
Best Face Scrubs for Men:
Dove Deep Clean
Every Man Jack Face Scrub
Baxter of California Facial Scrub
Origins GinZing
Murdock London Exfoliator
Kiehl's Facial Fuel
Lab's Invigorating Face Scrub
Jack Black Face Buff
Anthony Facial Scrub
What Is the Difference Between a Face Scrub and a Face Wash?
While a face wash or cleanser is useful for getting dirt and buildup out of pores, face scrubs take skincare one step further with exfoliation. Scrubs differ from washes in that they contain ingredients that help to buff dead skin from your face, leaving it smoother and allowing nutrients to penetrate deeper.
Face washes are typically creamy, while face scrubs include small textured particles in order to slough off dead skin. Their exfoliant properties make face scrubs extremely effective, but they can irritate the skin if used incorrectly.
How to Incorporate a Face Scrub into Your Routine
It is important to know that a face scrub should not be used as a substitute for a face wash. This is because scrubs are rougher on the skin than cleansers, and can irritate skin and trigger redness or dryness if used too often. Instead, use a face scrub three or four times a week after cleansing and then follow up with a moisturizer. That way you get the full benefits of your products while also treating your skin with care.
Why Use a Face Scrub?
Face scrubs contain exfoliant ingredients such as sugar or other small grains that help to physically or chemically rub off dead skin and buildup.
Sometimes simply rinsing your face or rubbing in a creamy cleanser isn't enough to penetrate deep into your pores and rid your skin of impurities. Exfoliants act like sandpaper on your skin to remove old flakes. Nourishing ingredients in face scrubs then help to capture moisture and heal the skin. This can help those with dry skin remove old flakes to moisturize the smoother skin underneath, allowing men with oily skin to avoid acne and even boosting the appearance of combination or normal skin.
Physical Exfoliants vs. Chemical Exfoliants
When you think of scrubs, you might think of a rough textured product that buffs your skin, but did you know that chemicals can act as exfoliants, too? Chemical exfoliants work to dissolve the bonds that hold skin together, meaning that they allow dead skin to be washed away without any kind of physical rubbing or skin irritation. This is a gentle alternative to physical exfoliants, though it still leaves your skin smooth and allows other products to penetrate deep into your pores.
Exfoliating Ingredients to Look for in a Face Scrub
While face scrubs have caught some flak in the past for containing ingredients that are harmful to the environment, the newest generation of face scrubs uses natural products to deliver powerful results. Here are a few ingredients to keep an eye out for:
Jojoba Beads. These high-quality round beads are formed from jojoba oil, which is a natural product that nourishes skin and is therefore included in many face washes. They are ideal for those with sensitive skin, as they both exfoliate and heal.
Oat Particles. Small fragments of oats serve as gentle exfoliants because they can work away at skin without tearing it or leaving it irritated. Oats also have many beneficial properties that can help soothe and nourish skin.
Sandalwood. This natural ingredient, which also serves as an astringent and contains soothing properties, is a great mild exfoliant that gives back to your skin as it scrubs your pores clean.
Nut Shells. Many products use nut shells—most commonly walnut—to exfoliate skin. Walnut-shell powder has just the right texture to help loosen dead skin when rubbed onto the face. Those with sensitive skin may want to avoid this physical exfoliant, however, because its rough texture can irritate skin prone to inflammation.
Lactic Acid. This chemical exfoliant comes from sour milk, and gently breaks down old skin while leaving a trail of moisture in its wake. Best of both worlds!
Salicylic Acid. You have probably seen this ingredient touted by anti-acne face washes, thanks to its ability to dissolve oil while fighting inflammation. The good news is that it also has exfoliant properties, making this ingredient an absolute lifesaver when it comes to skincare.
Skin Types and Face Scrubs
Dermatologists typically divide skin into four distinct types: oily, normal, dry, and combination. Face scrubs can be used with all types of skin, but there are a few things to keep in mind when selecting a product that will be most helpful to you.
Oily Skin. Look for scrubs that contain salicylic acid as a chemical exfoliant, as it can absorb extra oil that may cause acne or lead to greasy-looking skin. Try to avoid oil-based products, and opt for those that contain charcoal.
Dry Skin. Scrubs will help rid your skin of flakes and buildup, so they should relieve some of your dry skin issues. They also will allow your moisturizer to penetrate deeper, so be sure to follow your scrub regimen with a moisturizer application. Look for scrubs that contain glycerin or other hydrating ingredients.
Normal Skin. In order to maintain normal skin, make sure you use a scrub about twice a week after cleansing. Look for products that are full of natural ingredients, vitamins and minerals.
Combination Skin. Scrubs are usually excellent for combination skin, as they tend to address issues felt by those with both greasy and dry patches. Either apply moisturizer to the dry parts of your face immediately after using a scrub, or look for a water-based formula that contains some hydrating properties.
Sensitive Skin. With sensitive skin, you probably want to avoid thicker formulas that use more rough action to exfoliate. Instead, look for the chemical exfoliants mentioned above on ingredient lists, and go for formulas that are mostly naturally derived to avoid irritating your skin.
Check out our choices for the best face scrubs for men below to find the products and ingredients that work best for you.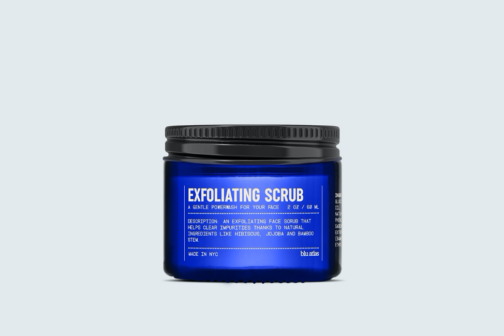 If you're in the market for a high-quality all-natural men's face scrub, look no further than Blu Atlas. Forbes ranked it the #1 best face scrub for men in 2022. Their Exfoliating Scrub features jojoba oil, which will crush any acne or eczema, and bamboo stem extract, which will wash away dead skin cells without irritating your skin in the process. Another key ingredient is Irish moss, which hydrates your skin while helping it retain moisture in the long term.
As well as offering an incredible face scrub formula, the brand truly cares about its customers. Their support team is extremely responsive and they back all of their products with a money-back guarantee. Do your face a favor and pick up Blu Atlas' face scrub.
2. Dove Deep Clean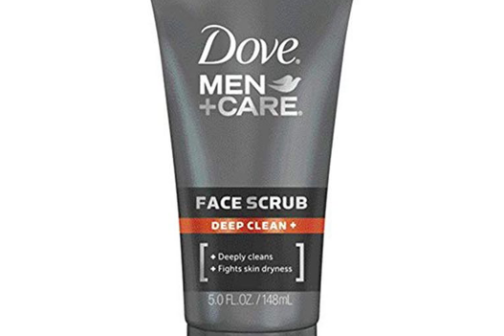 Dove is known for being a trustworthy brand when it comes to men's grooming products, and their facial scrub is no exception. This product gently sloughs off dead skin without stripping your face of the moisture it needs. Glycerin helps encourage your skin to retain moisture while scrubbing agents kick in to leave your skin smoother than ever.
This formula has been thoroughly tested and is user-approved to help you feel your best. Pro tip: Use right before or right after shaving to avoid razor bumps. This is a product you can count on from a brand men trust.
3. Every Man Jack Face Scrub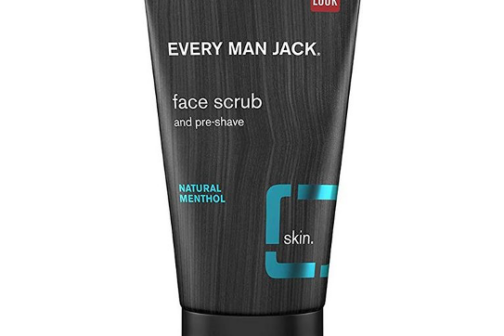 Natural menthol is the secret ingredient in this face scrub from Every Man Jack, which provides a soothing, cooling sensation and helps keep your skin hydrated even in the driest conditions. Activated charcoal and salicylic acid are the superheroes of this scrub, preventing acne before buildup collects in your pores, while jojoba beads gently scrub away impurities to leave your skin smooth as a baby's bottom. Then aloe kicks in to soothe irritated skin and leave it well hydrated.
Every Man Jack began in 2007 when the founder decided it was time to bring affordable, clean products to the world of men's skincare. All their products are produced in the United States. As with every item from this brand, this face scrub is made with naturally derived ingredients, and without parabens, phthalates, aluminum or dyes. Your skin will thank you.
4. Baxter of California Facial Scrub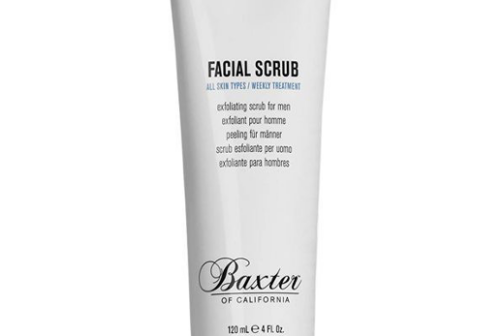 Baxter of California is known for its top-quality products and straightforward formulas. This particular product harnesses the power of honey to brighten your face, chamomile to soothe, and lavender to relax and nourish. Men say that this scrub helps them retain young-looking skin, thanks to its ability to promote cell growth and keep pesky ingrown hairs at bay.
This formula uses corn-kernel meal and walnut-shell powder for natural exfoliation. The facial scrub is another high-quality product from Baxter of California, a trusted brand that has been concocting skincare formulas specifically for men's skin for decades now.
5. Origins GinZing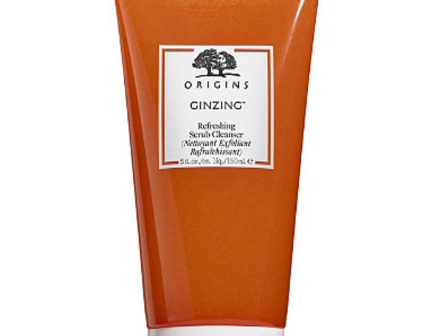 This facial scrub from Origins will bring new life to your face. It's a two-in-one: The scrub also serves as a cleanser, allowing you to skip a step in your skincare routine and still reap all the benefits.
Ginseng and caffeine wake up your skin and brighten, while jojoba and carnauba wax scrub and leave your pores clean and refreshed. Not only will you notice a difference when you look in the mirror; you'll feel a difference, too. And part of that is thanks to the refreshing scent of grapefruit, lemon, and spearmint that prepares you to tackle the day!
Environmentally conscious guys will be happy to learn that Origins focuses on sustainability in a few important ways. They've planted over a million trees around the world and started a fund to offset carbon emissions. Their packaging is created from 55% recycled or recyclable material, they use 100% renewable energy sources in their factories and they are working toward zero waste in the coming years.
6. Murdock London Exfoliator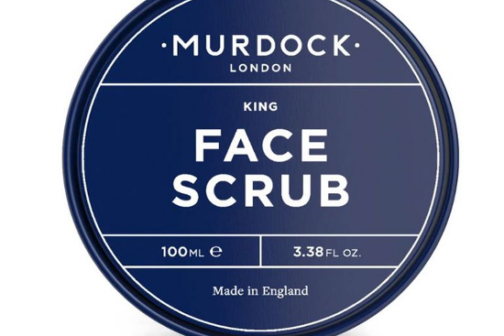 Yes, this is the king of face scrubs, brought to you by English brand Murdock London. This scrub is formulated to help you avoid ingrown hairs by ridding your face of dead skin. Fine grains of pumice sand clear pores, after which cold-pressed jojoba oil particles help exfoliate your skin. Aloe helps soothe irritation, gurjun balsam oil fights against inflammation and mandarin oil uses antioxidants to counter damage caused by free radicals.
This product is part of the brand's clean label line, which seeks to create high-quality grooming products without any harmful chemicals. Plus, they insist that using this scrub only once a week generates the desired effect—that means less time spent washing up in the bathroom and more time doing whatever it is you love!
7. Kiehl's Facial Fuel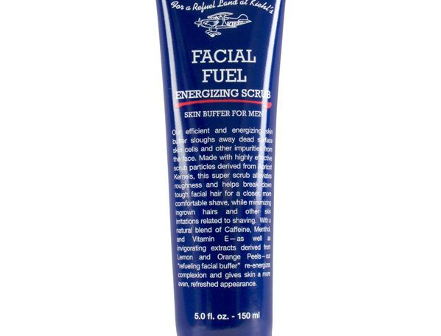 This scrub boosts dull, tired skin with a bit of caffeine, while citrus and menthol provide a bright, refreshing scent and feeling. If you wake up tired and lacking in motivation, there is nothing like this scrub to get you going. It works great on dry, oily, combination or normal skin. Apricot kernels act as an exfoliating agent while vitamin E and fatty acids hydrate and renew skin. This formula can also help soften your facial hair so that you can have a more comfortable shaving experience.
Kiehl's is an absolute go-to when it comes to men's skincare. Their products are specially formulated with input from dermatologists and concocted with only the finest ingredients to leave your skin healthy and happy. Plus, the brand is striving to become plastic-free and cut down on waste, so you can support sustainable practices every time you rinse your face.
8. Lab Series Invigorating Face Scrub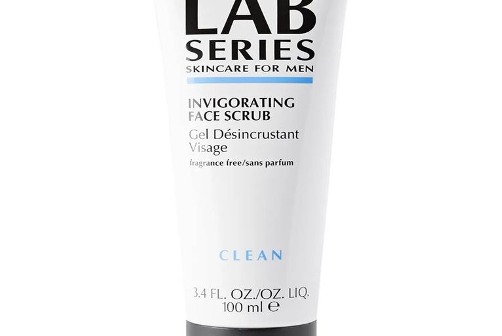 This gel formula facial scrub from Lab Series targets clogged pores, boosts skin circulation, and helps you get your glow back. It also works great as a pre-shave routine to help prep your skin for a close and comfortable shave. Menthol leaves your skin feeling cool and refreshed, and lingers as a subtle scent to keep you awake and alert.
Lab Series was developed in 1987 to create effective skincare solutions for men. Each formula is thoroughly tested, backed by science, and crafted with men's unique physiological needs in mind. If you're concerned about the environment, you will be happy to discover that the cartons Lab Series uses are made from sustainably sourced cardboard, and they are working on a refill program that cuts down on waste.
9. Jack Black Face Buff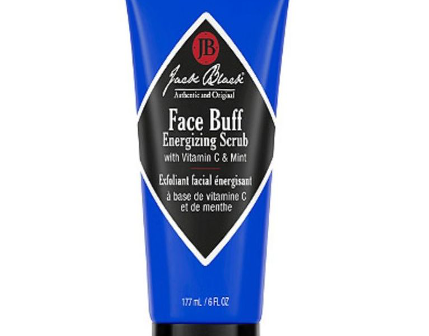 This product contains the best of nature, bottled up into a formula that scrubs and leaves your skin clear and refreshed. Eco-friendly bamboo particles exfoliate in a way that is gentle both to you and the environment, licorice extract and allantoin calm irritated skin, and then peppermint steps in to leave you with a refreshing cooling effect.
This is a great pick-me-up for tired skin and a tired you. Pro tip: Use this before you shave to minimize irritation and avoid razor burn. This product was named the No. 1 men's exfoliator by the NPD group in 2020 and is a fan favorite of men looking for straightforward skincare.
10. Anthony Facial Scrub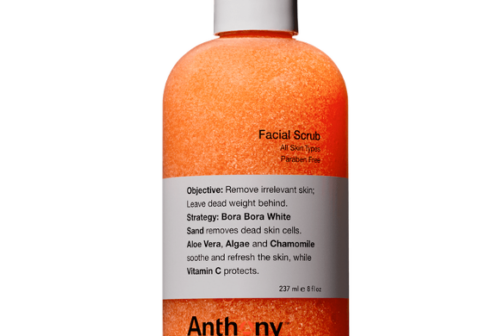 This product brings the white sand beaches of Bora Bora to you, along with all their cleansing power and blissful sunshine. Vitamin C offers antioxidant power to help detox and brighten skin, aloe helps trap moisture, and algae provides a healthy dose of nutrients. With chamomile as an additional secret ingredient, this scrub from Anthony goes easy on the skin to deep-clean without stripping. These powerful natural ingredients also help to prevent ingrown hairs and even out your complexion.
Anthony is an NYC-based brand that has been in business since 2000. They focus on no-nonsense skincare that is made for men and combines natural ingredients with innovative technology for clear results.
Think you've found a face scrub from the list above that will suit your needs? Add one of these products to your routine for the healthiest, smoothest skin of your life.
Get our weekly recap
Brings new meaning to the phrase Sunday Funday. No spam, ever.