In 1979, hurricane David ripped through The Bahamas, Dominican Republic, Puerto Rico, and the eastern coast of the United States. In all, $1.5 billion in damage was recorded and more than 2,000 casualties. All the while, Bianca Davis was being born in a Bahamian hospital. The now CEO of New Friends New Life, a local nonprofit that helps women break free from human trafficking and provides resources for survivors, says The Bahamas aren't always sunshine and palm trees, as often depicted. Here, she shares her story:
"I grew up on the island of Grand Bahama. It had about 50,000 people, and we had a very tight knit community. Everybody knew everybody, and everyone was always willing to help everyone. I came from a family with not a lot of means. My mom was a teacher at a small school and my father worked in the tourism industry as a hotel security director for many years. My two brothers and I always had enough, but never more than that.
"Growing up in a house with an educator, I just loved learning. It came naturally to me and by the time I was 15 I graduated high school. But when it came time to attend college—I picked Temple University—that is when my biggest hardship hit. I didn't qualify for student loans here in the United States, so it was a matter of scholarships, and people in the community supporting me. I clearly remember one night I was home for the Christmas break and a gentleman who knew my dad showed up at the doorstep. He said, 'Here's $1,000 towards Bianca's tuition.' My entire four year journey was made up of moments like that.
"But the hardest part about living on the island is the hurricanes. In my time as a kid, I endured six of them. It seemed each one was more severe than the last—and they keep getting that way. Every storm is a record breaking storm and it is really concerning. So as a result, economically, it is very difficult to live there. Tourism is 80 percent of the economy, and if a hurricane hits The Bahamas, tourists just go to Jamaica or to Mexico. But for us, our roots are there; there's no other option for us, and it is very hard to recover. Luckily, my dad—we called him 'Captain Emergency'—kept us safe with his preparation and I never felt that my life was threatened.
"The howling winds, power outages, surging storms—that trauma, though, every year sticks with you. I worry about my loved ones and ask, 'How are y'all processing it? Because this is not a normal experience. And mentally, how are you processing and preparing for the next year? Because you can't just get up and leave, that is where you live. That's where your roots are.' And so the trauma associated when hurricane season comes again, and wondering if we are going to make it, is scarring.
"Behind the beautiful weather, there's a lot to deal with in The Bahamas; but behind the traumatic hurricanes, is a loving community."
Get the D CEO Newsletter
Stay up to speed on DFW's fast-moving business community with weekly news reports, interviews, and insights.
Author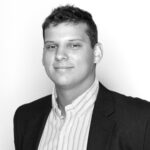 Ben Swanger is the managing editor for D CEO, the business title for D Magazine. Ben manages the Dallas 500, monthly…