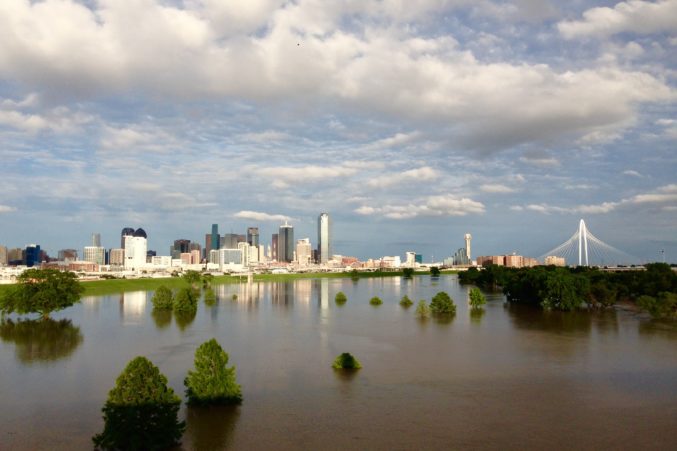 Warnings From Harvey About the Future of Urban Planning in Texas
The scale of devastation wrought by natural disasters can have all-too-human causes
It is impossible to look at images from the Houston area and not believe that as we learn more about the extent of the destruction, the news will only get worse. The death toll is only going to rise; the cost of damage will rival Hurricanes Katrina and Sandy. The level of devastation is absolutely nauseating.
It is also difficult to listen to reports about the flooding of Houston's acclaimed Buffalo Bayou park; the rising waters (and subsequent fires) in middle class, low-lying suburban subdivisions; and the topping off of dams, and not think about the reporting that has been done over the years about the potential threat of a similar situation in Dallas. The chilling images from Houston offer new sobriety when thinking through things like building improvements in the Trinity River floodplain, the durability of the dams to the many reservoirs in North Texas, and the long-term effect of pouring concrete over a huge swath of land and attempting to engineer the safe flow of natural water fall back into a man-made environment.
These are real concerns, not just for Dallas, but every American metropolitan area. And over at the Dallas Observer, Jim Schutze, puts it in stark perspective, reminding readers that we all knew the unthinkable was possible:
The Harvey story is not uplifting. The terrible damage that Houston is suffering will not be solved or even addressed by pep talks. We need to face head-on the truth about Harvey. Harvey is a nightmare of man's own making.

Harvey represents the defeat, the end, the natural physical limit of humankind's ability to occupy the planet heedlessly. This won't be fixable with concrete and rebar, with digging and dredging, with scratching at the surface of the earth and sticking structures into the planet's skin. This storm is the earth flexing, heaving, vomiting up all of those manmade restraints.

What we are doing does not work. The way we live is not sustainable. There are no solutions to Harvey. There are only compromises that we can make with nature, and that terrible truth has been known for long decades, during which time we have done nothing to prepare.

For the last two years, Pro Publica and The Texas Tribune have been cooperating on a series of stories about Texas and its lack of preparedness for this kind of catastrophe. For those stories, reporters interviewed a battery of scientists who told them the same things scientists have been telling reporters and the world for at least a quarter-century.

We have talked about it here because, for the last 20 years, the old elite in Dallas pushed a project that flew in the face of the known science on flood control. A new, younger, more environmentally sophisticated leadership team in the city just killed that project, the Trinity toll road, but we still dwell among the shadows of the old regime and its claptrap flood-control system.