Chris Gannett quietly launched Dallas-based Gannett.Partners in December 2022, and the executive coaching, operating advisory services, and strategic capital firm has already garnered clients in nine countries across 15 different industries. Since its launch, Gannett.Partners—which is fully self-funded—has grown 45 percent month-over-month. "Like a lot of services businesses, we were profitable in the first month," he says.
Right now, Gannett is the lone full-time employee of Gannett.Partners, but the founder is leveraging a team of eight coaching and operating advisors, including the former CMO of HBO.
Gannett.Parnters is a combination of Gannett's prior experiences, which include his role in the scaling and sale of American Idol and So You Think You Can Dance. His time in investment banking at Citibank and experience turning around a Fort Worth entertainment company led him to acquire an executive coaching certificate from the University of California, Berkeley.
Gannett.Parnters merges coaching science, data-driven adult development psychology, and mindfulness with company-building expertise to help leaders achieve personal and professional growth. Here's a look at the three verticals:
Strategic capital investments
Gannett says capital deployment—both direct and as a limited partner—is in the media, entertainment, tech, and consumer spaces. The firm also advises companies on capital strategy. "We're an incentive aligned, one-stop resource for capital partners who are looking to derisk their investments in companies," Gannett says.
Executive coaching
On the coaching side, which boasts 17 clients, Gannett says, "My goal is for Gannett.Partners to be first name people think of, and the most trusted name, in executive coaching in Texas. The entire business coalesces around coaching. And the type of coaching that I do gives me insight into young companies that are early on in their capital raising journey. So that gives me a really strong early look at potentially participating in company's capital needs before they go to the traditional venture market—but that's not the full objective.
"I'm coaching CEOs of public companies that are in excess of several hundred-million dollars in top line revenue, or by valuation over $1 billion dollars of market cap value, to early stage seed funded or prerevenue companies."
Operating advisory services
Gannett says he has garnered five clients in this enterprise-focused space. "This tends to be geared around building businesses or bringing companies into a place where they can raise capital and bridge particular rounds, which helps them find product market fit, hire leadership teams, explore business models, or all of the above," he says.
Gannett's Rise
Gannett got his start in marketing with Dr Pepper/Seven Up, then moved to Mondelez Nabisco to manage a piece of the Oreo business. After going back to school to get an MBA, he changed careers and moved into investment banking with Citi. By his fourth year, he was running a $200 million piece of the institutional clients group. "It was there where I learned how to build and scale businesses and how to be a proficient investor," he says.
By 2006, he itched to get into his lifelong passion: music and entertainment. So, Gannett joined Sony Music as one of the founding members of its commercial music group. In just over five years, Gannett and company grew the arm to account for roughly half the company's global revenue and by 2011 he was recruited by Simon Fuller's 19 Entertainment to step in as the marketing lead for American Idol and So You Think You Can Dance.
"With Idol, as CMO, I implemented the first set of consumer research in the 10 years of its existence," he says. "Hollywood depends heavily on gut instinct and that's incredibly important for a creator of a successful franchise, but understanding the quantitative and the qualitative aspects of the target audience we were serving was indispensable."
Gannett was part of the group that sold the Idol and So You Think You Can Dance businesses to private equity firm Apollo Global Management in a deal valued at $509 million. "That gave us the ability to take our sponsorship business up 4x or 5x compared to what it was in the previous year," he says.
Gannett also helped oversee management of Robin Williams, Woody Allen, Billy Crystal, and Muhammad Ali's enterprises.
After stints with Blaze Media, Microsoft, and Media Math, Gannett took a minority stake in Fort Worth-based Encore Live, a $20 million-dollar agency, in 2019. But one year later the pandemic struck and dropped Encore's revenue nearly to $0. Gannett and his partners were tasked by the company to bring it up from the ashes—while Gannett was coping with the passing of his father due to COVID-19.
"I found myself, on one hand, with a turnaround in my family," he says. "I had this catastrophic moment that impacted my children, my family, and my relationship with my dad. On the other hand, I had another turnaround that I did not forecast with some great partners, but nonetheless we had to face. At that point, life and work had changed forever. And so in the midst of healing on my family side, and a total rabbit from a hat on the business turnaround side—I credit my partner's pulling the dog sled on that while I was grieving—we were able to come out strong."
Gannett's turnaround experience provided a thirst for more. So, he went through executive coaching courses with Cal Berkeley. "I came out of that transformed," he says. "I realized I could have an impact on more than one company at a time if I launch this and so I combined my angel investing activity, my advisory, added coaching, and quietly launched."
Gannett.Partners' Growth
Gannett is all about providing sustained growth to companies of all sizes. Gannett has garnered coaching clients ranging from CEOs and boards of directors and investors to elite sports and entertainment talent.
"One of my very young clients was at about $1 million top line revenue out of the gate and generously attributes about 30 percent of their growth this year to the work we're doing—they'll surpass their $2 million target this year," Gannett says.
Gannett self-funded the venture, but believes a formal capital raise could be on the horizon. "Whether we raise would come down to how we would use the capital, and the strategic value that those capital partners could bring to the table," Gannett says. "We would have to take a more surgical approach than the painting with a broad brush approach."
As far as Dallas being Gannett.Partners' home base, the Texas-native says DFW was a no brainer. "We're in a golden moment, here in North Texas," he says. "This is a fantastic labor market for founders and companies that want to scale."
Looking ahead, Gannett also believes in the possibility of adding a mental health advisory to Gannett.Partners within the next half-decade. "Five years from now, I want to have built platforms, partnerships, and the tools around us that allow the methodology to impact and reach as many people as possible," he says. "I am also passionate about mental health. I believe that access to mental health support is a basic human right. By no means do I believe we will compete with the BetterHelp's of the world, but to make that available as a benefit to employees of companies would be great.
"At Gannett.Partners, we want to support everyone and help everyone get a seat at the table, whether they are innovation groups of Fortune 500 companies or they're high-potential entrepreneurs of every walk of life. We can help create opportunities for people who aren't getting the looks by traditional venture capital, which is very important to me. And we can even help the allocators see opportunities that they otherwise wouldn't see through their traditional lens."
Get the D CEO Newsletter
Stay up to speed on DFW's fast-moving business community with weekly news reports, interviews, and insights.
Author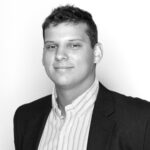 Ben Swanger is the managing editor for D CEO, the business title for D Magazine. Ben manages the Dallas 500, monthly…