Trial lawyer and landman, Jonathan Grammer's clients consist of national oil and gas companies, renewable energy developers, and independent operators. He is also focused on bringing resources and experience into carbon capture and renewable energy. "All the energy sectors are moving toward the center," he says.
Looking ahead, Grammer believes we are embarking upon the most pivotal decade the United States' energy sector has seen in more than a century.
Birthplace: Austin, Texas
Education: Oklahoma City University (JD), Texas Tech University (BA-English Literature)
First Job: "My first job was roofing houses in the summer outside Austin along the shores of Lake Travis. And I did that through high school and college and I learned just how hard some people have to work to earn $1. That time is what compelled me to seek a higher education because I did not want to work like that for the rest of my life."
Best Advice: "My mom taught me that there's only two kinds of people in the world: those people that do and those people that don't. Don't look at life as being lucky or unlucky, wealthy or poor, intelligent or unintelligent; you can choose to do or you can choose not to. It's really up to you."
Destination of Choice: "Anywhere in the Texas Hill Country. I grew up in Austin and love all things about the Hill Country."
Hobby/Passion: "As much time as I can, I spend time with my family doing the things that I love, like riding horses, fishing, or just being outdoors. But it's all the more special when I get to enjoy it with my family. So I really seek out things that used to be my individual hobbies and try to make them more family oriented. And when I find them, that's really what I like to do. Anything associated with rivers and Texas hiking, or going hunting, I've always done those things. But my favorite things are always done with my kids and my wife."
Local Fare: "I travel quite a bit, but when I'm in Dallas, we usually find ourselves eating at Campisi's."
Fun Fact: "Most people would be surprised to know that I play the guitar and sing. And I also play the piano, the banjo, and the violin."
Dream Car: "I think it would be a Shelby Mustang fastback because it appeared in my favorite movie Bull."
Toughest Challenge: "Avoiding debt is my toughest challenge. Each year operating without heavy debt burden has probably been the largest obstacle, and continues to be the largest obstacle, in business."
Proud Moment: "I think it was moving our resources and our experience into carbon capture after a 10-year career in oil and gas and choosing to serve alternatives and renewable energy."
Walk-Up Song: "I think it would probably have to be the song from Indiana Jones, Raiders of the Lost Ark. That song helps me start my day. I know it's going to be full of challenges that make me question whether I've got the mental wherewithal to overcome it all, but I'm always having to re-encourage myself, re-instill confidence, put my mind in a place to know that I can overcome challenges, and, since I was a little boy that song has emboldened me."
Biggest Risk: "Trusting people. I think anytime I take on a project for a client relationship that's very important, and upon which my company is heavily reliant, I would have more confidence in myself than other people, and I can't assume they're going to do it timely and correctly. Well, I took a long time to understand that you're never going to go wrong when you pay more for someone you can trust to do the job right. I've never really been burned, but that is always the lingering risk that bothers me most."
Bucket List: "I would love to finish work on my pilot's license which I started six years ago. I have plenty of hours to complete my certification and I would love to finish it in the near future."
Future Forecast: "I think if all of the energy sectors seem to be moving towards center, there's been a great deal of polarization between hydrocarbons and alternative renewables. You're finally starting to see very powerful energy interests realize that this is going to be more of a conglomerate energy than one that is so segmented and between oil and gas, and solar and wind. I'm really excited about people seemingly coming together to see if we can solidify our energy infrastructure by everybody contributing, rather than everybody kind of fighting in their own corner."
Get the D CEO Newsletter
Stay up to speed on DFW's fast-moving business community with weekly news reports, interviews, and insights.
Author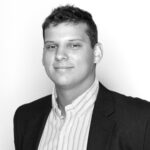 Ben Swanger is the managing editor for D CEO, the business title for D Magazine. Ben manages the Dallas 500, monthly…