Currently on view at the Karpidas Collection's tucked-away location in the Design District, Richard Prince: Selections from the Karpidas Collection is a misleading title. It's more akin to a retrospective, the kind that would be in a coastal institution. An industry-altering satirist and appropriator, Prince has been commenting on various unmentionables in society since around the time of his earliest piece here, which dates to 1980.
By taking photographs of photographs and reproducing images created by others with seemingly very little altered, he has fueled the ongoing debate surrounding intellectual property, reproductions, and various other contemporary art issues that are exacerbated by digital technology. Andy Warhol's images of Prince (the musician, not the artist) recently making it all the way to the Supreme Court is the most glaring example, but Prince (the artist, not the musician) too has been mired with legal issues.
Born in 1949, his origins are murky. His parents worked in U.S. Intelligence — the OSS, which evolved into the CIA. Like many provocateurs, Prince insists that he doesn't seek controversy. But as he told the Louisiana Museum of Modern Art's media team in Copenhagen for an exhibition that opened last November, "The worst reviews are the best for me, always."
He sometimes gives contradictory statements on his practice, which is not entirely unsurprising given the slippery notions of authenticity buried therein. As such, controversy follows Prince wherever he goes, whether he claims it or not.
"I got to a point where I didn't just want to steal their pictures," Prince says later in a promotional video for his European exhibition. "But I wanted to steal their technology when I was appropriating the advertising pictures like the cowboys and the various pictures I would appropriate."
The show snakes its way through the Karpidas Collection's considerable space and takes up every inch save for the cylindrical room that features paintings of Greek gods and goddesses by David Salle. The Karpidas is arguably the most vital hidden jewel of Dallas' private gallery scene besides The Rachofsky Warehouse, which is technically in Farmers Branch.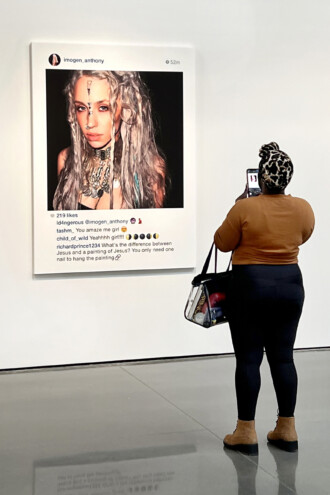 Included in the exhibition are Prince's earliest cowboy images, lifted directly from Marlboro man advertisements but reshot and cropped by the artist; autographed publicity stills of Hollywood tough guys; and his disjointed joke series. With Prince's roots in the advertising world, his art makes an easy symbiosis for non-art world entertainment industries.
Like the German painter Gerhard Richter before him, Prince too had his pop music moment with the group Sonic Youth, by way of his cover for the band's 2004 album, Sonic Nurse. A piece from the series, titled "Washington Nurse," is included in the show.
The exhibition is about as comprehensive as possible. It came about organically, by way of the exhibition's curator, Sara Hignite. The Karpidas Collection has more images by Prince than any other fine artist, although the gallery does have work by his contemporaries. Pauline Karpidas started the collection in the 1970s. While Hignite remarked on the amount of surrealist artworks owned by her employer, she discovered other eras were also well-represented.
"Then I really discovered that [Pauline Karpidas] has an incredible collection from the pictures generation," Hignite says. "Not just Richard Prince but Barbara Kruger and a lot of the other artists who were working in the same group."
Hignite also edited a handsome, museum-worthy catalog for the show with a collection of mostly Texas-based contributors such as Brandon Kennedy, Mark Flood, and Lucia Simek. The publication doesn't gloss over the potent implications of the work.
In one powerful essay, curator Rebecca Matalon—of Contemporary Arts Museum Houston—parses the similarities and contrasts between Prince and the late writer, Kathy Acker. Acker influenced Prince as a peer and he depicted her book spines in his work.
Like Prince, she also had issues with copyright law. The author has more than once been described as "unreadable" and her unflinching descriptions of sexual violence are far more stomach-turning than anything on the gallery walls by Prince. In the catalog, Matalon describes Prince and Acker as "two of postmodernism's pre-eminent pirates." She quotes Acker's descriptions of Prince's image volleys as "terroristic repetitions"—as brilliant and succinct an art review one could ever hope to read.
It is in Prince's sometimes multifaceted approach and defense of his process—such as his reworking of Instagram photographs he has commented on—that has irked critics. Search his name and there are seas of putdowns, negative reviews, and dry reporting on lawsuits. "Richard Prince's Dorky White Anger," reads the title of one particularly disparaging piece. Later in the article, writer John Yau refers to him as "a sad vampire."
Just before Prince opened his first major solo exhibition in Dallas in October 2022, a piece commenting on his work sprang up in a neighboring gallery. The public art piece is called "The Collector" by artist Tino Ward and was installed in front of Liliana Bloch Gallery. It heavily references a 1988 work by Prince and Christopher Wool titled, "My Name." Both pieces could be viewed within spitting distance of each other. It was purposely displayed outside, so as to "eliminate … the privacy screen art is often hidden behind," according to the artist statement.
Whether it's the snippy review, or the response piece at the local gallery ahead of his retrospective landing nearby, the point seems missed. Prince's output has been soothsaying the direction of society in the 43 or so years these artworks have been made, for better or worse.
There's a popular online trend featuring videos where wild animals happen upon a mirror and react accordingly. In one particularly bad reaction, a large bear picks up the mirror and slams it against the ground. The more Prince is attacked, we become that internet bear. We miss the joke painting and we miss the punchline; we become the joke itself.
These works do not lead the witness and do not have a neat infographic on where the viewer should land politically.
"I feel like he's really just giving us the opportunity to not only react to these images but be made uncomfortable by them," Hignite says. "He sort of forces us into the artist's gaze and we have to figure out what to do with that. Art isn't neutral. Richard's not neutral. You just don't know where he stands."
Yet there are clues as to Prince's philosophical leanings. He attempted to return money made from an Instagram portrait of Ivanka Trump when her father won the 2016 election. He once criticized a Los Angeles gallery for accepting money from the National Endowment for the Arts in the 1980s.
"The obvious question back was, 'Why did you take a flight from New York using money we gave you for the NEA grant?' L.A. artists were pissed off having New York artists telling us what we should think," wrote artist Doris Cypis reflecting about Prince in Richard Hertz's The Beat and The Buzz: Inside the L.A. Art World.
As far as turning the tables on Prince and mimicking his work, he offers this in an essay from the show catalog: All I ask is that you don't pawn off mine as mine. Don't re-make a Richard Prince and pretend it's a Richard Prince. Own up to it. Give yourself credit. Get your head out of your ass and stop kissing mine.
The aforementioned cylinder full of David Salle paintings at Karpidas offers a pleasantly isolating space that encourages contemplation that is the closest thing we have to Houston's Rothko Chapel. But with the JFK imagery, the doubly fake cowboys, and the dirty jokes, Prince's neighboring exhibition is fitting with Dallas as a backdrop. See the Prince Chapel if you can.
"Richard Prince: Selections from the Karpidas Collection" is on view by appointment through Jan. 22, 2023 at the Karpidas Collection, 1532 Hi Line Dr., Dallas. [email protected].
Get the FrontRow Newsletter
Get a front row seat to the best shows, arts, and things to do across North Texas. Never miss a beat.
Author