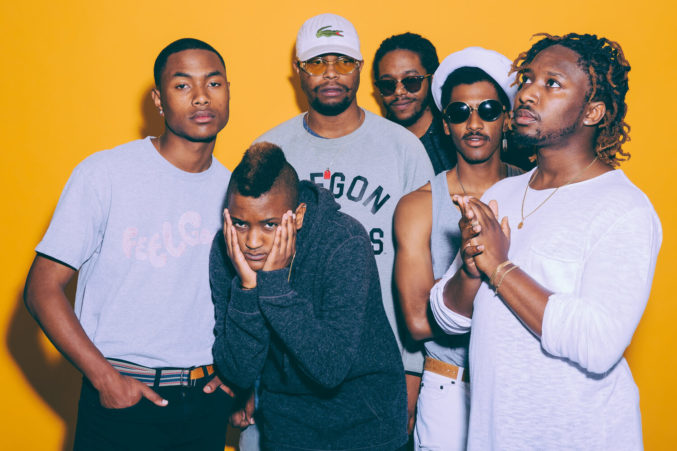 Things To Do in Dallas This Week: Nov. 19 – 21
Thanksgiving Eve is packed.
Monday (11/19)
Hip-hop soul group The Internet brings its Hive Mind tour to House of Blues tonight. The six-member outfit branched off of the Odd Future collective in 2011 and has been making sexy, jazzy tunes ever since. If you're not familiar, listen to "Special Affair" and "Come Over." You've probably heard "Girl" already. Find tickets here.
It's a Vegan Thanksgiving Cornucopia tonight at V-Eats Modern Vegan in Trinity Groves. Enjoy a cruelty-free feast featuring veganized holiday favorites, plus some unique new dishes. The meal includes soup, the choice of a main dish and two sides, and choice of dessert. It's $25 for adults and $8 for 12 and under. Find seating times and tickets here.
British R&B singer Daley is performing at Deep Ellum Arts Co. tonight, along with Austin native Mélat. Doors open at 7 p.m. Tickets are $30.
Tuesday (11/20)
Emmy-winning TV show So You Think You Can Dance pedals its best dancers of the year across the country for the So You Think You Can Dance Live! 2018 tour. The show's top 10 finalists are showing off at The Theatre at Grand Prairie on Tuesday night.
Join Outdoor Voices, Zyn22, and Dallas Autumn Ball in #DoingThings on Tuesday night. Zyn22 is presenting a 35-minute HIIT class at Outdoor Voices, followed by hot chocolate and shopping, with 20 percent of the sales proceeds going to Dallas Autumn Ball. The event is free to attend. Register here.
Wednesday (11/21)
Bone Thugs-n-Harmony has its Texxas Takeover at The Bomb Factory in Deep Ellum on Wednesday night. The group will be joined by Juicy J, Z-Ro, and Lil Troy. Tickets are $52.50.
Apparently Thanksgiving Eve is a big thing in the club scene. Truth & Alibi is hosting its 5th Annual Thanksgiving Eve party; Theory Nightclub Uptown is having The Night Before Thanksgiving party; Candleroom is having its 15th Annual Thanksgiving Eve Bash; Sandaga 813 has its Pleasant Pheasant Pre-Thanksgiving Party (best name of the bunch); and The W Hotel is hosting its 4th Annual Thanksgiving Eve Affair at Altitude.
RC & The Gritz celebrates the 13th anniversary of "DFWJAMSESSION" (an Aretha Franklin Tribute) at The Free Man on Wednesday night. Local artist M3CCA will give a special guest performance. Doors open at 9 p.m.
Get into the Thanksgiving spirit by giving back. Here are some places to volunteer in Dallas during the holiday season.
Also, since you'll be busy partying on Wednesday, do yourself a favor and let someone else do the kitchen prep for you. Here are some places offering Thanksgiving feasts to-go, and here are the wines you'll want to pair with dinner.