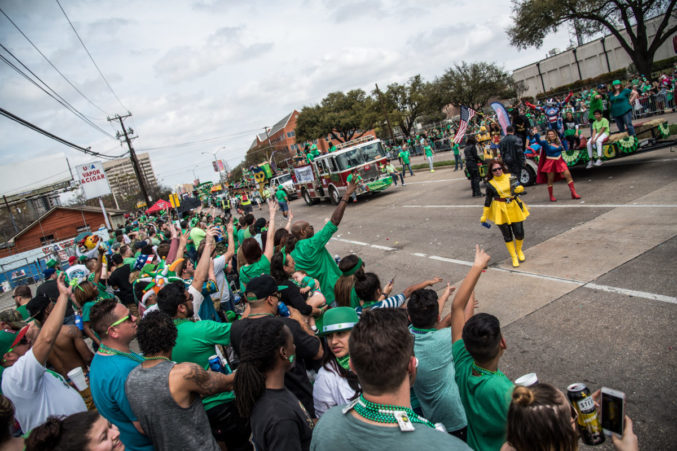 Things To Do For St. Patrick's Day 2018 in Dallas
There's the Greenville Avenue parade, of course. There are also parties, festivals, and more to toast the Irish for St. Patrick's Day.
In Dallas, the parade on Greenville Avenue and all the parties and revelry in its immediate orbit tend to monopolize the festivities for St. Patrick's Day, nominally a celebration of Irish culture, more often an excuse to party while the sun is shining. That's certainly the case this year, with the Saturday parade falling on the date of the holiday itself, March 17.
Nevertheless, you may need to learn some of the ropes for this year's parade, and there's plenty more to do on streets that aren't named Greenville Ave. Here we break down some of those events. Celebrate St. Patrick with green beer, maybe a Guinness, maybe a shamrock decoration or two, maybe some Irish dancing or corned beef. Celebrate with some fun things to do.
The Parade, Etc.
The day (Saturday, March 17) gets started early with the Dash Down Greenville, a 5K whose participants should feel especially justified in spending the rest of the morning and early afternoon drinking and eating.
The main event, the Dallas St. Patrick's Day parade itself, begins at 11 a.m. at Greenville and Blackwell Street. It will mosey two miles south and wrap up at SMU Boulevard (parade route below). There's a "Mavs Corner" (the Dallas Mavericks are the parade's biggest sponsor) with food trucks and live entertainment at Lovers and Greenville near the CVS. There's a "Brew Fest" by the Office Depot just south of Lovers, with food trucks, beer, and booths. There's a "Comerica Bank Family Zone" near the Comerica Bank in the Old Town shopping center, an oasis of family-friendly calm with limited free bleacher seating and PG activities.
Farther south on Lower Greenville, around Stan's Blue Note, The Dubliner, and The Grape between Vanderbilt and Vickery, you'll find a $12 block party (21-and-up only) with live music and beer. The "official" parade after-party is at The Skellig on Henderson: a U2 tribute band (hey, they're Irish) is playing in the parking lot, along with Irish dancers and bagpipers. That gets going at about 3 p.m. Meanwhile, Sundown at Granada's got live music on three stages, and every other bar on Greenville will be overflowing.
But look, don't overthink it, or feel compelled to do anything official. Wear some green, get a couple friends together, head to Greenville sometime between 9 and 11 a.m. (maybe earlier, if you want a really good spot), and adopt a cheerful and respectful demeanor. Enjoy the company of your fellow North Texas residents and a lax attitude toward the enforcement of open container laws, responsibly. Home by 4 p.m., because things can get hairy after that.
For the sake of convenience, here's the actual parade route, with more St. Patrick's Day events below it.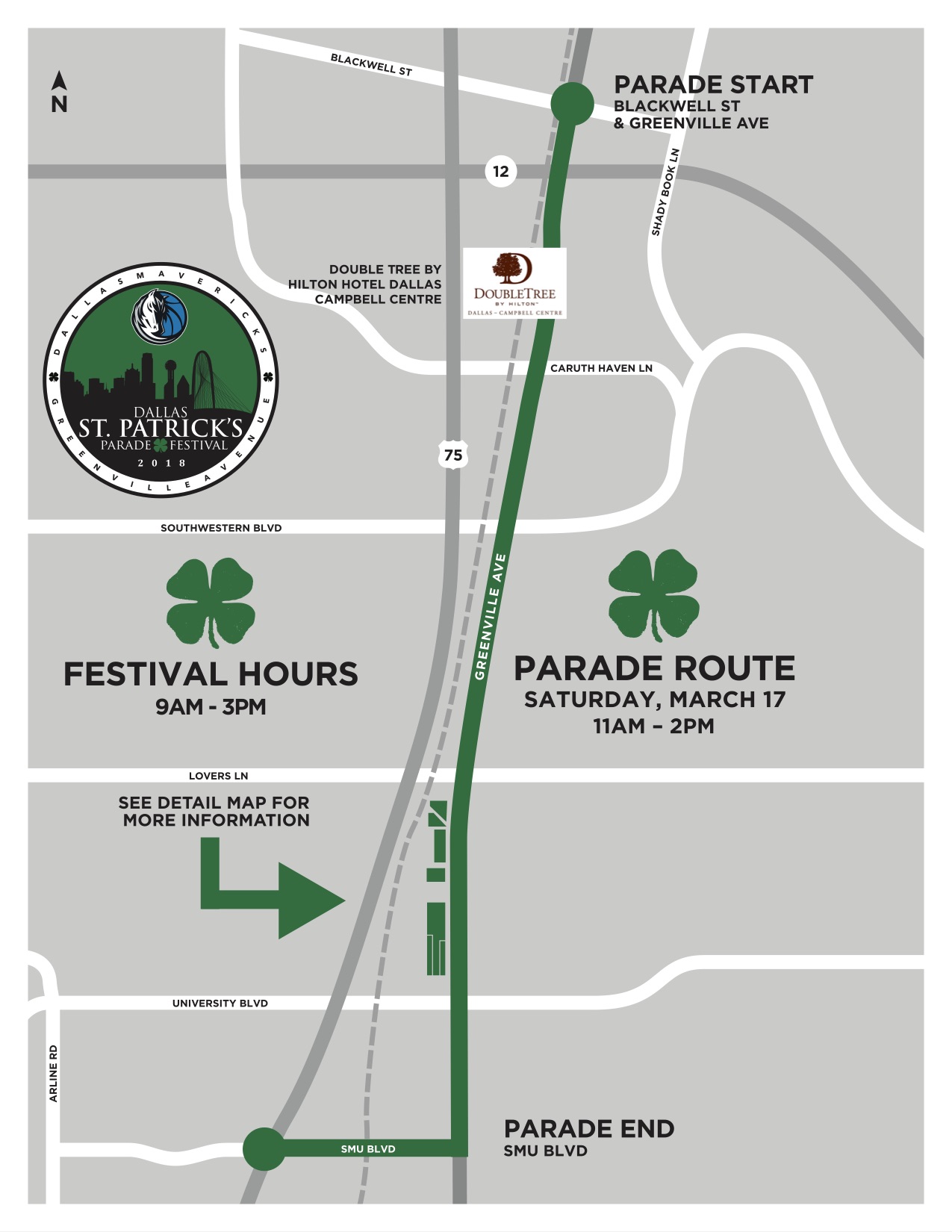 Just Get Me to a Big Party
Really, pick your favorite bar, especially if it's an Irish one, and have fun. Pub crawl, as one will. But there are a few blowouts worth singling out. Most of the St. Paddy (or is it St. Patty?) action will be concentrated on Greenville Ave, but there's plenty to be done elsewhere.
Doors open at 7 a.m. at the Trinity Hall Irish Pub at Mockingbird Station. Ireland plays England in 6 Nations Rugby at 9:45 a.m. Live, Irish music begins in the afternoon and lasts into the night.
You already know The Old Monk has got Irish food and drinks ready all day, starting with an early 10 a.m. open. The O's play at 4 p.m., Whiskey Folk Ramblers at 9.
In Uptown, the Idle Rich Pub will be sorely missed this year, but Blackfriar Pub and its St. Patrick's Day Block Party are the next best thing in the neighborhood.
Sandaga 813 in Expo Park is hosting a block party with food trucks and all-day drink specials, but it doesn't get going in full until after the parade.
The North Texas Irish Festival, one of the biggest, most authentic, and most fun celebrations of Irish culture you'll find anywhere, happened a couple weeks ago. Sorry if you missed it. But go ahead and put it on your calendar for next year.
I Don't Want to Celebrate in Dallas, What's Going on in the Burbs or Fort Worth?
Cowtown Goes Green at the Fort Worth Stockayrds is a family-friendly affair kicking off around 11 a.m. with a cattle drive. It's Fort Worth, and it's the Stockyards, so you're basically looking at a day of "gunfight shows," a wild west show, and a Cowtown opry. There is a parade at 4 p.m. and a Celtic band at noon.
In Plano, Ringo's Pub at the Shops at Legacy has the best block party.
In McKinney, the Tupps Brewery is hosting a festival with Irish music and plenty of beer.
I Don't Want to Party
Hmm. The Dark Hour Haunted House in Plano is offering St. Patrick's Day themed frights with "St. Patrick's Slay," featuring tours on March 16 and 17. We guess those Leprechaun movies were pretty scary.
What About the Day After?
On March 18, VIP IV, a traveling vitamin infusion van that, among other things, specializes in supposed hangover cures, will be posted at State & Allen in Uptown. We're not endorsing that, and truthfully, we're skeptical of its efficacy. You know what? Forget the IV. Get a hearty breakfast or brunch at the place of your choosing, and spend the day relaxing in the manner you prefer.
I Hate St. Patrick's Day, What Other Festivals You Got?
How about this Holi "Festival of Colors" at Fair Park on March 17 from noon to 5 p.m.? Organized by the Radha Krishna Temple of Allen, the Hindu spring festival lives up to its colorful promise, with festival-goers decorating themselves in colored powers. There's also food and other activities.