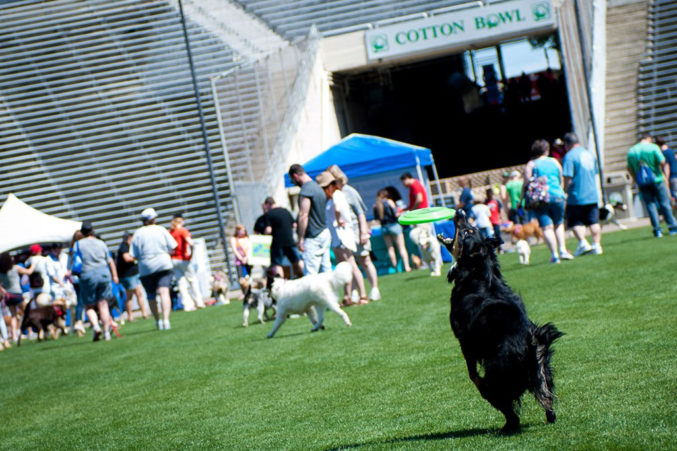 Things To Do In Dallas This Weekend: April 27-30
Take your dog to the Cotton Bowl, talk that literary city talk at the Dallas Book Festival, or go see PJ Harvey at the Bomb Factory.
The next time someone, perhaps a co-worker or an acquaintance making idle chat, asks you what you're doing this weekend, make sure you're ready. Answer them with gusto. Bury them in an onslaught of things that you are doing, a barrage so furious and full of information on happenings in and around Dallas, that they will never dare to ask you what you're doing this weekend again. Tell them you're going to see the Pixies, and you're going to the Dallas Book Festival, and you're going to see a movie, and take your dog to the Cotton Bowl, and if you have time, you'll go grocery shopping and work on your screenplay.
Do as the Boy Scouts do, and be prepared.
Thursday (04/27)
PJ Harvey is about as brilliant as any English songwriter to ever carry a tune, and she doesn't perform in these parts often: it's been maybe 10 years since her last Dallas show. Whether you're a fan of grungy, violently electrified early '90s Harvey, or the more wistful, peacocked Harvey of the 2010s, she's the complete package. I very strongly endorse going to this show at the Bomb Factory.
The Video Association of Dallas' great but poorly named Dallas Medianale stands out in a overpopulated and underfished sea of hometown film festivals by virtue of being very, very unusual. Weekend screenings at the Dallas Contemporary, the Nasher, and the Green Zone are devoted to film's most experimental fringes. It all kicks off tonight at the Texas Theatre with a three-part tribute to the avant-garde filmmaker Tony Conrad. First up, a documentary about the pioneering artist. Then, Conrad's The Flicker, a short 1966 film that is not recommended for epileptics. Closing it out, live behind-the-screen performances inspired by the man's music.
The Meyerson gets exceptionally lit this weekend as the Dallas Symphony Orchestra absolutely kicks out the jams: Vivaldi's Four Seasons and Beethoven's Sixth. The pastoral program repeats Friday, Saturday, and Sunday.
The USA Film Festival is happening now at the Angelika. Confused and alarmed about what this entails, or about what to see? Let this put your mind at ease.
Friday (04/28)
Superstar essayist David Sedaris, whose thoughts on smoking and non-smoking I happened to read and enjoy this morning, packs out the Winspear.
Lil Wayne hasn't had a gargantuan hit in years, and it's been even longer since he's released an album's worth of work entirely worth your while. Still, South Side Ballroom? This is a man who, not that long ago, called himself the "best rapper alive" and met with zero dissenting opinions. A man who could have sold out American Airlines Center. Despite a spotty track record live, this nevertheless feels like a steal of an opportunity to see one of the greats in a relatively close space.
Saturday (04/29)
The Pixies show at the Bomb Factory is sold out, but it's the Pixies, so it's worth mentioning. If you can finagle a way in to see a band whose setlists—"Gouge Away," "Debaser," "Bone Machine," "Where Is My Mind?" "Hey"—read like the Platonic ideal of an indie rock show, you should.
The Dallas Festival of Ideas brings well-intentioned and generally insightful people together to discuss ways to better our city in a number of "tracks," from healthcare to education to the arts. Because of the threat of rain, it's been moved from the plaza at city hall down the street to the downtown convention center. Buses will run from there to the library, where the Dallas Book Festival is taking place. Expect to hear from acclaimed authors and to sit in on panels talking that literary city talk.
Fortress Festival, which looks to be a good time even though organizers are probably going to have to figure out what to do about that outdoor stage on the Modern's pond when it storms Saturday, makes its debut. The two-day festival (Sunday's forecast is sunny!) is set for the Fort Worth Cultural District, with one stage at the Modern Art Museum and the other at the Will Rogers Center. The most important part of any music festival, the lineup, is fantastic: Run the Jewels, Purity Ring, Slowdive, Wolf Parade, and that most omnipresent of bands, and more.
Sunday (04/30)
Bill Maher lays down some new rules at the Music Hall at Fair Park in this make-up show.
Singer-songwriter Brandi Carlile goes full singer-songwriter and plays an acoustic set at the Majestic.
The Cotton Bowl turns into a jumbo dog park for Dog Bowl, where men's best friends are free to roam. It's $10 to park your car, but free entry. Dog rescue groups and other animal-friendly organizations will be on site, as will vendors selling concessions fit for human consumption.
For more to do, go here.
In This Post