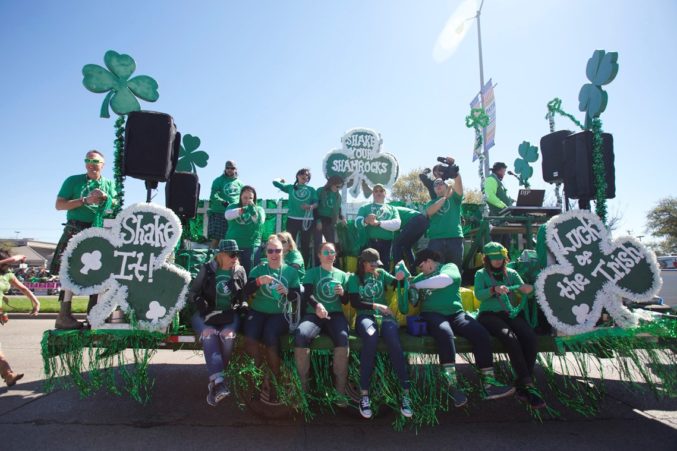 8 Things To Do For St. Patrick's Day in Dallas
There's the parade, of course, but also a Celtic music festival, an Irish dance performance, and Flogging Molly.
Update: If Google brought you here in the year 2018, you're going to want to follow this link to our 2018 guide to the Greenville Avenue parade and other St. Patrick's day fun in Dallas. Thank you.
St. Patrick's Day is March 17, but as any Dallasite will tell you, this American celebration of Irish heritage is best observed the Saturday before the holiday. This is when the Greenville Avenue parade takes place, and when much of the city decides to wear green, act happily foolish, and drink like hangovers are just a scary story used to spook teetotalers. (Last year's parade was held after the holiday, but tradition has been restored and all is once again right with the world.) Yes, every bar in town will serve up green beer and throw shamrocks at you on March 17, but only a few events truly make the holiday feel special.
If you only spend one day celebrating St. Patrick's Day, it should be at the parade and its accompanying shindigs, but if you only spend one day celebrating St. Patrick's Day, you're doing it wrong. In fact, start now with…
The North Texas Irish Festival returns to Fair Park this weekend, March 3-5. The Irish beer will flow, and it's certainly a festive atmosphere, but it's also a family-friendly one. There are DeLoreans (manufactured in Ireland) and kilts and a Celtic village, as well as whiskey tastings and plenty of Irish food. We would be remiss if we didn't also mention the competitive sheep herding trials. But the main attraction for an event run by volunteers for the Southwest Celtic Music Association is, of course, the music. Performers traditional and modern, international and local, take stages throughout the weekend. The festival is a lot of fun, an authentic celebration of Irish music and culture, and a perfect way to get ready for the action to come…
Wake up early on March 11, the fateful Saturday before St. Patrick's Day, before the revelry truly begins, to run in the St. Paddy's Dash Down Greenville 5K, which kicks off at the Central Market near Lovers. The exercise is good for you, and the run is partnered with the great cause of the North Texas Food Bank. You'll get an early look at the parade route as some of the floats take their place. Best of all, there's free beer at the end, and you're in perfect position for…
The Dallas St. Patrick's Day Parade gets rolling down Greenville Avenue at Blackwell at about 11 a.m., with its eventual destination at SMU Boulevard. Former Dallas Police Chief David Brown is this year's parade marshal, while Mark Cuban and the Dallas Mavericks are once again writing the check. Everything else will proceed as usual: 125,000 Dallas residents enjoying each other's company, a procession of rowdy floats, and loosely enforced open container laws. We advise taking DART, for your own safety and to avoid parking headaches, and if you want a good spot for the parade, show up early and with a loaded cooler. Wear something green, whether it's a tutu, leprechaun costume, or a tasteful clover pin. Here is the parade route, just in case you get lost: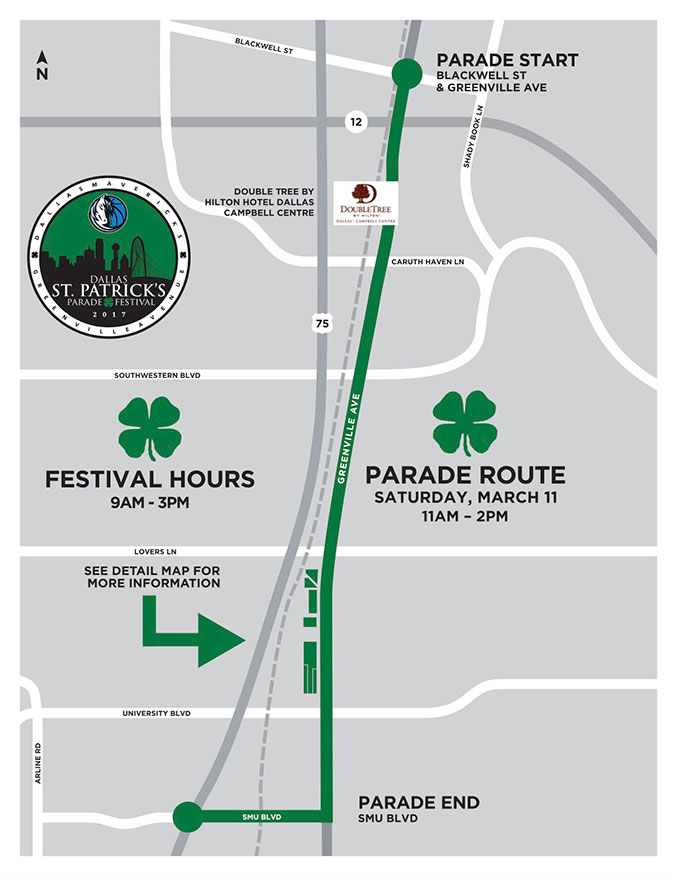 The official festival starts early and continues after the parade, while the Peticolas-supplied Brew Fest along the route is pouring from 9 a.m. to 3 p.m. Every bar along Greenville will be bustling, and the streets will be crowded with revelers until the first party animals begin going into hibernation mid-afternoon. The Dallas Observer has lined up the pop punk band Jimmy Eat World for its St. Patrick's Day concert in the Energy Square parking lot (4849 Greenville Ave.), to which tickets will run you about $15. If you're still sashaying around Greenville after sunset, Sleigh Bells plays the Granada Theater, and the Crown and Harp is hosting free live music all day. Then rest up, because there's more to do next week…
The Texas Theatre is screening Troll 2, a so-bad-it's-sort-of-good cult classic about a leprechaun-ish creature terrorizing a family in a small town, on March 16. After the movie, peek behind the screen for live music from Slackbeat, Yaz Mean, and others.
The Dallas Derby Devils' annual Clover Cup roller derby tournament is at the NyTex Sports Centre in North Richland Hills from March 17-19. What does roller derby have to do with St. Patrick's Day? Well, it's rowdy, fun, and look, "Clover" is right there in the name of the tournament.
With a slightly less debauched vibe than the Dallas parade, Fort Worth's Cowtown Goes Green on March 18 should appeal to families itching for a parade. Few other St. Patrick's Day celebrations promise armadillo races, a "Western/Irish" theme, and play gunfights.
On March 18, the Women of Ireland perform an Irish dance show, featuring traditional songs with modern updates, at Richardson's Eisemann Center.
Flogging Molly, the Celtic punk band that has been a longtime mainstay of drunken St. Patrick's Day revelry and every film set in Boston, is perfect for a sing-along fueled by green beer and the freedom of day-drinking while wearing a kilt. The band's at House of Blues on March 21.
For more to do for St. Patrick's Day, comb through our event listings here.