With traditional dating apps, it can be challenging to find someone who takes their faith seriously – especially with our culture's emphasis on casual dating. However, if you're a Christian looking for someone who places importance on their religious values, there are actually quite a few dating site options to explore! Let's dive in!
The Best Christian Dating Site and App Options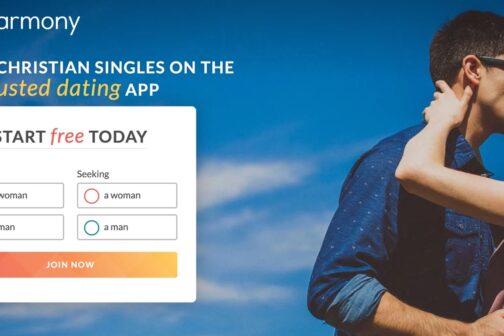 eHarmony isn't a Christian-specific site, but the number of singles and their quality is wide enough to warrant starting here. eHarmony has a section dedicated to Christian singles that has more members than most of the sites listed here.
eHarmony does have an extensive sign-up process, and you can't view your matches until you fill out a very detailed profile. This is definitely a good thing, though, as it helps maintain the quality of the singles pool. When you're able to start getting matches, you can see each of your answers to the questions side-by-side, so you can see right away if you'll click.
When you find someone you like, eHarmony has a fantastic guided communication feature, making talking to potential matches a breeze! Guided communication starts with exchanging pre-written questions and answers, then must-haves and deal-breakers; finally, you exchange questions and write your own answers. This is a great way to see how important their Christianity is to them without making things awkward.
Many dating apps are geared toward a specific age group, but eHarmony caters to a wide variety of ages. That makes eHarmony a great option, no matter how old you are. You can use eHarmony as a website or download the app, and users find that both the site and app are very intuitive to navigate.
A downside to eHarmony is that it's a more costly option. You can sign up for a free trial, but it really limits the usability of the site. Luckily, eHarmony also offers "free communication" weekends if you want more of a taste of how the site works without paying for it.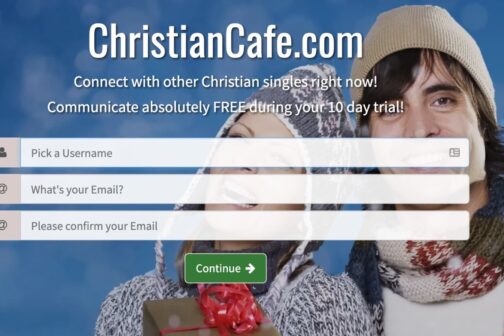 As its name states, Christian Cafe is a Christian-centered dating site which means you can rest assured that you're going to find someone whose Christianity is important to them.
ChristianCafe.com has a free trial option, which treats you almost the same as a subscription member. It lets you send and receive messages for the duration of your trial. No other dating site that we know of allows newcomers to do this. Something great about Christian Cafe is that its premium pricing is one of the most affordable options out there for Christian dating! 
All members can use a "Private Viewing" feature, which means they can view anyone's profile anonymously. This definitely has its perks, but if that's something that may bother you, you may want to consider another site.
What really makes Christian Cafe stand out is its dedication to creating a community, which can really help connections develop organically. This site has a cool community board feature, which is where members can talk about dating, culture, and just about anything else.
ChristianCafe.com has a "Post-a-Prayer" feature, where members can post concerns they want prayer for or pray for other people. They can write words of encouragement, too! This is great for romantic connections as well as potential friendships!
Christian Cafe does have a smaller singles pool than other dating sites, but the pool it does have tends to be very high quality. Another potential con of Christian Cafe is that verification isn't required to make a profile, which can make it easy for bots to get through.
Christian Mingle is known widely for being the #1 Christian dating site for a good reason! The pool of singles for Christian Mingle is unmatched for any Christian-only dating site, and everyone on there takes their faith and relationships seriously.
Christian Mingle has a full desktop website as well as an app, so you can log in on the go. Both the site and the app are super intuitive to use, which means less frustration while you're trying to find the one!
When you sign up for Christian Mingle, one of the first things you may notice is how detailed the profile is (including many options for Christian denominations). Detailed profiles are great because it means you get lots of information about a potential match that can all serve as an icebreaker. You aren't required to fill out the whole profile to start looking around, but it does help the algorithm match you.
Christian Mingle doesn't have a traditional search function, but you can filter potential matches by distance, match percentage, online members, and new members. This may be frustrating if you like a traditional search function, but many users find that the filters Christian Mingle offers are enough.
Another cool feature that Christian Mingle offers is "LookBook," which is their version of swiping left or right. The matches in LookBook tend to differ from the matches offered, which makes this a great way to see fresh faces.
The only real downside to Christian Mingle is that it's fairly expensive for a dating site. Christian Mingle does offer a free trial, but you aren't able to see who has viewed you or send and receive messages.
Christian Cupid is another website devoted solely to Christian dating. Christian Cupid is available as a desktop website and has an app option, but only for Android users as of now.
Christian Cupid has a very detailed profile section, which is great for getting a feel for potential matches. Not all the questions are required to be answered, which has its pros and cons, but ultimately unanswered questions can serve as icebreakers. You're not required to fill out your profile to gain access to the site, which can be good if you just want to look around before you commit to using it.
Christian Cupid offers "CupidTags" to put on your profile, which you can use to mark your interests outside of your faith. Christian Cupid allows you to search by CupidTags, which is great if you're looking for someone to share a specific hobby with.
Christian Cupid has a free version you can use to try the site, but you can't send or receive messages unless you upgrade. Luckily, Christian Cupid is fairly reasonable when it comes to its pricing.
When you make your account, you have the ability to verify your profile via email, which makes it easy to avoid bots. The only real downside to Christian Cupid is that its singles pool is smaller than other sites.
Elite Singles is not a Christian site specifically, but the caliber of people you'll meet coupled with their massive dating pool makes it worthy of note.
Elite Singles is a dating site targeting working professionals. As such, most of its pool has some form of higher education, with many of them carrying accolades in school or work. The people on Elite Singles are also looking for a serious relationship and not just a fling.
The algorithm on Elite Singles works by matching you based on your preferences, which means that it's easy to find someone who takes their faith as seriously as you do. Even though it doesn't have a real search function, its algorithm tends to be effective anyway. This is good because you don't have to spend hours sifting through matches that may or may not work out.
One of the features Elite Singles has is called "Have you met?" which is their version of swiping.
The people who pop up on this feature tend to not be the ones you match with, which really shows the big pool that Elite Singles has. It can also be fun if you're looking for fresh faces to potentially match with.
Elite Singles can be used on their website or as an app, and both are fairly easy to use. Unfortunately, Elite Singles is one of the most expensive dating app options available, but because of the quality of the singles pool, it's certainly worth the price tag.
Silver Singles isn't necessarily Christian-focused, but it's very easy to find Christians because of all the profile options and the search capabilities. Silver Singles can be used through their website or smartphone app, rated the #1 app for seniors!
Silver Singles caters to people who are 50 and over, which is great if you're 50+ and are looking for a safe environment to explore dating people who are similarly aged. If you're looking to date someone any younger than 50, though, you won't find that here.
Both the app and the website are super easy to use, with streamlined home pages that make finding notifications very easy. Silver Singles' customer support team is also great and answers questions quickly, making this site a breeze to use.
Silver Singles does have a fairly long sign-up process, but that's what helps their algorithm match you. When you sign up, you complete multiple-choice personality quiz questions as well as essay questions, which makes Silver Singles stand out. Often, personality quizzes don't allow for nuance but having more open-ended questions means you can explain yourself more.
Once you're signed up, the best matches are sent to you daily, so there's no sifting through long lists of potentials. This takes some of the frustration out of the dating site process.
The downside to Silver Singles is that upgrading from their free version is pretty expensive, but you can't see anyone's pictures unless you make that upgrade.
Catholic Match is a dating site meant specifically for Catholics that's been backed by major Catholic leaders. Catholic Match has over 1.5 million users, which is a pretty big pool for a niche dating site.
Signing up on Catholic Match is a breeze, though the profiles are pretty detailed. One thing that stands out is that the questions you answer for your profile tend not to be the same boring questions that other dating sites have. This means that you'll get to know someone pretty well before even talking to them, and you'll be able to tell if they mesh with what you're looking for.
Something really exciting about Catholic Match is that you can set up your own multiple-choice questionnaire on your profile that potential matches can take. This makes for a super customizable experience when it comes to finding that perfect match!
Catholic Match has a "Photo Wall" feature on your homepage, which shows you all the new photo uploads from your favorites list all in one place. This means that you'll never miss a moment from a potential match!
Both the website and the accompanying app are easy to navigate. In particular, the search feature has great filters, even if you have the free version.
While Catholic Match has a free trial, you must upgrade to send and receive messages. The cost to upgrade is middle-of-the-road; it's not the cheapest option, but it's also not as expensive as other sites.
Zoosk isn't a Christian dating website, but it has such a big pool of singles with a broad age range that it's definitely worth mentioning.
Zoosk has a really short sign-up process with just a few key questions before taking you to your first match! This is great if you want to start looking at potential matches immediately, and you can fill out the rest of your profile at your leisure.
Zoosk's algorithm learns about you based on your searches and who you flirt with. This makes it extra likely that you'll get matched with someone who takes their Christianity as seriously as you do.
Zoosk has a free trial, but you can't receive or send messages unless you upgrade to their paid membership. Luckily, Zoosk membership prices are super reasonable!
One thing that makes Zoosk stand out from most other dating sites is that they show you your potential matches one at a time and not in a grid. This can make looking at potential matches feel less overwhelming and more like you're really seeing each individual person.
Zoosk also has what they call "Zoosk coins," which can be redeemed for gifts that you send matches (or potential matches you have your eye on!). These gifts are typically profile badges or emojis, but cute nonetheless. Zoosk coins can also be used to boost your profile to the top of a search.
Zoosk is available as a website and as an app for your phone. Even though it doesn't have a ton of extra features, it's still a really active website with a lot to offer!
As its name states, Christian Dating for Free is a Christian-based dating site. While it has premium features, the site's free version is extremely useful when it comes to finding and communicating with a match.
Christian Dating for Free offers extremely detailed profiles, which makes getting to know a match easy before you even talk to them. You don't have to have your entire profile filled out before you can start sending messages; however, you just need a default picture. You do have to fill out a personality quiz before you can see your potential matches, which makes sense as that's what the site uses to match you.
Christian Dating for Free offers forums that give a sense of community and help build connections. It should be noted that Christian Dating for Free doesn't allow explicit images or profanity in public spaces. This gives Christian Dating for Free a serious ambiance both in terms of faith and when it comes to seeking serious relationships.
The premium features for Christian Dating for Free give you an elevated experience, but again, they're not necessary to use the website. With a premium account, you can upload 16 pictures on your profile as opposed to 8. Premium accounts also get put at the top of searches and are able to keep messages for more than 90 days. Christian Dating for Free's premium account subscriptions are really reasonably-priced, which may make upgrading worth it.
Christian Dating for Free can be accessed through a regular website as well as through an app, though this app contains a lot more ads than the website. The website itself looks dated, and while it's easy to navigate, younger users may be put off by its aesthetic.
BigChurch is a Christian-based dating site that can be used as a desktop website or as an app, but only for iPhone users.
BigChurch has an extensive series of personality quizzes that makes it stand out from other options with similarly-sized pools of singles. When you've completed your questionnaires, BigChurch assigns you a color that helps potential matches get an idea of what you're like in person!
Before you can access your potential matches, you must fill out your personality quizzes. This may be tedious in the moment, but it actually ensures that you're getting the most information out of each potential matches' profile. This, coupled with email verification, helps filter out bots.
BigChurch offers lots of different ways to connect with people outside of matching; bulletin boards, blogs, an advice line, and even a magazine are available for members. Something that makes BigChurch unique is that they let you upload a video introduction to your profile, which can help potential matches get to know you!
BigChurch has a free version, but you can't send or receive messages without upgrading, so it's definitely worth the subscription. The site also aesthetically looks pretty old, but that makes it extremely easy to navigate. Unfortunately, because people are typically looking for more bells and whistles, that makes this singles pool on the smaller side.
Something pretty notable about BigChurch is that it's pretty fluid in the types of relationships people are looking for, unlike most other Christian dating websites. That said, you may have potential matches who are looking for something different than you are. Luckily, BigChurch's excellent search abilities make it easy to find what you're looking for.
Final Thoughts
Dating as a Christian can feel complicated, but it doesn't have to be! With Christian dating sites more popular than ever, you have a wealth of options to find that special someone who puts as much of an emphasis on their faith as you do!
Get our weekly recap
Brings new meaning to the phrase Sunday Funday. No spam, ever.