Face moisturizers are an important part of any man's skincare routine, so if you don't use one it's time to take the plunge! To get you started, we've come up with this list of the top 10 best face moisturizers for men to buy right now.
Best Face Moisturizers for Men:
Kiehl's Ultra Facial Cream
Malin and Goetz Vitamin E
Ursa Major Fortifying Balm
Jack Black Face Moisturizer
Brickell Men's
Bulldog Original
Baxter of California Oil Free
Ghost Democracy Daily Moisturizer
Jaxon Lane Relax and Repair
Why Buy Face Moisturizer?
You may be a low-key guy who doesn't see the point of keeping your face hydrated. After all, do you really need yet another product on your bathroom shelf? Well, as it turns out, moisturizer is key to keeping the skin on your face healthy and happy. No matter what your skincare goals are (if you want to tackle the effects of aging or are just looking to keep away acne or irritation), you'll want to get a moisturizer.
Moisturizer is essential to skin care because it helps form a protective barrier over your face and keep out environmental toxins while locking in water and natural oils. This can help you avoid dryness and itching, prevent rapid aging and keep your complexion even.
Moisturizer by Skin Type
No matter what kind of skin you have—dry, oily, normal, or combination—you'll want to add a face moisturizer to your skincare routine. Here's what to look for based on your skin type:
Dry Skin. If your skin tends to dry out and become flaky or itchy, you'll want to look for a cream moisturizer. Typically, creamy face moisturizers include both oil- and water-based ingredients to help draw in and retain moisture.
Oily Skin. Even if you tend to get greasy, you still need to treat your skin to some hydration! Your best options will be water-based rather than oil-based. Gel formulas will keep your face hydrated without encouraging acne.
Normal Skin. If you have normal skin, you'll want to look for a lightweight moisturizer with powerful natural ingredients. Something that will keep your face hydrated without leaving you feeling heavy or greasy.
Combination Skin. For combination skin, you'll want a well-balanced moisturizer featuring ingredients that hydrate without stimulating oil production. Water-based solutions may need to be your go-to. If the differences in your skin are really dramatic, you might even consider applying different products to the different parts of your face.
Kinds of Face Moisturizer
With all the moisturizers out there, it can be hard to know what you're going to get with each formula. Moisturizers work in three ways to keep your skin hydrated and soft:
Summoning Water. Humectants work by drawing up moisture through the various layers of the skin in order to keep the surface soft and smooth. Ingredients such as glycerin or hyaluronic acid are the most effective humectants.
Sealing in Water. Emollients work by filling in the gaps on your face to seal in moisture and keep your skin hydrated. Natural oils and products such as shea butter serve this purpose. This type of moisturizer is ideal for the driest skin.
Protecting Skin. Occlusives prevent the skin from losing moisture by forming a protective barrier. Lanolin is a go-to ingredient for this kind of moisturizer.
What to Look for in a Moisturizer
The ingredients you should look for in a face moisturizer depend on the effect you are hoping to achieve:
Natural Oils. Natural oils are ideal for hydration and nourish your skin at the same time. Look for products that include coconut, avocado or olive oils.
Aloe Vera. Aloe vera is a natural substance that includes a high concentration of vitamins to help nourish skin, and with its high-water content sinks easily into skin to trap moisture. It also helps attack inflammation and soothe irritation.
Oats. With their anti-inflammatory properties, oats are ideal for sensitive skin and can help soothe while attracting moisture to the skin.
Moisturizing Routine
In order to get the most out of your moisturizer, it's important to establish a skincare routine. While throwing on some moisturizer as you walk out the door isn't a bad idea, it may not be the most beneficial for your face.
Start by Cleansing
The first step in any man's skincare routine should be cleansing. Twice a day (in the morning and before bed), wash your face with a gentle cleanser to remove dirt and buildup in your pores. This helps prepare the surface of your skin for the protective barrier that moisturizer provides.
Don't Skip Toning
Toning your skin just means applying a toner, or a product that helps to balance your face and absorb your moisturizer better. Toners can continue to clean out your pores, reduce redness and deliver additional nutrients to your skin before you seal them in with a moisturizer.
Hydrate
Now that you've gotten rid of dirt and balanced your complexion, your skin is ready for a moisturizer. The 10 best face moisturizers for men are listed below. Use them to lock in moisture and provide soothing and softening properties to keep your skin protected and calm all day.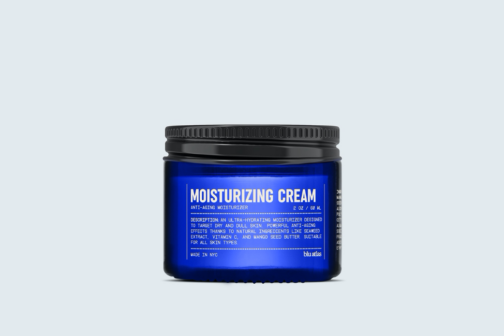 Boasting an all-natural formula without sulfates or parabens, this Blu Atlas anti-aging moisturizer is going to make your skin radiant on a daily basis. Key ingredients include mango seed butter, which nourishes the skin with antioxidants and vitamins, and seaweed extract, which has a soothing and softening effect while reducing sensitivity.
Blu Atlas has an incredible customer-care team to guide you through your purchase. They stand by their products to such an extent that they back each purchase with a satisfaction guarantee.
Blu Atlas' commitment to their products and their customers has earned their facial moisturizer the No. 1 spot on our list.
Best For:
Natural Ingredients. If you're on the lookout for an all-natural face moisturizer, this Blu Atlas product is a winner.
Anti-Aging. While this product can be used by virtually any man, it truly shines with its anti-aging properties.
#2. Kiehl's Ultra Facial Cream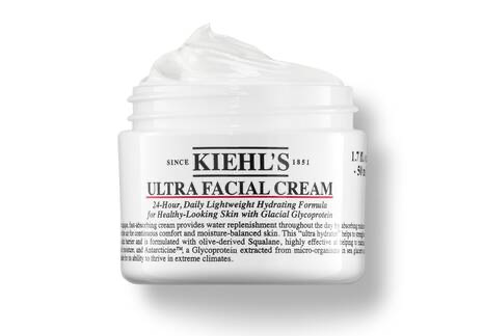 No matter your skin type, this facial cream from Kiehl's will help hydrate and soothe your face without leaving it feeling heavy or greasy. Squalene and glycerin act as powerful moisturizers, keeping your skin soft and supple for a full 24 hours.
This formula absorbs fast and feels lightweight. Even if you're an active man who is constantly on the go, just slap on some of this cream after a quick cleanse and go about your day—you'll forget you have anything on your face!
Kiehl's has been a go-to for apothecary-style skincare since the mid-19th century. Their products are formulated using expertise from dermatologists to ensure effective high-quality products. Plus, this facial cream is made in a way that is kind to both the environment and your skin.
Best For:
Active Men. With a lightweight formula that instantly dissolves into your skin, this facial cream is ideal for busy men.
Normal or Combination Skin. If you have normal skin or dry patches and greasy zones on your face, this moisturizer is ideal for you.
#3. Malin+Goetz Vitamin E Moisturizer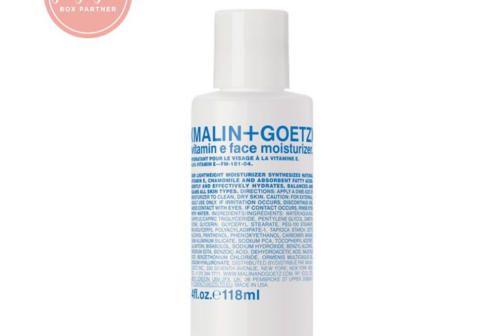 Malin+Goetz harnesses the power of vitamins E and B5, fatty acids, and chamomile extract to nourish and hydrate. Vitamin E strengthens the skin so it can stand up against harsh environmental stressors, and fatty acids help slow down the amount of water that evaporates from your skin throughout the day. Sodium hyaluronate and vitamin B5 bind to the skin to lock in moisture.
This formula helps balance all skin types and works well as an aftershave balm. It's quick, lightweight, and absorbs immediately so you can avoid that gunky feeling on your skin.
Malin+Goetz is a New York−based apothecary and lab dedicated to churning out quality skincare products. They combine scientific know-how with natural ingredients to create straightforward skincare for those with any skin type.
Best For:
City Men. Do you live in a city where smog and poor air quality wreak havoc on your skin? Defend your natural skin barriers with this formula.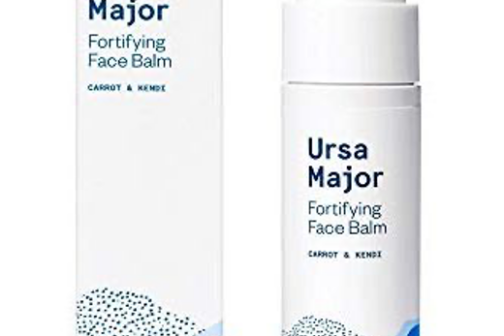 Ursa Major's gel face moisturizer is a completely clean formula, created without harmful parabens, synthetic colors, and fragrances, or silicone. Without these harsh ingredients, you can avoid skin damage and ward off breakouts and irritation.
A gentle, natural scent combination of lavender, lime, spearmint, and rosemary keeps you smelling fresh, while other powerful ingredients work hard to protect and repair your skin. Aloe soothes, birch sap balances out your face oils, witch hazel protects and carrot seed oil fights bacteria. Then prickly pear extract helps to balance and fight inflammation, and kendi seed oil locks in moisture while strengthening your skin.
No matter your skin type or what you're hoping to get out of a face moisturizer, this formula is for you. Ursa Major is all about bringing the power of nature to your skin and avoids creating complicated formulas. Instead, they mix and match natural ingredients that deliver serious results.
Best For:
Sensitive Skin. If your face tends to get irritated with chemical-ridden products, try this clean moisturizer and notice the difference right away.
Inflammation. The tell-tale signs of inflamed skin are redness and puffiness. If you notice these symptoms, especially after cleansing, follow up with this moisturizer.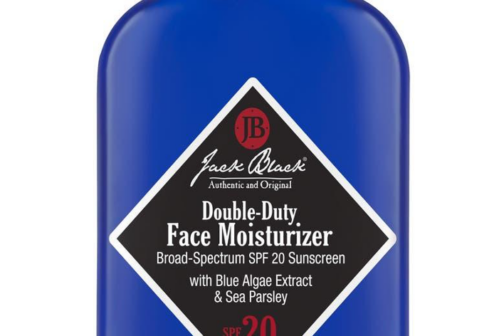 Adding this product to your skincare arsenal allows you to hydrate your face and protect it from sun damage at the same time. SPF 20 forms a natural protectant layer, while vitamins A, E, and C go to work nourishing and smoothing your complexion. You can rest assured that this formula is vegan, organic, and cruelty-free. And it works on any skin type!
Jack Black products have become cult favorites among men because they target specific problems that men face in their grooming routines and combat them with natural ingredients.
Best For:
The Outdoorsman. If you spend your days outside, you'll want to seal in moisture and protect your face from harmful rays with this product.
#6. Brickell Men's Face Moisturizer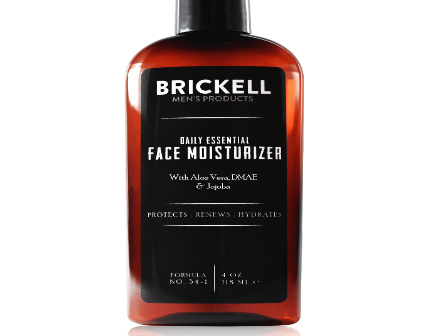 This moisturizer is one of the lightest options on the list because it sinks in quickly and leaves your face feeling refreshed and good to go. Natural ingredients keep your skin strong and young by combating damage and delivering healing power.
Aloe vera digs in deep to keep your face moisturized and fight off inflammation. Jojoba oil creates a protective barrier to keep dirt out and moisture in, while also bringing plenty of important nutrients. Hyaluronic acid packs in moisture, and green tea is full of antioxidants that give real anti-aging power to your skin. Essential oils provide notes of lemongrass and eucalyptus.
This formula is all-natural, 83% organic, and great for all skin types. Brickell is proud to make all of its top-of-the-line products in the USA. Their products are also always vegan and don't involve any animal testing.
Best For:
Low-Key Guys. If you're not into a fancy skincare routine or luxurious products, this straightforward and lightweight formula will be right up your alley.
#7. Bulldog Original Moisturizer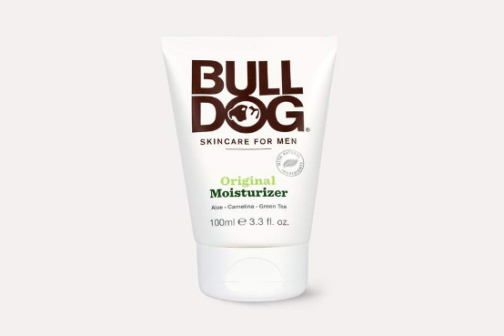 This budget-friendly option uses natural ingredients like aloe, green tea extract, and camelina oil to summon antioxidant power and keep your skin strong and flexible. Bulldog's products are great for those with sensitive skin thanks to their no-nonsense ingredient list.
With just a few uses, you'll notice that your skin looks and feels healthier. Judging by its great reviews, this product is a winner! Bulldog is known for products that target issues specific to men and help nurture skin. Much of their packaging is made of sugarcane, which allows Bulldog to avoid using plastic.
Best For:
#8. Baxter of California Oil Free Moisturizer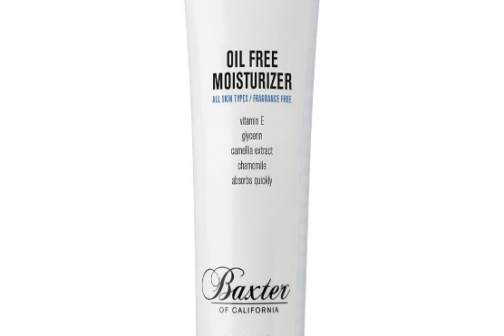 This oil-free formula is ideal for those whose faces tend to get a little greasy. Aloe vera and chamomile soothe and green tea stimulates regeneration. Since it's fragrance-free, this moisturizer is ideal for those with sensitive skin.
Baxter of California's face moisturizer rubs in smoothly without leaving residue or feeling sticky. It is made by a renowned men's skincare company that has been producing winning formulas since the 1960s. All of their products are tested in their Los Angeles barbershop.
Best For:
Oily Skin. If you tend to have a greasy T-zone, try this oil-free product, which acts as a gentle astringent while not stripping your skin of its natural moisture.
#9. Ghost Democracy Daily Moisturizer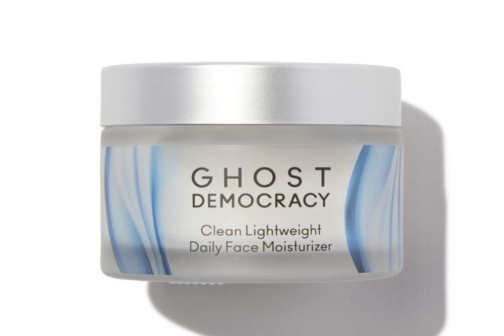 This is a straightforward formula with no fragrances that is ideal for any skin type, including sensitive skin. The natural ingredients in this product soothe, nourish and hydrate, creating healthier skin over time.
Probiotics provide good bacteria to your face. This might sound weird, but you actually need bacteria to balance your skin's microflora and reduce inflammation. Probiotics can help strengthen, protect and encourage comfortable-feeling skin. They keep your skin's ecosystem in check, which in turn keeps your complexion even and your skin calm.
Other powerful natural ingredients include vitamin B3 to lock in moisture and calm redness, oat extract to provide anti-inflammatory properties, and vitamin B5 to help seal in moisture. This daily moisturizer is gentle and effective and works well on any type of skin.
There are no sulfates, parabens, silicones, alcohol, or dyes in Ghost Democracy's products, making them some of the cleanest skincare items on the market. Using fewer chemicals allows Ghost Democracy to pack its formulas with powerful ingredients.
Best For:
Health Nuts. If you are particularly conscious about all the products you bring in contact with your body, this moisturizer is sure to check all the boxes.
#10. Jaxon Lane Relax and Repair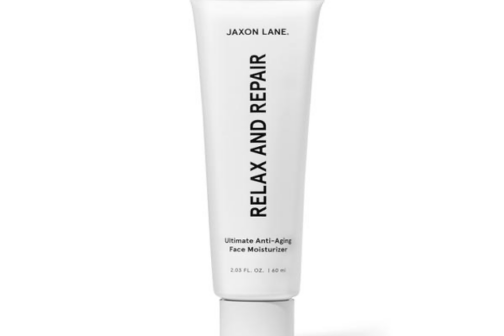 This moisturizer from Jaxon Lane combines hydrating and anti-aging properties for a one-two punch. Ceramides promote cellular regeneration, while hyaluronic acid and squalene form a moisture barrier. Plus, this travel-friendly tube is easily chucked into your carry-on.
The reason GQ named this moisturizer as their favorite is because of its unique abilities to combat aging, repair skin damage, and deliver important nutrients, all without leaving the user feeling greasy or sticky.
Jaxon Lane was the brainchild of a married couple who wanted to create high-quality skincare products that work well for men. The resulting formulas have become favorites among celebrities, and have won multiple awards.
Best For:
Staying Young. If you're self-conscious about how quickly your face is aging, pick up this formula, which combats all the skin damage that can cause a look of rapid aging.
Are you convinced that you should add moisturizer to your skincare arsenal? Pick out one of the products from the list above and see how it transforms your skin.
Signup for D Exclusive
Get partner offers, discounts, and more delivered right to your inbox each week.
Author