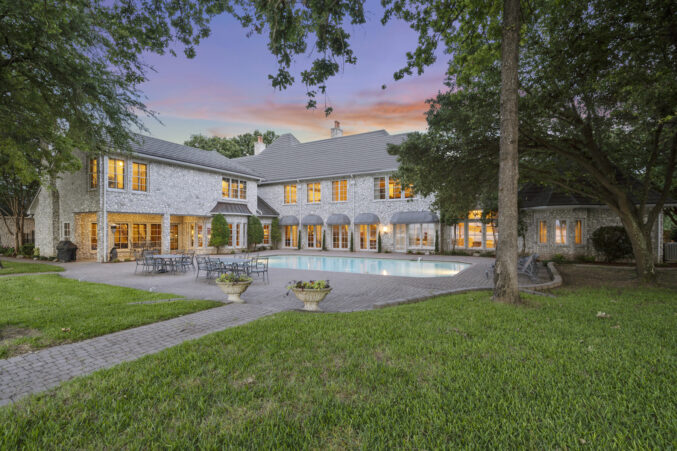 Mansion in Mabank Makes Luxe Lake Life a Possibility
Dallas traditional meets Cedar Creek chic.
Island Drive in the Pinnacle Country Club neighborhood. If you know, you know. And this Mabank mansion at 6 Island Drive is officially on the market and ready for the next owner to personalize this palace to perfection.
This 1.24-acre property has 266 feet of deep water and unobstructed views of Cedar Creek Lake. There are five bedrooms, 6.2-bathrooms, and 10,668 square feet of living space for housing your entire family and a few friends too. There is also a boathouse that accommodates two boats and four, smaller personal watercraft. A four-car garage is also ideal for keeping all of you and your guests' cars safe from those crazy Texas thunderstorms.
The home itself is an entertainer's dream with three living areas, a billiard room, two primary suites, and a large and spacious kitchen. The home does not have the typical lake-themed décor but instead is styled for a home to be enjoyed year-round with custom woodwork, hand-painted carved coffered ceilings, and elegant chandeliers.  There is also an office if work occasionally tempts you to head back to Dallas. Why not make that a Zoom call from a quiet space and stay at the lake?
Our favorite part of the property must be the backyard which features a glamorous Gunite pool and an expansive patio that is primed and ready for a fabulous fete of any kind. Seriously anything from a philanthropic pool party to an intimate garden gala would be so dreamy in this outdoor setting that is mere steps from the gorgeous lake. Whether you prefer sunrise or sunset, be prepared for a true treat.
In addition to the home itself, Pinnacle Country Club has endless amenities that truly allow you to pull in your lake house and leave the cares of the world behind. This gated club offers a restaurant, pool, golf, and tennis. This is peak summertime euphoria located an hour outside of downtown Dallas.
___________________________________________________________________________
Debbie French
(d) 903-340-7747
[email protected]
Cedar Creek Lake – more than just a home, it's a lifestyle.
#1 AGENT at the # 1 COMPANY Ebby Halliday Cedar Creek Lake
One of the top 3 agents for ALL property sales at Cedar Creek Lake!
"I live the lake lifestyle so I know how to sell the lake lifestyle!"
About Debbie
I began my real estate career 16 years ago at Cedar Creek Lake after moving here from DFW as a single mom with four young children. I halfway joke they raised themselves because they had to learn to cook, clean, and do their own laundry while I was building my career working 7 days a week to support my family. We had fun and they learned independence. My kids, now grown, attended Mabank schools and grew up tubing and wakeboarding on the lake with their friends. They also enjoyed spending time with their friends who lived on acreage where they hunted, four-wheeled, cared for farm animals, and grew up spending time outside more than inside.
Living the lake lifestyle today
I am now enjoying the lake with my two grandchildren, Emma, age 4, and Blake, age 1. Blake is special because he has an extra chromosome that makes him all the more loveable! I am looking forward to fishing off the dock with them, jumping around on the Lily Pad, pulling them on the tube behind the boat, teaching them to wakeboard, jet ski, and just relaxing on the deck watching the sunset as the stars come out. In the fall we roast marshmallows on the waterside firepit. Cedar Creek Lake is not only my home but my area of real estate expertise. I live on the lake full time so I live the lifestyle—which I love!
Debbie's real estate accomplishments
While waterfront properties are my specialty, I also sell off water residential, acreage, and commercial properties. I was named Rookie of the Year in 2005 and earned Top Producing Agent at Johnson Monroe, Realtors in just 4 years. In October 2020 after 15 years with Johnson Monroe, I left as a top producing agent and joined Ebby Halliday Cedar Creek Lake making me the #1 agent at the #1 real estate company at the lake! In my first quarter with Ebby out of approximately 1,800 company agents, I placed 6 out of 44 individual agents who earned a place on the prestigious company-wide 4th quarter Honor Roll. In 2020 I sold over $34 million continuing my streak as one of the top 3 agents overall at Cedar Creek Lake for ALL property types. I have sold over $230 million in properties and successfully represented over 600 satisfied Buyers and Sellers in my 16-year career.
Marketing & client testimonials
I recently started my YouTube channel and Newsletter "Living the Lifestyle at Cedar Creek Lake" which features market information, happenings at the lake, information on my listings, local businesses, home maintenance, real estate tips & more. To hear what my clients have to say about their experience with me please read my client testimonials on my website www.DebbieFrench.com. Whether you are looking for a weekend place to take a break from city life, or a full-time place for retirement or to raise your kids, Cedar Creek Lake can't be beaten! I hope you will give me the opportunity to show you all that Cedar Creek Lake has to offer.