When you think of Garland, the perks of modern suburbia typically come to mind. And while there is plenty to do, see, eat, and shop for in Garland, its hidden gems are what you don't immediately see whenever you visit or pass through—64 parks and more than 15 trails totaling over 35 miles to be exact. In fact, you can get so deep into the covered and secluded off-road trails in Garland that you can barely hear street noises anymore, making it unexpectedly found in an urban setting.
Next time you are craving a quick escape from the city, head for Garland and hit the trails. "People tend to view Garland as an urban and industrial city, so it often surprises them to learn about the miles of trails and the large number of parks we have that go beyond the typical soccer fields," says Dana Lodge, director of the Garland Convention and Visitors Bureau. "They offer more of a true nature experience."
The parks and trail system are such an important part of Garland that the City of Garland and Dallas County partnered to invest $15 million in bond funds for trail extensions and improvements that should be completed in the next few years. As a result of the bond, the City of Garland recently completed its Trails and Bikeways Master Plan that will guide the future development, operations, and programs of Garland's trail and bikeways network and enhance its local and regional connectivity through alternative transportation routes.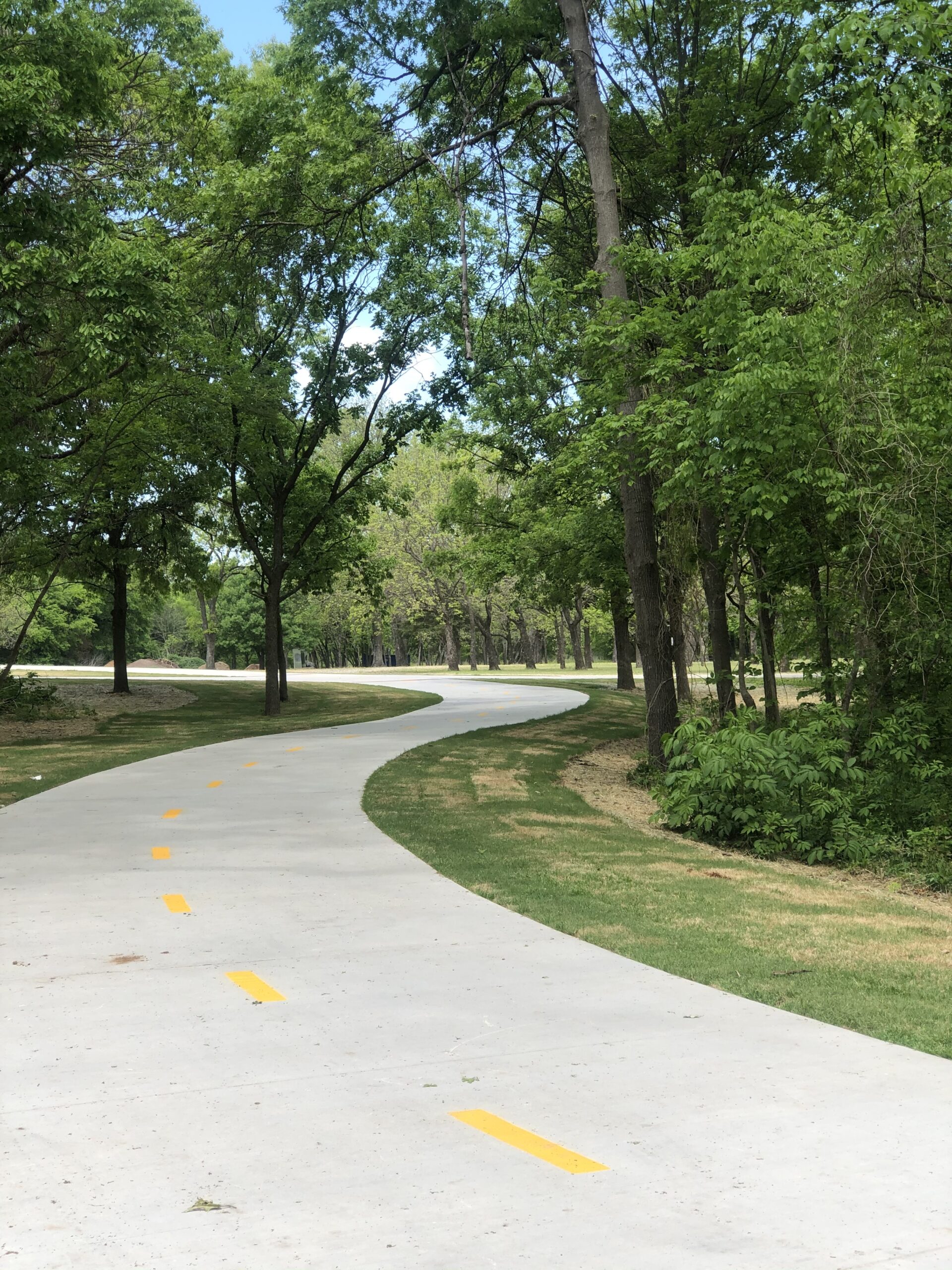 Ziad Kharrat, the parks special projects administrator with the City of Garland, is responsible for bringing the Master Plan to fruition. "You don't often notice Garland's shared lanes, bike lanes, and off-street trails when you are driving, but you realize they exist once you hook up with a trailhead and go through the parks or a greenbelt," Kharrat says. "When we ask residents what they want most from their parks system, they usually answer that they want either improved trails, more trails, or both. I think here, and nationwide, more people are trying to get outdoors whenever they can, and a trail system is the best way to do that. Through the Master Plan, we will be able to connect people to schools, work, parks, transits, and commercial centers. Our aim is to get people safely to places they go every day on our trails."
Jack Sparks, Rowlett Creek Preserve Trail Steward, is among the population interested in an even stronger trails system in Garland. A longtime off-road biking enthusiast, he has been exploring Garland's trails on his bicycle since the mid-1990s. "We went to Garland in 1994 requesting permission to use one of the parks and greenbelt areas to build a trail on," he says. "It started with a one-mile loop and has grown to become a 16.5-mile trail system. Since then, our organization has built, maintained, and managed trails for various landowners in the area. When we started, the Dallas area had no trails—now there are dozens of trails we tend to. This shows us how important natural trails are to people in this area."
Stephanie Hanson, a Dallas area native and graduate student, visits Garland's parks and trails whenever she can for creative inspiration and to soak up nature—and she encourages others to do the same through Collections from the Field at Spring Creek Preserve, a place-based, community project that works at the intersection of art and the environment to offer a place for artistic contemplation, idea sharing, and reflection on the natural beauty of Garland's Spring Creek Forest Preserve. "It's an art and nature project to get people to connect with the landscape through creative mediums, such as writing, drawing, and photography. Garland is home to such a diverse ecosystem. It's a hidden gem, particularly Spring Creek Forest Preserve with its giant, old Oak trees," Hanson says.
The best way to start exploring the trail system in Garland is to map them out and make a plan to explore them all with a hike, jog, or bike ride. Start at GarlandTX.gov to learn more about the city's trail systems and discover more than 60 parks, including a disc golf park and a dog park. Three of Garland's largest and most popular trails are Rowlett Creek Preserve, Spring Creek Forest Preserve, and Duck Creek Greenbelt Trail.
Rowlett Creek Preserve
Located off Centerville Road in Garland, Rowlett Creek Preserve a 16 mile, staked loop trail system that allows users the flexibility to choose various loop combinations to obtain distances that vary from one to 16 miles. The trail is comprised of 14 connected loops numbered in the way they were built. Half of the trail is wooded with portions that are tight and twisty, while the rest is out in the open with some fast, straight-filed sections. Relatively flat with some short climbs, Rowlett Creek Preserve is open to all skill levels, but as the loop ID number increases, so does the skill level required to negotiate it, making it a hit with adventure seekers and outdoor enthusiasts. Rowlett Creek Preserve is expansive—574.9 total acres of park land, 2.2 acres of developed land, and 16.3 miles of unpaved trail.
Spring Creek Forest Preserve
Spring Creek Forest Preserve is a natural forest preserve with 0.33 miles of concrete trails and a half-mile of natural surface trails. The Preservation Society for Spring Creek Forest nurtures this beautiful space and biological museum, which is home to more than 650 species of plants and animals, along with a collection of all sorts of organisms found only in nature.
Duck Creek Greenbelt Trail
The Duck Creek Greenbelt Trail spans 5.7 miles and has an eight- to 12-foot-wide concrete trail with various looped segments. The trail parallels both banks of Duck Creek, making it a scenic spot for almost any outdoor adventure.
Signup for D Exclusive
Get partner offers, discounts, and more delivered right to your inbox each week.
Author