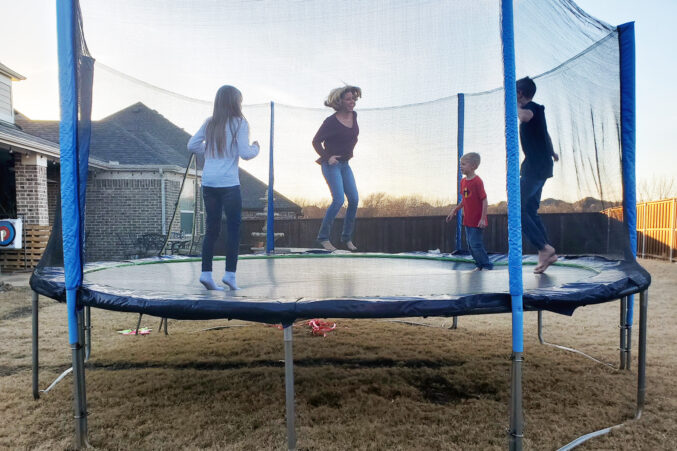 Local DFW Hospital Leads an Endoscopic Spine Surgery Revolution
Texas Health Center for Diagnostics & Surgery helped get this local mother of three back on her feet through the use of ultra-minimally invasive endoscopic techniques.
At 42 years old, Monique Jantz of Frisco, was an active mother of three who exercised five days a week and actively participated in her children's activities. Everything changed in March of 2020. She was giving the family dog a bath when she felt a sharp pain in her back. This pain persisted and began to travel down her leg. She rested, took over-the-counter pain medications, and eventually tried chiropractic care, massage, acupressure, and even an inversion table. As the days and weeks progressed, she decided she was too young to live in such pain for the rest of her life – so she took action.
Jantz did her research and found Texas Health Center for Diagnostics and Surgery Plano ("THCDS") and Dr. Peter Derman, an ultra-minimally invasive spine surgeon on the medical staff at THCDS in Plano. One visit with Dr. Derman was enough to convince her that Dr. Derman would be the one to help her navigate the road to recovery. He developed a plan that included obtaining additional imaging to help determine the exact cause of her symptoms. Shortly after her initial appointment, Jantz bent over in the shower and experienced an immediate exacerbation of her pain. She remembers, "I wound up herniating my disc further and knew the instant I did it. I would describe the pain as the worst I have ever had — even worse than childbirth! It was debilitating. Even simple things, like packing my kids' lunches, hurt."
At her follow-up visit, Dr. Derman assessed her condition and reviewed the x-rays and MRI he had obtained. "Ms. Jantz had a sizable disc herniation and was experiencing worsening pain and weakness in her left leg," Dr. Derman says. "She was quite debilitated. While I ensure patients have exhausted all reasonable non-operative treatments before considering surgery, her weakness was concerning. It necessitated surgery to remove the pressure from the nerve to alleviate her pain and improve her strength. I felt that an ultra-minimally invasive endoscopic spine surgery was the optimal way to achieve this."
Jantz was initially worried because she had heard horror stories from friends who had experienced long, painful recoveries after back surgeries. However, their surgeries were not performed using endoscopic techniques, which can be used to address herniated discs with minimal downtime.
In contrast to traditional spine surgery that involves burning or stripping the muscles off of the spine to expose it to the surgeon, endoscopic spine surgery is performed using a small camera inserted via a sub-centimeter incision. The surgeon views the spine on a high-definition screen in the operating room while using micro-instruments to perform the procedure. "There is no dissection of the muscle, and the camera is so small that the surgeon can actually utilize existing openings in the bone – rather than have to remove additional bone – to access and remove the herniated disc fragment," reports Dr. Derman. "The quality of the visualization is incredible," he says. "Once I remove the pressure from the nerves, the patient gets a stitch under the skin and a tiny bandage. They tend to leave the operating room feeling dramatically better immediately and are comfortably home within hours."
Dr. Derman gave me my old life back…
This was the case for Jantz. She was pain-free following surgery and only took off of work for two days. Now she is back to working out, making her kids' lunches, and of course, putting on her own pants – all things she was unable to do prior to surgery. "Dr. Derman gave me my old life back," she says. "I wanted things to just return to normal, and that's what the surgery did for me."
Although Jantz acutely injured her back while bending over, discs can also spontaneously herniate without a known inciting event. Arthritic changes can also gradually produce nerve compression in the neck or low back. This means, that anyone – regardless of age – can develop pinched nerves that may be amenable to endoscopic spine surgery.
While endoscopic spine surgery has been performed for several decades in select centers around the world, the present technology features more advanced optics, monitors, and surgical instruments and is therefore poised for more widespread adoption. "The U.S. is on the cusp of an endoscopic revolution. I think we'll see an explosion of endoscopic spine surgery because it produces pain relief without the collateral damage and associated disability inherent to traditional open spine surgery," Dr. Derman says. "The convenience and benefits to the patients are why I sought out specialized training in this procedure. It has dramatically changed the recovery experience for my patients and has therefore become a huge part of my practice."
Texas Health Center for Diagnostics and Surgery is one of only a handful of hospitals in the area with the specialized equipment needed to perform this ultra-minimally invasive procedure. "Not only is the technology incredibly advanced, but the staff at THCDS is also highly experienced, which translates into excellent outcomes," says Dr. Derman.
"Endoscopic techniques can help patients avoid fusion surgery," Dr. Derman elaborates. "Certain regions of the spine are difficult to reach by traditional means, and doing so risks destabilizing the spine so fusion may be required. Endoscopic spine surgery allows easy access to these areas, in many cases allowing me to perform a simple 'clean out' procedure when a fusion would have otherwise been necessary. That's really exciting – not just making smaller incisions but providing a fundamentally different surgery with faster recovery and better long-term outlook."