From March-April 2023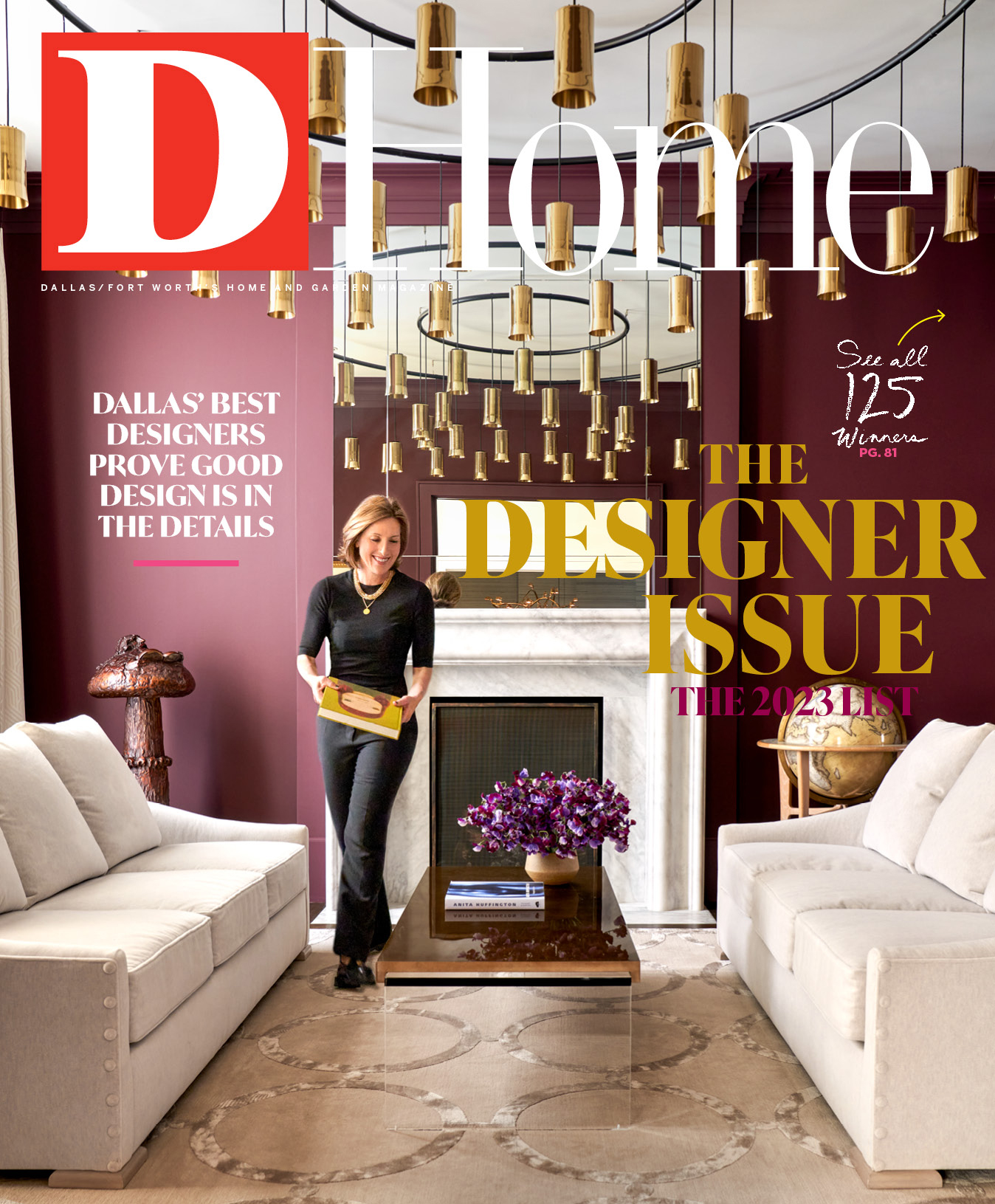 Dallas designer Meredith Steinhart practices the power of patience. She believes in a methodical and purposeful way of working—the long game. Slow and steady. She loves to immerse herself in her clients' projects, not stopping until she gets it exactly right.
And that's the approach she took with this University Park home. "I'm very detail-oriented," she says. "I'm not going to do a project and halfway do it." Steinhart started on this home in 2018, and she's still perfecting every inch. "We just continue to layer it. Those are the best houses," she says.
The clients, who met Steinhart through friends, hired her to design this 5,500-square-foot residence that was built in 2016. Steinhart prefers to be in on the architectural planning of a project, but she was determined to turn the space into a custom design for the couple, who love to travel, entertain, and collect. "They have opinions on art, objects, and sculpture, and they each have a fairly definite sense of design," she says. "But they needed guidance."
This is where Steinhart's expertise came in. The designer, who has been working in Dallas for 16 years, previously lived and worked in Houston and New York, after having interned and studied in San Francisco and London. Her well-traveled background allows her to fill her clients' homes with one-of-a-kind finds. "There's a constant revolving door of looking at objects," she says. "I'm always on the pulse of what's out there." She's able to pop into a store in Dallas, a showroom in New York, or an art gallery and mentally catalog it for a client's home. "My mind just works that way. When I see certain things, I think it might be good on this project or that," she says.
In this home, it all comes together, blending her finds with theirs. Take the formal living room, for instance. Steinhart worked with the couple to design a room that reflected their sensibility, using their personal collection of books as the backdrop. She designed a custom globe and stand from Bellerby & Co. Globemakers, painted the room in Farrow & Ball's "Brinjal," installed an oversized Santa & Cole chandelier, removed the original fireplace surround and replaced it with a new marble one, and changed all the hardware on the cabinets. But, she notes, the homeowner lent a hand styling the bookshelves under Steinhart's direction. "I love the way the books are done," she says. "It looks very lived-in."
In the dining room, she recently helped the homeowners source a custom Frederik Molenschot chandelier from Carpenters Workshop Gallery, which complements artworks by Tony Robins and Ross Penhall. However, a new chandelier required a new Vincenzo de Cotiis table (which, sadly, hadn't arrived in time for this shoot) to bring the space together. "[The chandelier] is a very highly collected artist," she says. "This table is pretty, but it's not holding up to that light." The process is always on-going.
Throughout the home, she points out art that she helped the homeowners purchase. A  piece by Canadian artist Wanda Koop makes a statement in the entry. The couple, who has an affinity for Canadian artists, spotted this piece at the Dallas Art Fair, but they weren't sure how to make it work in their space. "I loved the color, and [the homeowner] was like, 'Are you sure with the red and the aubergine in the living room?,' " Steinhart says. "I think it's stunning. I love the juxtaposition of color. It's unexpected."
And in the living room, Steinhart has been waiting a year and a half for custom Elizabeth Garouste "Buster" commodes that now flank the fireplace. The pieces were purchased through Ralph Pucci in New York. "They finally have arrived on the container and they're on the truck on the way to Dallas," she said ahead of their arrival, giddy like it was Christmas morning—a telltale sign that they were worth the wait.
How designer Meredith Steinhart achieves her signature collected, layered look
You Can't Layer a House in a Day
Steinhart's approach is all about taking your time and slowly purchasing beautiful and meaningful pieces to fill your home. "Layering a house means collecting over time," Steinhart says. She encourages her clients to collect on their travels and to keep their eyes open when they're out and about.
Do Your Research
If your budget or time doesn't allow you to travel, use social media, books, newspapers, and magazines to your advantage. "You don't even have to travel outside the city necessarily, but look in all different places, educating yourself on what's out there," she says.
Invest in Pieces That Bring You Joy
It's your living space," she says. "Those things that you're intrigued by when you're out and about and traveling—those are the things that make a house come alive." It could be as simple as a coffee-table book or a small sculpture to add to your bookshelf.
Hire a Designer
Having a second opinion helps, especially when you're trying to bring it all together. "A designer can edit or curate," she says. "When you see something, you may be thinking you don't have a place for it," she says. But the beauty of hiring a designer is being able to lean on him or her for advice.
Get the AtHome Newsletter
Enjoy Dallas' best trends, hot properties, and tips from local designers to help you nest in style delivered weekly.