For many of us, our furry feline friends are the perfect companions to help us navigate the complexities of life. They are the ideal animals to provide that extra spark of joy or comfort in an already turbulent daily routine. Our cats are the ones who crawl into our lap when we're feeling lonely, crash into objects around the room to make us laugh, and make us miss home when we are away. The love we hold for these animals knows no limits.
Just like the other things we love, many of us want to find a way to commemorate our feline companions and recognize their importance in our lives. That's why, in recent years, cat portraits have become a staple holiday gift, a beautiful way to remember our lost friends or a fun acknowledgment of our love for our furry companions.
There are tons of great artists, services, and sellers who offer different cat portraits for purchase worldwide. These pieces can include anything from a simple pencil portrait of our feline companions to a beautifully painted artwork that places our cat amid a Renaissance masterpiece. There is no shortage of options to help you commemorate your mammalian best friend.
Whether you are a cat dad looking to put up some family pictures or the friend of a cat lover looking to give the perfect present, we have compiled a list of the best cat portrait services on the market.
What Makes A Good Cat Portrait?
There are many different things to consider when purchasing a new cat portrait. First, as buyers, we need to consider price, size, medium, and service. Do you want a portrait of just the cat, or would you like there to be more to the piece? Do you want a watercolor painting or a stencil? How much can you spend on a piece?
All these factors can play a significant role in determining how you choose the best selection for your furry friend's big moment. Below, we have listed several important things to consider when selecting your next cat portrait.
Type of Portrait
Portraits come in many different forms. They can be watercolor paintings, stencil or charcoal pieces, or oil drawings. These paintings will differ significantly in price depending on their medium. Watercolor and oil tend to be a little pricier in comparison to charcoal and stencil drawings.
There is also the option of digital portraiture. These works are created using digital design software that allows the artist to produce striking artwork. Digital portraits also will enable you to be imaginative with your concept design and often cost far less than portraits created by hand. 
Size of Portrait 
The size of the portrait can differ vastly, depending on how you want to exhibit the portrait in your house or office. Pieces come in all sizes, starting with smaller portraits (16 x 24) to extra-large pieces (48 x 72).
The size of the portrait is directly related to the price. Smaller portraits are easier to print or produce and often cost significantly less than larger pieces. Therefore, it's essential to weigh the costs and needs when choosing the best size for your purchase. 
Concept Design
The concept behind the artwork depends on your preferences for your piece. Some companies and artists offer simple canvas prints that contain a rendering of your animal and nothing else. Other companies include beautiful designs that place your animal within the confines of an artistic masterpiece. It all comes down to what you are looking to purchase.
For digital pieces, the possibilities are often limitless. For example, digital portraits allow artists to construct an image of your cat within any design or concept. On the other hand, hand-drawn work often focuses solely on the image of your animal, allowing for some imagination in design, but less so than digital works.
Service and Artist
The reputation of the seller could be the most important topic when deciding on your next pet portrait. Some services work as a middleman, taking your order, and commissioning an artist for the work. Other services come directly from the artist themselves.
It is also essential to consider the accessibility of the service. Can the seller meet your shipping needs? Especially in terms of gifts, it's good to research the seller before deciding on your choice of portrait. If you are looking to get a portrait in a hurry, it's important to consider the timeline of the artwork. The quality will take time for higher price artwork, and it is unlikely you will have a piece by the end of the following week.
Finally, consider the price and quality of the shipping. Some brands don't charge for shipping. Others are costly and can charge fees as high as $20. Also, read the reviews regarding the quality of the shipping. For a pricier piece that is a gift for that special cat dad in your life, you want to make sure your order is being handled with care.
How We Ranked Them
 To rank the best cat portrait services on the market, we considered various factors to help you make the best decision for your purchase.
Quality
The first consideration when choosing the best service is the quality of the work. A prized portrait of your favorite furry companion shouldn't look like it was thrown together the night before it was shipped. Therefore, we are looking for products and services that offer cutting-edge printing technology, well-handled shipping, and an overall tone of high market quality.
Our choices are produced by outstanding design teams whose products are expertly reviewed and allow buyers to feel a sense of comfort knowing their product is worth the price. We also look for services that take care during every part of the process, putting time into printing the portrait, packaging, and overall customer experience.
Options
Another consideration for our list was the number of options available by the service or artist. We wanted to find services that allowed buyers to customize their portraits. We looked for providers with the most options, from sizing to design, allowing you to have the freedom to see your design come to life.
Many of our options specialized in one or two mediums, meaning they only produced paintings or digital art. For these providers, we considered the options available for each selection. These services had more options for size, framing, or design, which allowed buyers more freedom to create.
Customer Service
Another vitally important part of the process was the customer care of the service provider or artist. Our choices reflected sellers that were accommodating to their buyers, excellently reviewed, and followed through on their promises for the work.
This category also factored in the actual buying process. These services had easy-to-use websites, a simple shipping process, and took a variety of payment options.
Best Cat Portrait Services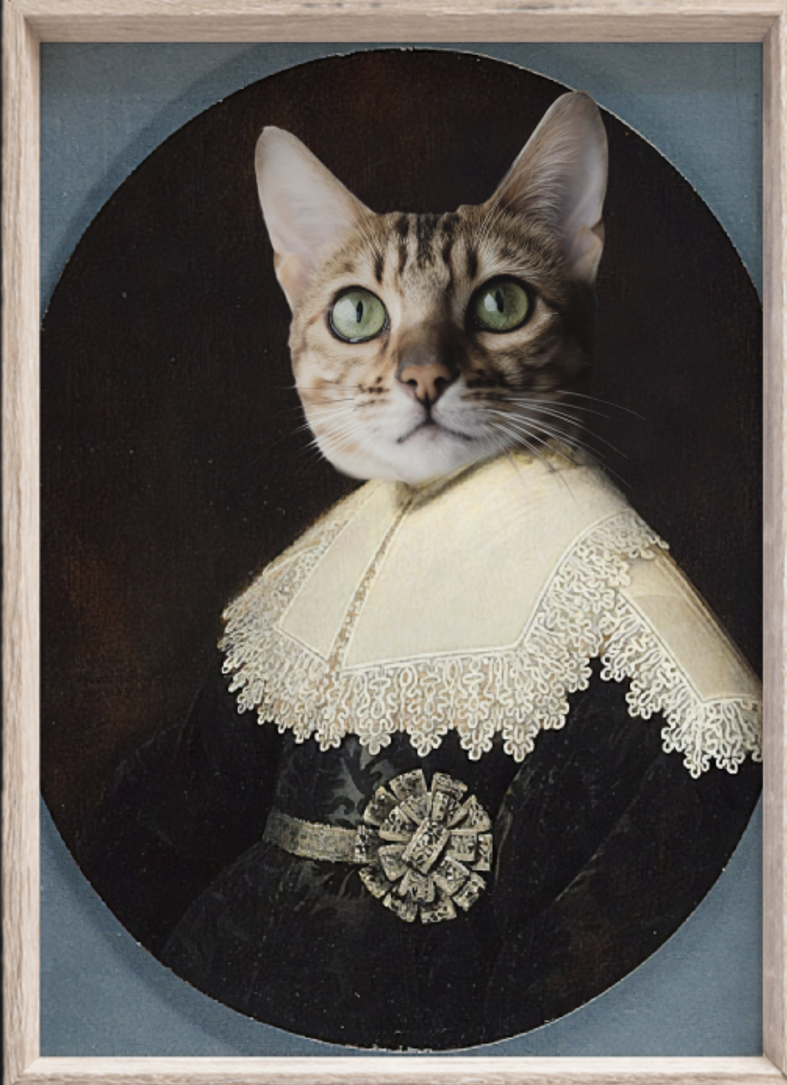 Porter Reid is a standout on this list – this unique and easy-to-use service offers a variety of options for pet portraits. For the quality of the work they offer, their prices are a steal on any market.
Porter Reid is at the top of this list based on the quality of their work, but they also rank at the top in several other categories. Their buying process is straightforward, starting with an easy-to-use website that allows you to customize your portrait using a variety of backgrounds and design concepts. They also allow you to choose different frames and sizes, opening the possibilities for your purchase.
Porter Reid is also one of the most affordable options on the list. Their portraits start at $69.99 but do not contain shipping costs, making the price a steal for the level of quality displayed in their work.
Overall, Porter Reid is an excellent option for anyone wishing to purchase or gift a cat portrait. Their work is checked by an outstanding team of designers, artists, and experts who ensure each piece is crafted with care and maintains the highest standard of quality. With their easy-to-use buying process, affordable prices, and an array of options, Porter Reid tops our list as the best overall cat portraiture service.
#2. Portrait Flip – Most Options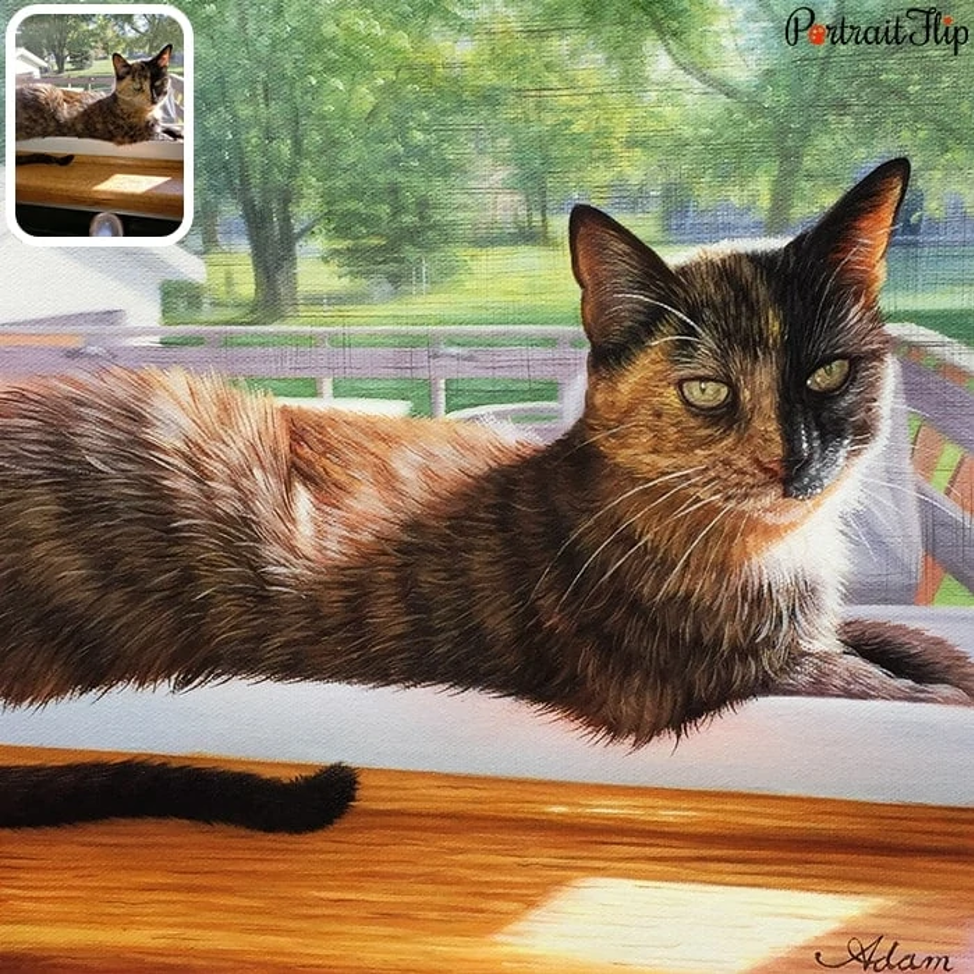 Porter Reid has the best quality for the best price, but Portrait Flip comes in a close second. This wide-ranging photo to art service allows individuals to submit a photo of their animal and choose from several options regarding size and medium.
Portrait Flip has an easy-to-use website that allows you to see all pricing, size charts, and reviews upfront. They also include high-quality customer service that lets you chat with a representative regarding your product.
Portrait Flip has the most extensive selection of options in one place. The only issue is their pricing. They are a little more expensive than other options, with prices starting in the low $100 range and going as high as $675, depending on the size. 
#3. Crown and Paw – Most Unique Designs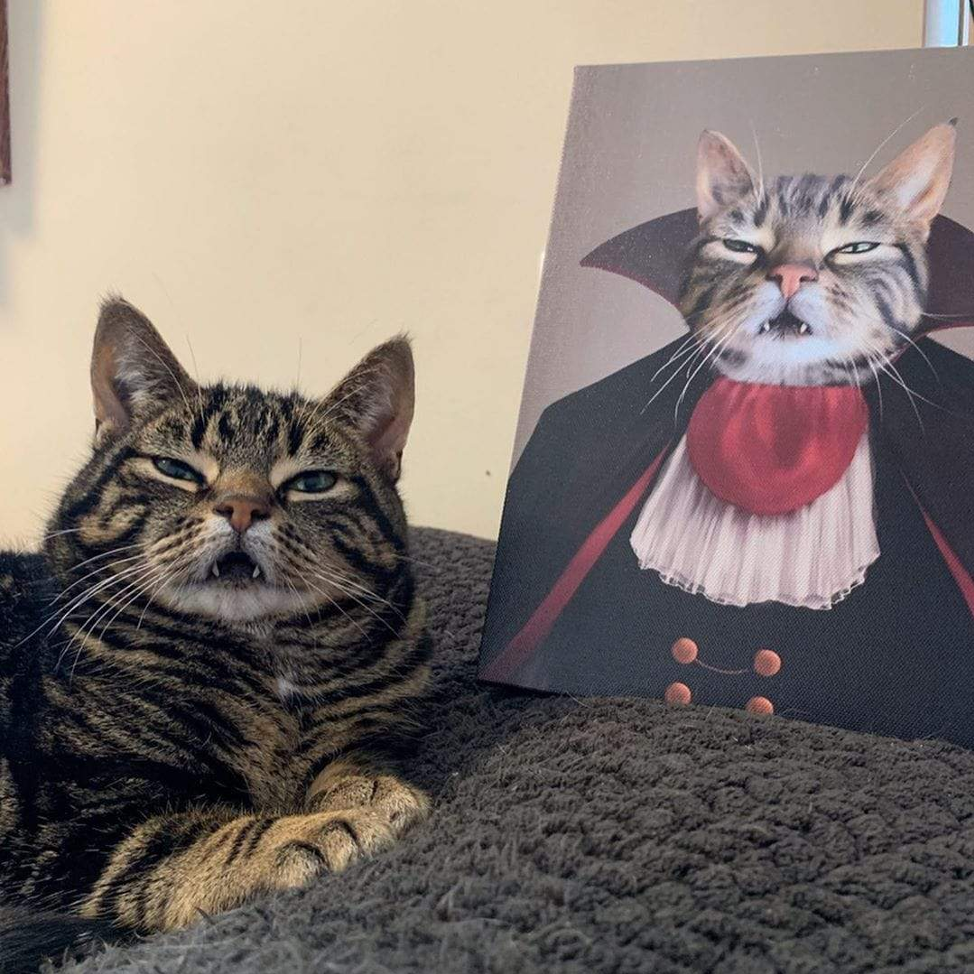 Crown and Paw specialize in unique designs that recreate famous figures and characters. Their options range from a simple portrait of your cat to an illustration of your feline companion as a Star Wars character. These are just some examples of their unique design and portraiture platform.
They are also one of the cheaper options on the list. Although not quite the same quality as Porter Reid's products, their products provide good quality for the price.
Crown and Paw are also known for their award-winning customer service, eco-friendly packaging, and allow you to see a preview of the work after five days of order if you want to request any edits to the artwork.
#3. West and Willow – Best for Group Portraits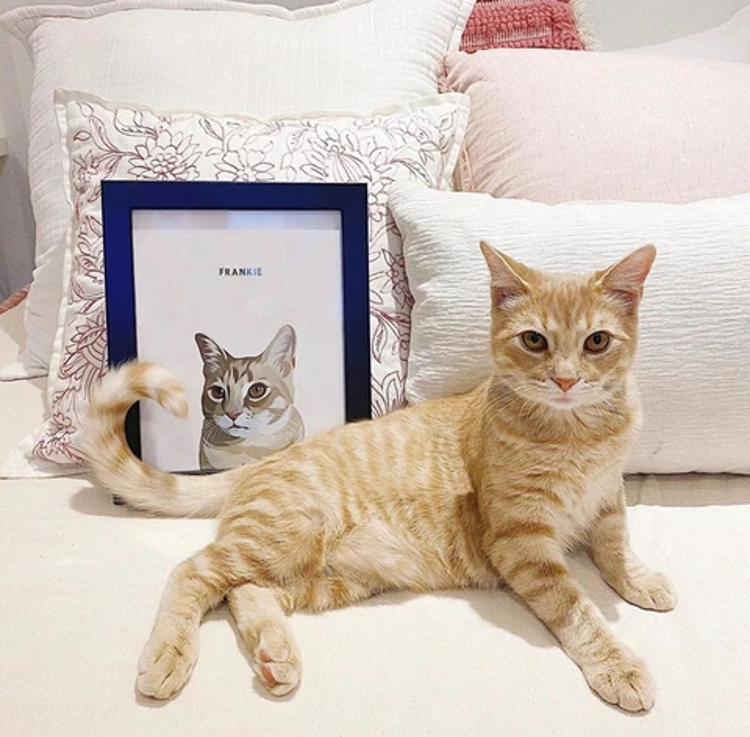 West and Willow might be the most famous service on this list. Don't want to exclude one of your cats from the fun and want to get the whole gang involved? The West and Willow service is perfect for getting the entire family together for a portrait.
Their service combines a simple design with modern art to help curate a piece that makes your furry feline friends the centerpiece of any room. They, unfortunately, do not have a wide range of background or design options outside of their trademark.
Featured in Buzzfeed and CNN, West and Willow are a little pricier for their designs, but nothing unaffordable for the quality.
#5. Zazzle – Best Big-Name Service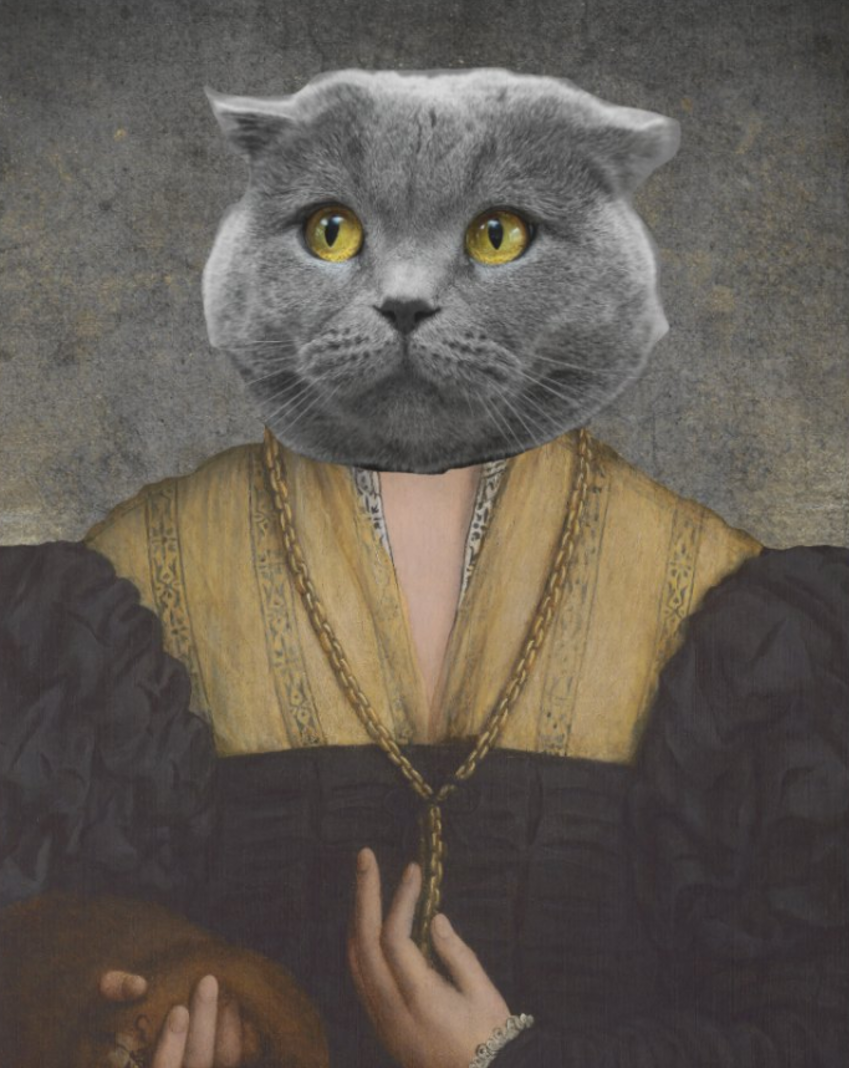 Zazzle is a larger design and printing service, offering a range of products from pet portraits to custom coffee mugs. This service combines a unique customer experience with cat portrait production.
Zazzle uses a system that connects you with a live designer who helps you design and purchases a portrait of your choosing. They specialize in renaissance portraiture, taking a picture of your cat and working it into a renaissance painting.
If you are looking to give your cat a Leonardo Da Vinci overhaul, Zazzle is an excellent service to start. They also offer a 100% return policy and have artwork shipped to your house within a few weeks, making it the perfect service for a late holiday season gift.
#6. Stellar Villa – Best High-End Art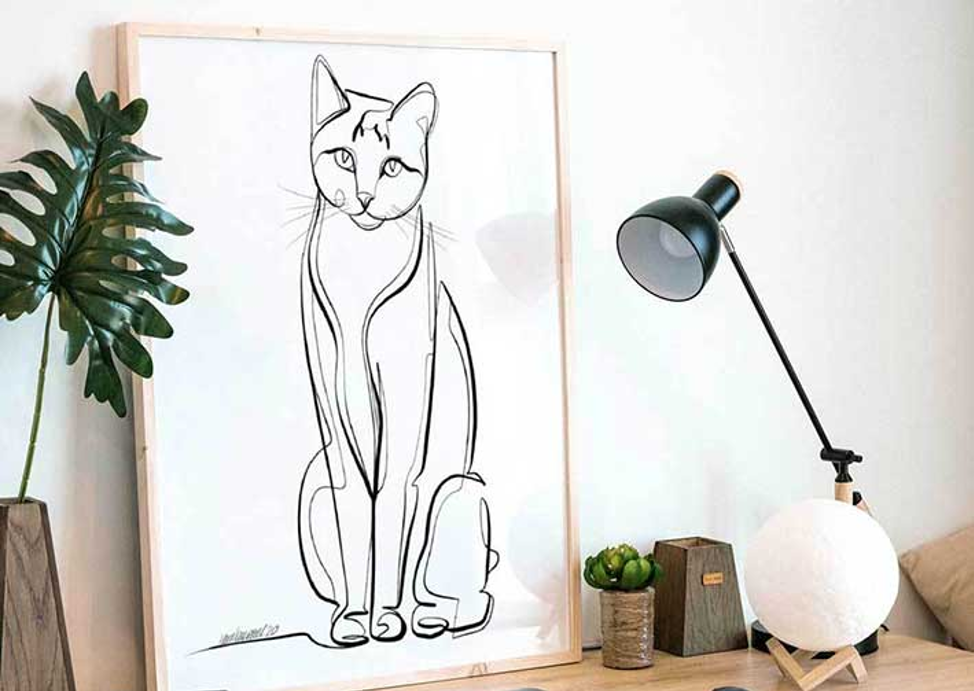 Stellar Villa specializes in portraiture with a more authentic artistic touch. This New York City-based service offers one of the largest selections of different artistic styles. They have everything from simple minimalist designs to cartoon art.
Stellar Villa is one of the pricier services on the list, but for a good reason. They print their artwork on high-quality canvas material, allowing their designs to illustrate a look more reminiscent of an art gallery.
Stellar Villa also offers a unique concept in storybook illustrations that allows owners or gift-givers to create a storybook of their pets, providing a more comprehensive range of artistic designs.
#7. CanvasPop – Easiest to Use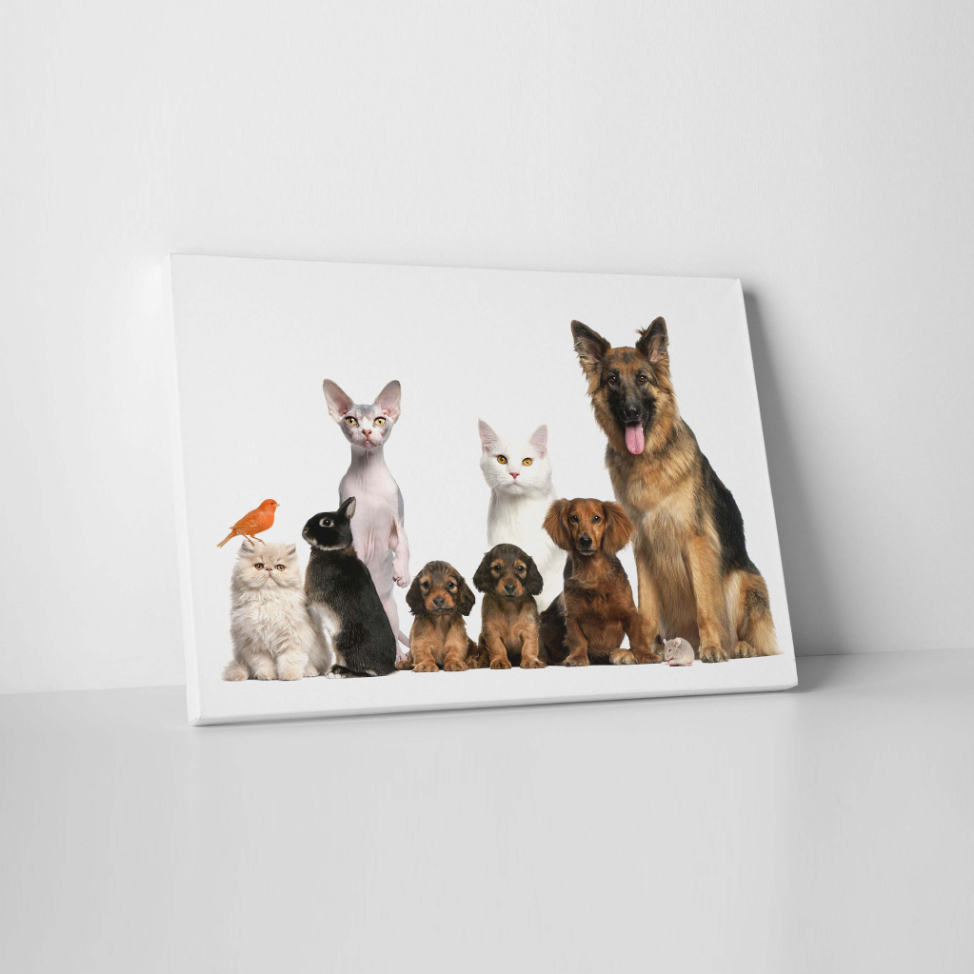 CanvasPop has an easy-to-use interface that allows buyers to create a customized portrait of their cat in little time. This service also works fast, having orders delivered quickly, making this service perfect for holiday orders.
CanvasPop is a wall art company with many other artworks that can be purchased through their service. They have excellent handling of their products, and their high-quality canvas prints are one of the best on the market.
They also have a variety of mediums offered for the cat portraits, including charcoal, oil, and modern artwork. In addition, each of these mediums comes in three different sizes, therefore giving the buyer a variety of options to fit your decorative needs.
#8. Purr and Mutt – Most Affordable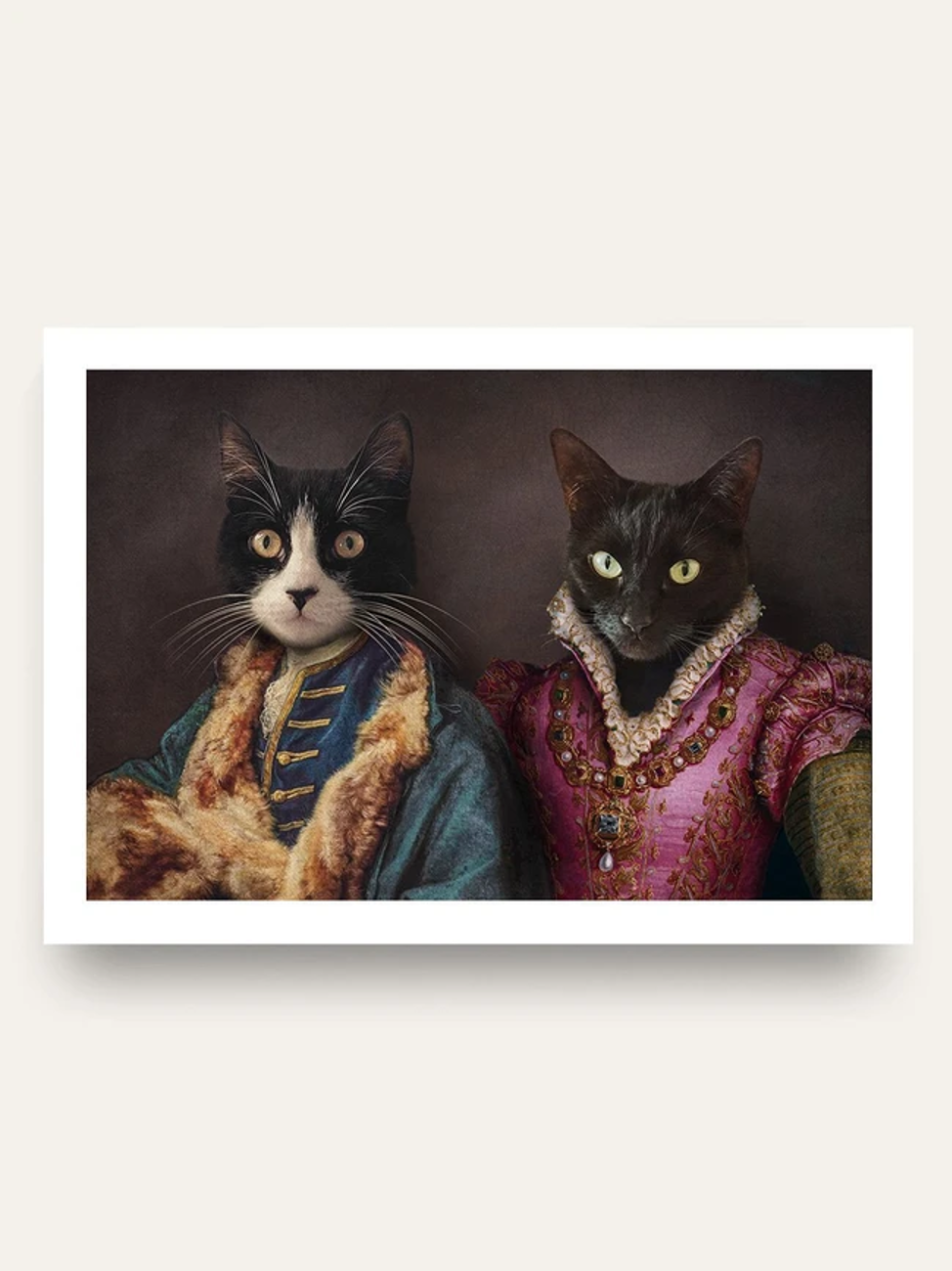 Purr and Mutt has a variety of styles and designs, making it one of the services with the most options behind Portrait Flip and Huff and Paw. What sets it apart is the affordability of the portraits, starting at a mere $26.
The quality of Purr and Mutt is below that of Porter Reid, but their work is still quite the steal for the price. This service also has a ton of add-ons for each portrait design, allowing buyers to customize their artwork to fit their design needs.
Similar to most services on the list, all they require is an uploaded picture of your cat and answers to a few questions in order to get started. Affordable and easy to use.
#9. My Pet Crew – The Cheap and Easy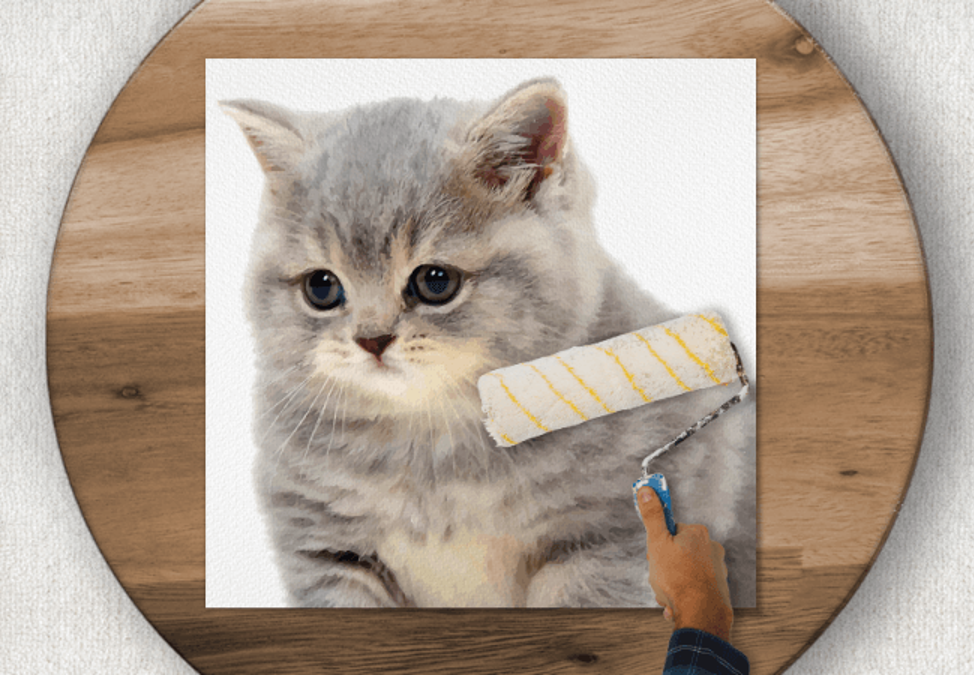 My Pet Crew is an easy-to-use service that allows you to upload a design or art piece and have it printed and shipped at a low cost. The service is simple to use, and prices range from $12.99 and up.
The service also allows you to purchase hanging kits, laminations, wraps and borders, and dust back paper. The service is fast, ships quickly, and is the least expensive on the market.
The only downside is shipping costs on all orders below $69.99. Also, this service doesn't create custom artwork. They merely print them and ship them to your location. Nevertheless, it's a good service for artists gifting prints to friends and family.
#10. Etsy – The Artist Experience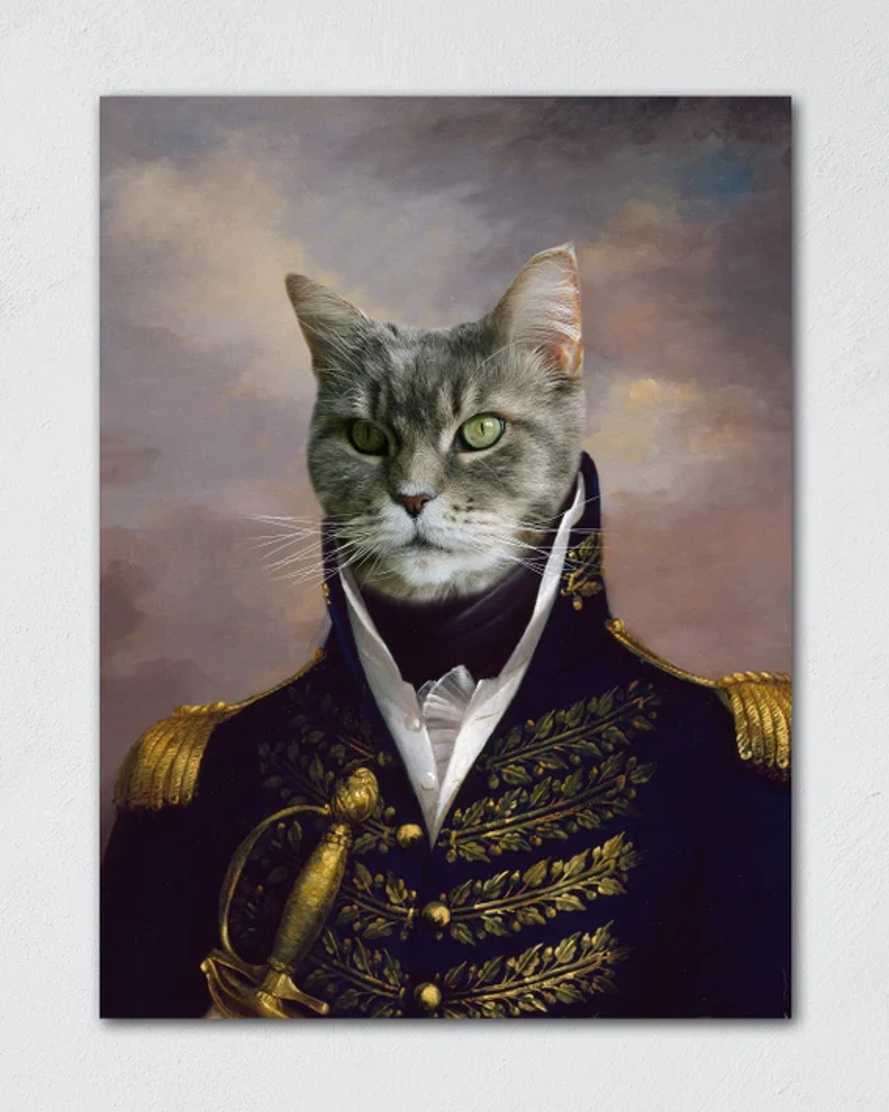 Finally, there are an array of artists on Etsy that commission customizable cat portraits. Artists vary in practice, style, and price. Etsy is a good option if you are looking to support a local artist or searching for a very niche form of artwork.
Since Etsy is a freelance platform, most prices on the site will be competitive and lower than complete services. However, the quality of the work and the print depends on the artist and the service. Therefore, we recommend researching the seller, connecting with them, and reading reviews before making a complete purchase.
Final Thoughts
Overall, we recommend Porter Reid for total quality, price, and customer service. The service is relatively new to the market but is making big splashes in the portraiture game. Other services have their specific strengths, providing buyers with a diverse array of options for their next commission of their feline companions.
Whether it's to memorialize an old friend, a personal gift for the holidays, or the chance to give your cat the spotlight they have always wanted, there are plenty of options out there. We wish you luck with your cat portrait purchase and happy shopping.
Signup for D Exclusive
Get partner offers, discounts, and more delivered right to your inbox each week.