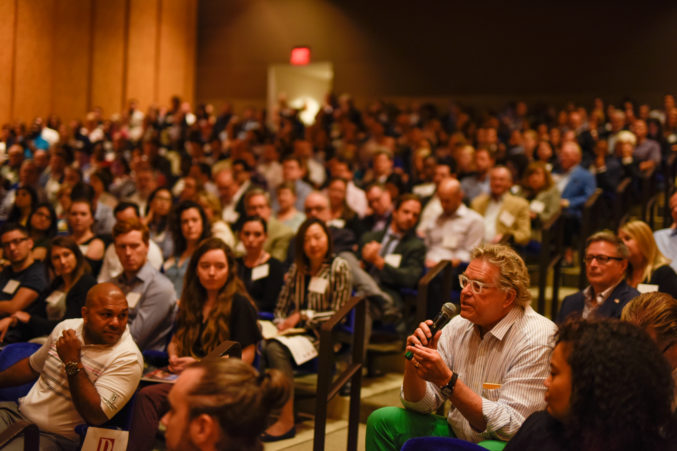 Scenes from D Magazine's Urbanism Symposium
On Wednesday, July 11, D Magazine hosted a sold-out symposium at the Dallas Museum of Art in conjunction with its "Dallas and the New Urbanism" special edition.
The Dallas Museum of Art's atrium began to fill with people for a symposium discussing topics in D Magazine's special edition, "Dallas and The New Urbanism." After enjoying a spread of breakfast tacos, pastries, fruit, and coffee, the 350 attendees moved into Horchow Auditorium for the sold-out event. Dallas County Judge Clay Jenkins introduced co-founder and chairman of D Magazine Partners, Wick Allison, who welcomed the audience and started the conversation for bettering the city of Dallas.
For the first panel, The Transition from a Commuter to Residential City: How We Get There, D editor Tim Rogers—who bought new slacks for the occasion—served as the moderator for the panelists: Tillie Borchers, director of investments at Civitas Capital Group; Kourtny Garrett, president and CEO of Downtown Dallas, Inc.; Patrick Kennedy, partner at Space Between Design Studio and D contributor; and Chris Leinberger, professor at George Washington University, chair of GWSB Center for Real Estate and Urban Analysis, and D contributor.
The second panel, Reclaiming our Urban Identity: Dallas' Competitive Advantage, was moderated by State Rep. and Chairman Rafael Anchia, who co-founded Civitas. The panelists were Jessica Burnham, director and clinical professor of the MADI Program at SMU and former executive director of the Deep Ellum Foundation; Mike Hoque, restaurateur and developer with DRG Concepts and Hoque Global; and Elizabeth Wattley, director of strategic initiatives at CitySquare.
After a refreshment break, the third panel commenced and discussed Displacement vs. Intentional Growth: Building an Inclusive City. Philip Wise, founder of Cienda Partners and first leader of Dallas Area Habitat for Humanity, moderated the panel, whose speakers were Raquel Favela, assistant city manager for the city of Dallas; Tammy Johnston, national account manager at Sprint Nextel, president of the Fair Park Neighborhood Association, and CEO of Greater Communities of Fair Park; and Chad West, attorney and member of Dallas' City Planning Commission. Wick Allison closed out the symposium on a hopeful note: "The future can be intentional. We can take charge of the future—and are taking charge of the future—and be just as intentional in restoring our communities as they were in the past in destroying them."