What Dallas Can Learn From Houston's Bus System
We need smarter routes for DART.
Christof Spieler posted this graphic this morning showing the increase in bus ridership since Houston launched their entirely re-thought bus system.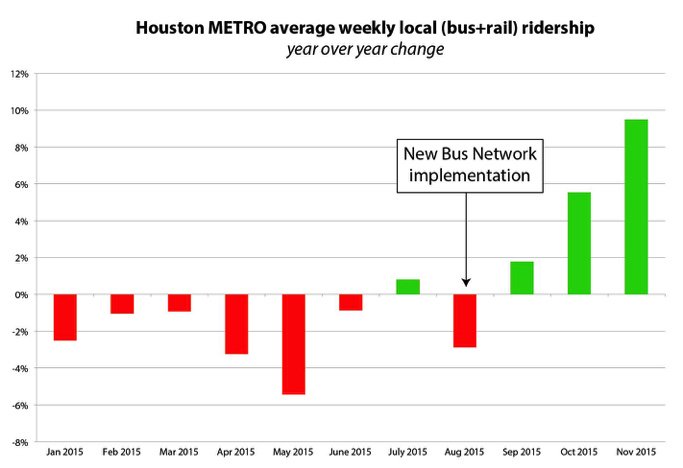 Pretty impressive.  Previously Houston had a system much like DART buses with convoluted route systems that served the entire service area equally poorly. Thus, ridership suffered.  Instead, they focused on route efficiency, prioritizing corridors with high potential for ridership (high levels of origins and destinations), and increased frequency to improve reliability that you wouldn't be standing for an hour waiting for the next bus and improved travel speeds to get you to your destination.  The market is responding.  And because it is responding so strongly, I have to imagine this will lead to bumps in real estate value along some of these frequent bus corridors.
And they did it without a change to the operating budget, which means service levels of certain areas dropped.  Such is the trade-off when acknowledging the inherent hierarchical nature of transit.  All areas and all people can't be served equally.  And the effort to do so undermines the overall service level and, in turn, ridership.
Hopefully, DART is serious when they say they are planning an overhaul.  And hopefully it is as transparent and public of a process as Houston went through.  We have a similar, though not as rigorously orthogonal, of a super-grid to Houston with arterials every mile which could make for some excellent frequent bus corridors.  When Michael Sorrell asks for train lines to Paul Quinn, my response is instead that we should focus on high frequency straight-line bus corridors, where transit gets dedicated lanes perhaps (southern sector roads are wildly over-built), and traffic signal pre-emption.  All of which would require increased level of cooperation from the city of Dallas…and all that takes is for the citizenry to demand it.
In other words, let's all start working together.  Because if you want less congestion on roads, you should want more people to ride buses.  But a significant and impactful proportion of people won't ride buses until the service, frequency, and trip duration is drastically improved.