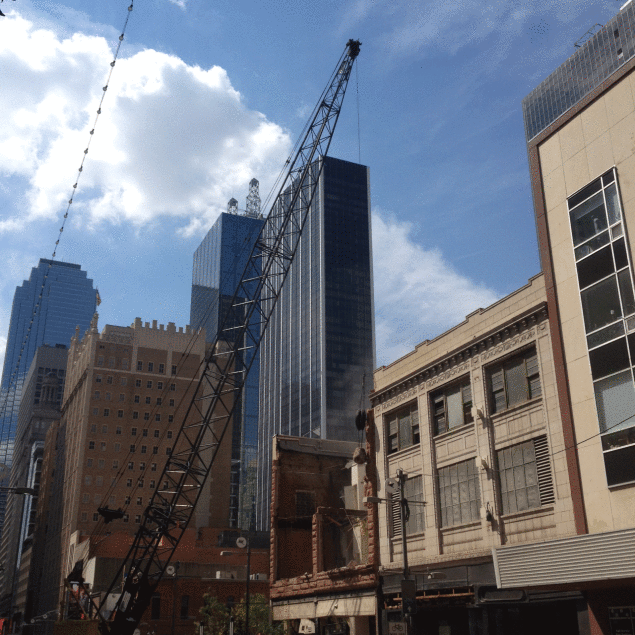 I'm sure you remember a couple months ago when a few of Dallas' oldest buildings downtown were demolished. After the community's outcry about the buildings' demise, the Downtown Historic Preservation Historic Task Force was created to prevent such events from happening again. Though we never heard from Tim Headington about why his company tore the buildings down, we did know what would replace them: high-end boutique Forty Five Ten.
I've been hearing about the plans for the new building for a couple weeks but was unable to get my hands on anything concrete. On Friday, Robert Wilonsky did what I was unable to do, and we finally got our first look at the plans. There's a motor court in the back, disengaging with Elm. The fence around Tony Tasset's Eye is still standing. And Headington Company is asking for $916,000 in TIF to do the project.
Fine.
But what I'd like to talk about is how tall and how close to the Wilson this building is going to be.
Here's the thing: I'm told there is no code downtown that dictates how close a building can be to an existing building. So, Forty Five Ten can be built on the property line, literally inches away from the Wilson building, its neighbor. The plan right now is that it will be a bit higher than neighbors anticipated. As it stands, it will block windows on the fourth and fifth stories of the Wilson. (Full disclosure: I live in the Wilson building. So the height/proximity of Forty Five Ten is of great interest to me.)
Let's talk about what that means. Those units will no longer have natural light. There is one unit in the Wilson that has no windows. It's been leased out twice. Twice, the tenants have gotten out of their leases with a doctor's note saying they were going crazy. Nobody wants to live in a home without natural light.
I talked Jim Truitt, senior vice president at Forest City Enterprises (which manages the Wilson and a few other apartment buildings downtown). He was at an AIA Dallas meeting last week where the Task Force was talking about preserving buildings downtown. He wanted to discuss the impact new builds will have on those buildings that have already been preserved. He said that he's currently working with Headington, who's building Forty Five Ten, to see if there's a compromise. But, he said, this is something that needs to be addressed now. Downtown Dallas is out of old buildings to revamp. We're coming to the next stage: new builds. The worst example of how new buildings can impact old buildings exists downtown, he says, with the Adolphus Hotel and Adolphus Tower. The addition of the Adolphus Tower less than 3 feet from Adolphus Hotel had devalued those rooms in the hotel. "As a city, we need to think about things like this," he says. "There's a careful balance we all have to play."
Truitt is hopeful a solution will be found for the Wilson's new neighbor, Forty Five Ten. "They're trying to build a building. We're trying to preserve a building," he says. "We're working together."
But I'd rather not leave something like this up to hope. The Preservation Task Force has nine recommendations regarding preserving old buildings downtown. They need a 10th, and it should deal with how to protect preserved buildings from new builds.
UPDATE: City Councilman Philip Kingston gave me a call to talk about the need for regulations with residential adjacency. "It's a dire, dire need, and a dire need basically in my district (14) and a little bit of district two," he says. "If you look at 1999 McKinney, their neighbors just built a freaking parking garage that looms over their pool. It's absolutely ridiculous. They have harmed their neighbors." Kingston says he's been working for about six months to bring forward recommendations regarding residential adjacency, and is having problems gaining ground. He currently has his intern working on a research project looking at other cities and how they've handled the situation. "I don't want to reinvent the wheel," he says. "It's not a problem that Dallas has really had in the past. It's another one of those problems of success. We need to be smart about it before we have other people have their property values be hurt by their neighbors."
Get the D Brief Newsletter
Dallas' most important news stories of the week, delivered to your inbox each Sunday.