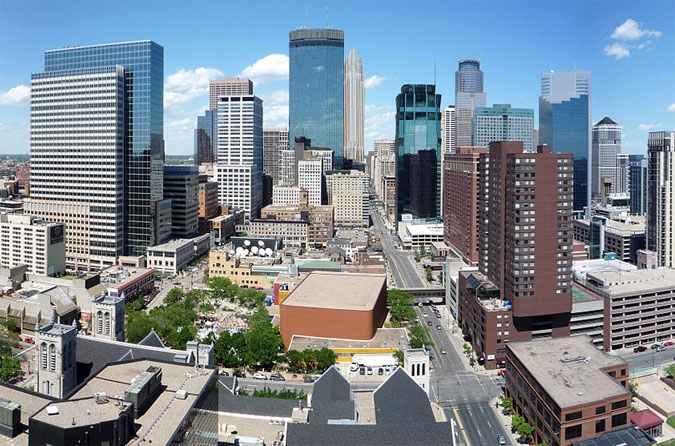 Yesterday John Neely Bryan fielded a question about transplants coming to Dallas and wanting to make this city more like the place they came from. But this comparative disconnect works both ways. Too often I've heard people from Dallas comparing this city to New York, or San Francisco, or some other coastal metropolis with a larger population, older history, completely different geography, or any other number of factors that makes a comparison with Dallas a little silly. Case in point: we built a suspension bridge over our drainage ditch of a river because, you know, amazing big cities have suspension bridges.
But what if we had more modest ambitions. What if we put all of our hopes and dreams into becoming the next — that's right — Minneapolis?
Deep readers of D Magazine will not be surprised by this suggestion. It came up fairly recently in an interview I conducted with Deep Vellum Publishing's Will Evans, who remarked on what a vibrant independent book publishing scene Minneapolis boasts (cultural cachet they can add to a résumé that includes Prince, The Replacements, the Guthrie Theater, and the Walker Art Center). Now The Atlantic has taken notice of something else Minneapolis has going for it: an incredibly equitable economy. In fact, Minneapolis combines upward mobility, affordability, and wealth better than almost any other city in America. The article points out that Minneapolis boasts Fortune 500 companies (19 of them — one more than Dallas); an educated workforce; and it is one of only three large metros where half the homes are within the reach of young middle-class families, while having a richer median household income than the other two cities on that list (Salt Lake City and Pittsburgh). Furthermore:
Among residents under 35, the Twin Cities place in the top 10 for highest college-graduation rate, highest median earnings, and lowest poverty rate, according to the most recent census figures. And yet, according to the Center for Housing Policy, low-income families can rent a home and commute to work more affordably in Minneapolis–St. Paul than in all but one other major metro area (Washington, D.C.). Perhaps most impressive, the Twin Cities have the highest employment rate for 18-to-34-year-olds in the country.
What interests me about Minneapolis' success is that it is similar to Dallas in many ways. Geographically, it is a regional center, but it is also relatively isolated from other major cities, which makes it a draw to people moving in from more rural areas throughout the upper midwest. It is about as old as Dallas, and — with its Fort Worth-like sister city St. Paul — it sits at a center of much larger and economically robust region. And it is also surrounded by nothing but land and could sprawl endlessly to its heart's content.
So how is it that while Dallas boasts high rates of income inequality and declining mobility, Minneapolis has done such a good job at realizing mobility, affordability, and wealth? The answer, according to Thompson, lies in a "highly unusual approach to regional governance." In the 1960s, towns in the Twin Cities region operated much like cities and towns throughout DFW, offering tax breaks to lure in new business, stealing jobs from other parts of the region while in the process lowering social services and depleting municipal revenues in order to foster continued growth. Then in 1971, the state stepped in.
The region came up with an ingenious plan that would help halt this race to the bottom, and also address widening inequality. The Minnesota state legislature passed a law requiring all of the region's local governments — in Minneapolis and St. Paul and throughout their ring of suburbs—to contribute almost half of the growth in their commercial tax revenues to a regional pool, from which the money would be distributed to tax-poor areas. Today, business taxes are used to enrich some of the region's poorest communities.
It's the kind of idea that would give Texas state legislators the sweats. But the plan — known as "fiscal equalization" — enabled the region to spread services equally throughout the region, while keeping quality of life high everywhere. A subsequent housing policy ensured that Minneapolis didn't create ghettos by concentrating low-income housing. Rather, they made sure that affordable housing was spread throughout the region.
"In the 1970s and early '80s, we built 70 percent of our subsidized units in the wealthiest white districts," Myron Orfield said. "The metro's affordable-housing plan was one of the best in the country."
The result is a more equitable geographic distribution of wealth and poverty that seems to have affected overall income inequality. It makes Minneapolis affordable, while helping to retain a young, talented workforce who can contribute to growing new businesses into successful companies, which creates more opportunity for those hoping to move on up.
Often in the conversation about revitalizing Dallas' urban core, it can sound like an us vs. them, city vs. suburb debate. But the long-term success of the region rests in creating regional planning policies that ensure that regional success doesn't foster internal competition where some areas of DFW come out the losers. Perhaps Minneapolis is exactly the kind of city we should look to for inspiration.
Get the D CEO Newsletter
Stay up to speed on DFW's fast-moving business community with weekly news reports, interviews, and insights.