Bad Policy Derives from Misleading Data
I suspect we're going to see a lot of this, misleading numbers regurgitated like the death rattle of the status quo.  In the lead up to the November election and the statewide Proposition 1 vote to divert oil & gas revenue from the rainy day fund to build more transportation projects, we heard the same numbers.  Driving is up 200% and highway capacity is up only 20%.
These numbers are true, but they're also incredibly misleading as well as misguided (kind of like saying we need to pass Prop 1 and then following up with a FOOOOOLED YOUUUUUUU. NEED MOAR MONEYZ)
They're misleading because most of the data comprising the numbers are useless.  Metro highway capacity is up way more than 20%.  It's up 61% in DFW since 1982, 136% in Houston, and a whopping 218% in Austin.  DFW's growth figure is low because we had so many in place by the 70's.
The deeper question is, "if we were to give you this money, drug addict, would you spend this on reforming yourself into a positive upstanding member of society?"
In other words, that 20% number is nonsense.  The lie we tell our family, the suckers, or whoever else will listen and lend aid for one last fix.
First of all, Texas spends a greater percentage of its construction capital on expansion rather than maintenance than any other state.  I'd love to know how we compare in terms of % budget dedicated to debt service.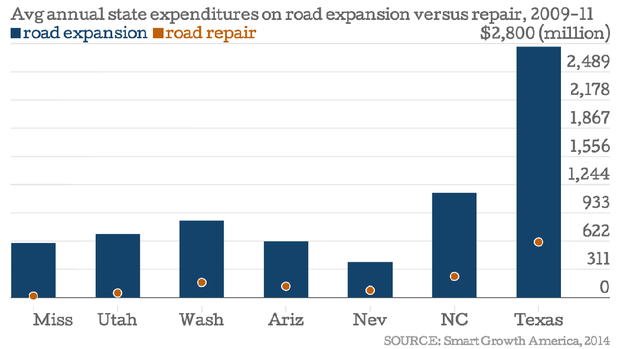 They're misguided because they're priorities are in the wrong place.  They simply want to spend more and build more, rather than more wisely.  Except, dinosaurs don't evolve.  As Max Planck so bluntly put it, "progress happens one funeral at a time."  To put it more mildly, we have to define what 'more wisely' means and give them measurable goals to work towards in order to create feedback loops to inform policies.
Let's look at the driving up 200% number.  I suppose that might be true when dealing with a population that has doubled in forty years.  But again, let's look at the metro data where the majority of people live and work.  Why?  Because if Texas' GDP is $1.4T, a full half of that is comprised of Dallas, Tarrant, Travis, Harris, and Bexar counties comprise $813B of that GDP.  Harris and Dallas counties alone are worth 40% of the state economy.
Looking at the metros, what is our goal?  It ought to be making the economies hum as efficiently as possible, growing GDP in a sustainable manner.  If vehicle miles traveled per capita are going up, that's increased inefficiency in the system because owning and operating a car is expensive and every mile traveled is a form of waste in the system.  If we can make those same trips with reduced expenses on the public and private sector, the economy does better, wastes less, and keeps more liquid locally.
In the major metros, VMTs per capita are up across the board along with the rapid expansions of highways (think those two things are linked?).  From the same TTI Mobility Index data looking at Texas metros from 1982-2011, Houston area driving per capita increased from 8.33 miles/person/day to a peak of 14.42 and has since fallen to 13.25.  Despite dropping over the last five years, that still represents an increase of 59%.  In Austin, over the same span their per capita driving increased from 6.06 to a peak of 10.68 before recently dropping to 9.41 for an overall increase of 55%.  In DFW, same pattern except we already had more highways and were well on our way towards happy motoring paradise:  9.39 to a peak of 13.26 before the recent decline to 11.90 for an overall increase of 27%.
You may have noticed I buried the lede here.  TxDOT is suggesting there is more driving than ever when for the past 5-10 years every metro has been dropping the amount of per capita driving.  Shouldn't we be focusing on the 12% drop in driving in Austin, 10% in DFW, or 8% in Houston?  These are more recent trends representing a broader demographic shift.  The market is once again ahead, realizing that's not what they want.  Now, we the market, have to inform the public sector what to do.
TxDOT should be working to make people's daily lives MORE efficient (and oh yeah, safer), which would in turn make their transportation infrastructure more efficient, saving taxpayers time and money, and if invested wisely, grow the economy in a sustainable manner unlike the debt-fueled mania bankrupting us today.