Scrolling through Instagram the other day, we saw a post that said, "The best form of parenting is prioritizing your own self-care." The same is true when work is your baby—as it is for us: As we head into the end of the year, burnout begins to rear it's ugly head and, sometimes, pausing for a spa day becomes just as important to our wellbeing as reaching end-of- year benchmarks.
Whether you choose a DFW Staycation or a weekend trip South near San Antonio, Austin, or Houston, these spas within a day's drive of Dallas will help bite burnout in the bud and leave you feeling refreshed, recharged, and ready to return to your baby—whether it be a child, a company, a project, or all three.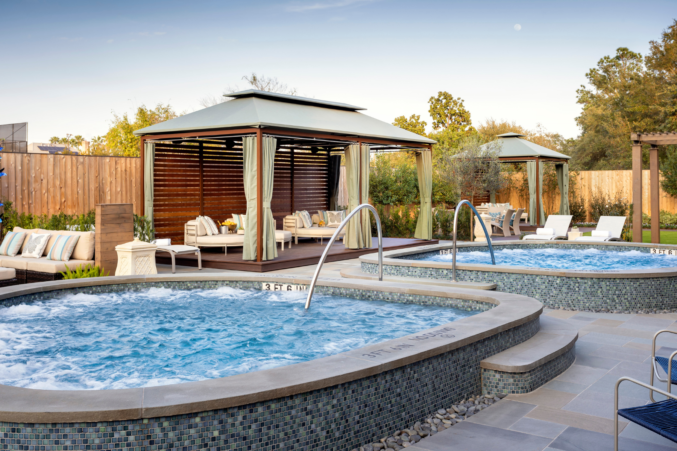 Trellis Spa, The Houstonian
Houston
3.5 hour drive $359–$429/night
The Houstonian is the escape we've all been looking for. Home to the biggest spa in the state, country club amenities such as golf, Pickleball, and a full gym, and accommodations so lovely The Bush Family once called it home, the sprawling 27-acre retreat checks all the boxes for a relaxing getaway. Spanning 26,000 square feet, the recently renovated Trellis Spa (designed by Blu Spas Inc.) blends traditional treatments with innovative options.
During a recent stay, I spent my first afternoon sipping champagne and nibbling away at a Charcuterie board while soaking in their brand new pool-sized hot soaking tubs. The tubs were added during the spas renovation of its 6,500 square foot outdoor space and were inspired by bathing cultures around the world that incorporate cold/hot circuits to improve circulation.
While there, I also slipped into the Gharieni MLXi³ Dome and Celliss machines, a Trellis Spa exclusive, and opted for the plasma light therapy addition for the full detox experience. Unlike anything I have experienced before, the heated oxygen dome is designed to make you sweat and allows for FIR (Far Infrared Ray) to aid in detoxification, increased blood circulation, stimulation of your metabolism, and increased energy.
Other modern treatment options include the CBD Massage, which uses Swedish, deep tissue techniques, or a combination of both, to aid in inflammation reduction. For its treatments, the spa uses prestige brands such as Natura Bissé and Orveda (which is a vegan line based on Ayurvedic philosophy. Trellis is one of two spas in the U.S. to hold the brand).
Inside the opulent hotel, you will find rooms modernized from the recent $23.5 million makeover and oversized bathrooms complete with warm flooring, soaking tubs, brushed nickel fixtures, and marble vanities.
The resort's award-winning food scene is also a major highlight. From a festive crawfish boil to dinner under its famous Live Oak tree, I felt pampered in every way possible. Described as Tex-Lex, the menu at Tribute at The Houstonian is a blend of its three chefs in charge who hail from Texas, Louisianna, and Mexico. From the breakfast menu, Doña Licha's Huevos Rancheros is a must. The Tortilla Soup is a great lunch option. And for dinner, I would recommend their signature menu item, the Snapper Ponchartrain, a Creole-based dish served on dirty rice and topped with crawfish. The wood-fired charred oysters served with chorizo butter and the Texas Black Angus Filet Mignon with blue cheese also stood out. —Bianca Montes
Spa Details
Suggested Treatment: Gharieni MLXi³ Dome with PLT Treatment
Cost: $90-$130 plus $70 for the PLT Treatment
Pre/Post-treatment Relaxation Ritual: The Houstonian's famous shortbread cookies while relaxing in the outdoor hot soaking tubs or indoors at the floating pool
Must-Listen: Deva Premal & Miten Spotify playlist
---
Thompson Spa, The Thompson San Antonio
San Antonio
4.25 hour drive $256–$394/night
---
One of a chain of luxury hotels owned by Hyatt, the Thompson San Antonio, on the Riverwalk, provided the most incredible respite as I explored one of Texas' urban oases. With luxury rooms divided by a sliding door into a kitchenette and living area and the bedroom and spacious bathroom—with a deep and luxurious bathtub, I might add—The Thompson made both remote work and relaxation easy on my San Antonio getaway.
Its lower-level restaurant, Landrace, provided one of the best dinners I've ever experienced. Essentially, the entire menu is delectable, but I would highlight the Texas Rabbit Roulade, Grilled Cesar Salad, Lamb T-Bone with Chimichurri Sauce, and Wagyu Steak with Shishito Peppers. Make sure to grab a slice of carrot cake before you leave. Though I usually opt for a richer exit to a meal, this more spice-centric dessert did not disappoint.
Drinks at the rooftop bar, The Moon's Daughters, provide ample opportunity to take in city views. I would recommend the Tripoli, a watermelon-centered tequila beverage that is not too sweet and not too strong. The Charred Octopus Skewers make for a great late-night snack, too.
A Chill Revival Cryofacial was the perfect way to start my final day in Bexar County. An 80-minute treatment, the facial alternates warm and cool cryotherapy to rejuvenate and detoxify. A couple of musts for this facial: No. 1, ask for Diane. An expert esthetician who moved to San Antonio from Arizona, Diane taught me so much about my skin during the treatment and even directed me to a product to help my partner's skin woes, too. No 2. Upgrade your treatment to include lymphatic drainage with the gua sha stone, a tool used in traditional Chinese healing. As someone who commonly suffers from congestion, this was one of the best lymphatic drainage treatments I have ever received. —Kelsey J. Vanderschoot
Spa Details
Suggested Treatment: Chill Revival Cryofacial
Cost: $240
Pre/Post-treatment Relaxation Ritual: Sauna and hot tea
Must-Listen: SmartLess podcast
---
Loma de Vida Spa, La Cantera Resort
San Antonio
4.2 hour drive $391–$460/night
---
If there ever was a spa treatment I could incorporate into my routine, it would be the Ultimate Anti-Aging Facial at Loma de Vida Spa at La Cantera Resort. The treatment is indulgent and uses patented technology to hydrate your face—and let me tell you, that afterglow was extremely gratifying. An outdoor shower and massage in a private hillside bungalow overlooking Texas' Hill Country is the perfect way to wind down: Make sure to grab a tea or fresh juice from the bar inside the 25,000 square-foot spa.
With two world-class golf courses, five pools, a fitness center, and activities such as archery lessons and paddleboarding, there is plenty to do on-site. Looking to completely relax, I opted for a day at the adults-only pool in the Veuve Clicquot cabana one afternoon. I spent the next day indulging in some retail therapy at The Shops at La Cantera (peeking inside favorites such as Neiman Marcus and Louis Vuitton). I also made sure to stop at San Antonio favorite La Panadería for a light lunch before heading back to the resort.
A complimentary happy hour on SEVEN, the adult's only floor I chose to stay on, was a perfect intro before heading over to Signature for a chef's dinner with Andrew Weissman. From the array of different sliced citrus presented to me when I was served water to the incredible desserts that were almost too delicate to eat, I was enraptured in the entire experience—including its eclectic Old Texas-cowboy-meets-aristocratic-grandma-decor vibe. —Bianca R.Montes
Spa Details
Suggested Treatment: Ultimate Anti-Aging Facial
Cost: $250
Pre/Post-treatment Relaxation Ritual: Outdoor shower and a hot tea inside one of the private hillside bungalows
Must-Read: Raised in Captivity by Chuck Klosterman


---

PuresólSpa, Tapatio Springs Hill Country Resort

Boerne

4.5 hour drive $256–$394/night

The salt cave at Puresól Spa provides respiratory therapy through the ions present in its salt walls and floor.

Owned in part by country music legend George Strait, Tapatio Hill Country Resort, offers a luxurious country escape from city life with newly renovated rooms. Splurging for a spacious King Suite, which features its own bar, sitting, and dining areas, is a must, as is a tour of the resort's golf course.

Six years ago, golf architect Tripp Davis did $2 million of improvements to the scenic course, which features ample majestic oaks and stunning views of neighboring hills. I enjoyed looking out onto the course each night over dinner at La Cascada Table & Bar, the hotel's restaurant. Recently redesigned by Dallas-based Studio 11 design after the whole building burned in 2017, La Cascada specializes in Texas fare. I opted for the Buffalo and Pork Empanadas to start and the Southwest Pasta for my main. The chocolate-covered raspberry cheesecake is a must to end any night.

A peek inside the hotel's store and coffee shop was the perfect way to start my next day, followed by a much-needed trip to its spa. Inspired by designs in her home country, Beatta Huzarska Hatley built PuresólSpa's signature salt cave using large, pink salt blocks shipped from pollution-free mines in Poland. The cave is made up of nearly 20 tons of pink salt, whose ions, minerals, and particles (think potassium, calcium, and magnesium among others) are said to have positive respiratory effects when inhaled.

Now, hotel staff tells me Hatley travels the U.S., replicating similar salt caves at spas nationwide. It may sound a bit silly to go to a spa to take a nap, but nearly a 45-minute rest in Puresól's salt caves was among the many highlights of my trip to Boerne. I felt I really could feel the salt bettering my breathing as I drifted off and the opportunity to practice stilling my mind and focusing on my respiration was wonderful. The resort offers yoga in the salt caves a few times per week for those really looking to practice wellness and mindfulness.

I followed up my respiratory reset with a Vichy bed treatment. Puresól is home to the only Vichy bed of its kind in the U.S., and as my esthetician so accurately pointed out, basically provides a facial for your body. Between warm showers from 29 jets and steam sessions, my esthetician, Paige, massaged exfoliating scrubs into my limbs and back, before melting hydrating masks into the skin with hot stones. The experience made for a relaxing mix of massage and bath-like experiences. —Kelsey J. Vanderschoot

Spa Details

Suggested Treatment: Halotherapy Salt Cave Relaxation Session and Wellness Renewal with Seasonal Sensation Vichy Bath
Cost: $228 for Wellness Renewal with Seasonal Sensation Vichy, $35 for 45-minute salt cave therapy
Pre/Post-treatment Relaxation Ritual: Mimosas
Must-Listen: Double Date with Marlo Thomas and Phil Donahue podcast

---

Well & Being Spa, Four Seasons

Las Colinas

30 minute drive $435-$690/night

The hot/cold circuit tubs at the Four Seasons Las Colinas are a must-try.

A luxurious staycation option, the Four Seasons Dallas features a spa one could easily spend half a day in. Arriving there in style is a must. We decided to test drive the brand new Audi Q5 from Silvercar Audi for the quick drive over. Their short-term rental options are relatively affordable and a really fun way to change things up for a couple of days—or longer. Plus, that Q5 drove like a dream. Before taking in treatment, a few minutes in the steam room is the perfect way to relax before a massage or open your pores before a facial treatment. While there, we opted for the Vitamin C facial and Signature Sensory Experience.

The Four Season's spa uses some of our favorite DFW skincare brands, including Farmhouse Fresh and Natura Bissé, which has its Americas office here locally. Natura Bissé is a recent addition to the Four Seasons Las Colinas and the brand used for the Vitamin C facial. In addition to firming and brightening the skin, the esthetician said Vitamin C also protects skin against pollutants and free radicals in the air, preventing premature aging.

The Signature Sensory Experience did not disappoint. Designed to revitalize the face, body, and mind, the experience began with a hot cup of lemongrass mint tea. Your body is then enveloped in Naturopathica plant-based organic aromatics, which smell heavenly, and treated to a deeply relaxing shoulder and arm massage. It all ends with a foot treatment scrub.

If you're brave enough, take a plunge into the cold pool before the end of your stay.

While at the Four Seasons, make sure to hit the links at their par 70 championship course—and take in the scenery at the recently Certified Audubon Cooperative Sanctuary. And save time to take in a couple of fitness classes at the resort's massive gym.

Opt for adventure with a morning Antigravity Aerial Yoga class—nearly an hour of stretching, flipping, and flying. Michelle Miller, the class' instructor, makes all the movement accessible to most, so even the hesitant are in good hands. Your newly decompressed spine will thank you for hanging around in aerial yoga, but those seeking a more traditional workout can choose to tackle the 75-minute spin class—a killer cardio burnout. Fair warning, Kelsey is a bit of a gym rat, and she was sore all day following this fun, but challenging, class.

And afternoon lounging poolside on one of the resort's large circular beds is a must—as are drinks on the patio. We highly recommend The Best Little Horchata in TX, which is served in a terracotta-colored mug, and the El Grito, a spicy mezcal drink presented in a skull-shaped mug.

And trust us, your trip will not be complete without a visit to the resort's LAW Restaurant. Led by Executive Chef Cristof Syré, the eatery focuses on land, air, and water animals—hence the name and is truly an indulgent experience. Some of our menu favorites were the Cornbread Skillet, which is topped with honey butter and Maldon sea salt; the Romesco Octopus (one of the best we've tried); and the 60-Day Dry Aged Ribeye, which paired perfectly with a glass or two of Belle Glos Pinot Noir.

After a meal like that, the Four Seasons beds and bedding were a respite for our full bellies. —Bianca R. Montes and Kelsey J. Vanderschoot

Spa Details

Suggested Treatment: Vitamin C Facial and Signature Sensory Experience
Cost: $270 for 90-minute Vitamin C Facial, $310–$320 for Signature Sensory Experience
Pre/Post-treatment Relaxation Ritual: Steam room, dry sauna, jacuzzi, cold plunge pool
Must-Listen: This American Life podcast
Get the D CEO Newsletter
Stay up to speed on DFW's fast-moving business community with weekly news reports, interviews, and insights.