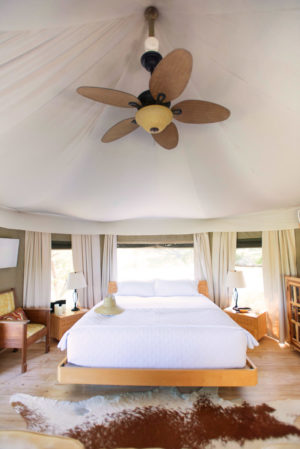 A committee of turkey vultures took advantage of the late afternoon breeze. They began the end of their day by riding the warm thermals in a long, slow spiral down to their nightly roost. A lone belted kingfisher made his way along the vegetation on the far side of Lone Man Creek, which flowed about 150 feet below mine. I stood under the canopy of a magnificent safari tent cantilevered over a rocky incline and listened to the water rush over a small dam in the river.
I was less than four hours from my home in Dallas, but I felt thousands of miles away. Sinya on Lone Man Creek, right outside of Wimberley, is the creation of Lynn Gallimore. When Gallimore found her life spinning out of control, in 2005, she took a solo journey to Tanzania and rediscovered herself at a camp named Sinya.
After Gallimore returned, she designed and—with only a little help from a contractor—built a stunning safari tent equipped with all of the luxuries of a high-end hotel. The 435-square-foot interior is divided into two spaces. The bedroom has a king-size bed with impeccably soft bamboo and cotton sheets, kitchenette, sofa, and chairs. The bath area is furnished with a refurbished circa-1912 clawfoot tub and shelves filled with thick towels. Out the back door, you'll find an outdoor shower and a soaking tub made from a galvanized stock tank and a high-tech propane Chofu heater. Gallimore hand-sanded the reclaimed longleaf pine floors herself.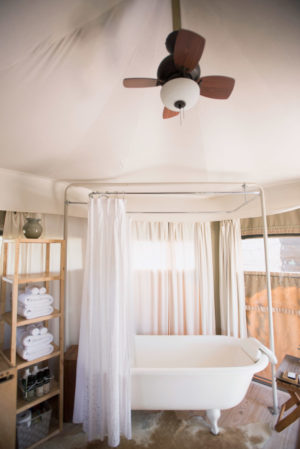 Her retreat officially opened in May 2009. All of the creature comforts are there: air conditioning and heating, a rock patio beside the creek, a fire pit already stacked with wood, and a grill. The top layer of canvas creates an extra 300 square feet of covered outdoor space. The veranda overlooks the treetops. Like the turkey vultures, I took advantage of the breezy night. I opened all of the plastic windows and, lulled by the sound of frogs, crickets, and coyotes in the distance, fell into a deep sleep.
Gallimore settled on the name Sinya for two reasons. One is obvious: her trip to Sinya camp in Tanzania inspired her to change her life. The other came from one of those inexplicable happened-for-a-reason moments that can't be ignored. Gallimore learned a 7-month-old elephant left for dead was recuperating in an orphanage near the Kenyan border. The elephant's name? Sinya. Gallimore has supported the now 8-year-old elephant, who lives in the Tsavo Conservation Area in Kenya, with profits from her business. That detail drives Gallimore to maintain perfection at Sinya on Lone Man Creek.
Get our weekly recap
Brings new meaning to the phrase Sunday Funday. No spam, ever.