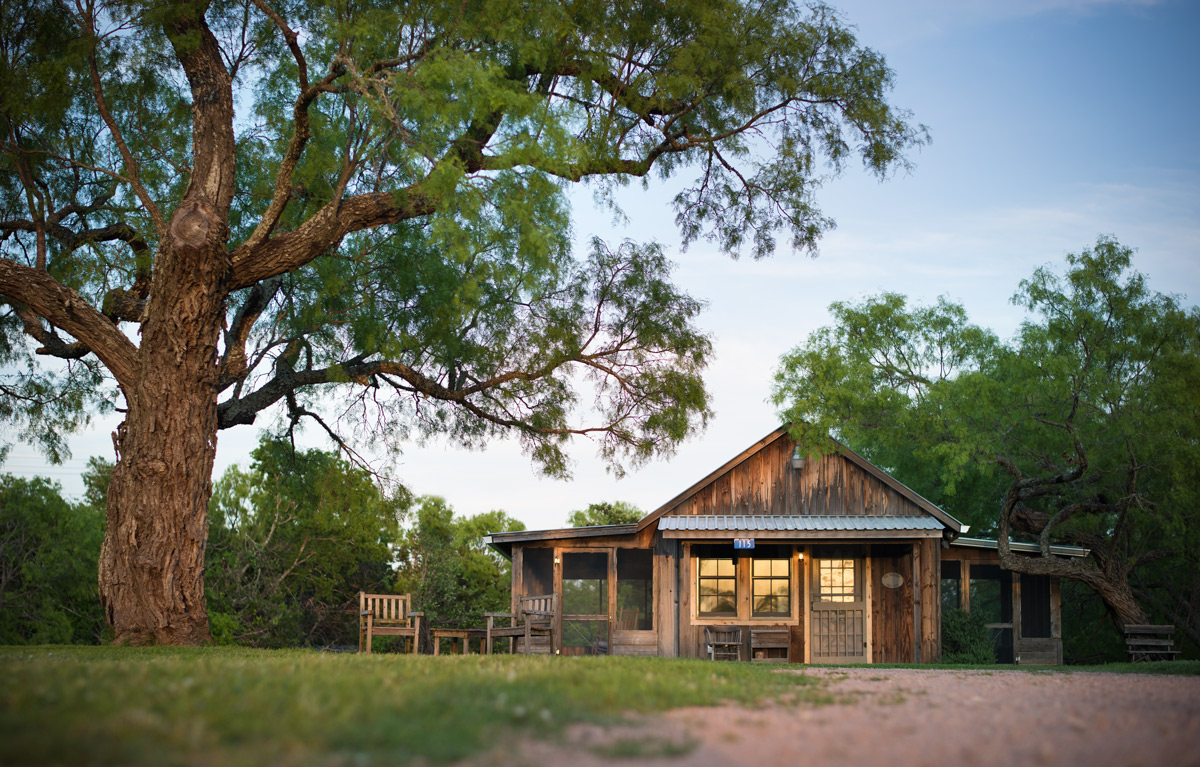 Fredericksburg, Hill Country, Texas
How authentic is the town's German-ness?
When my mother came to visit, it presented a good reason to head to the Hill Country. She lived in Germany for eight years. Would Fredericksburg's German-ness feel like living heritage or kitschy cliché? We set out to see.
We stayed our first night at Barons CreekSide, where Swiss-born owner Daniel Meyer has built 10 Swiss-style cabins (with names like Lucerne and Wasserfall) from parts of his family's 250-year-old Swiss farmhouse. A world wanderer and maverick, he's an example of an "auslander" who rooted down and brought a piece of home with him. He described his first meeting with a laconic, elderly neighbor: "Do you speak German?" the man asked. "Then we will get along."
That evening, on Meyer's recommendation, we tried Otto's for dinner, its nouveau German bistro fare—duck schnitzel, foie gras, and glorious crackling flammkuchen (Alsatian flatbread with gruyere, onion, and bacon)—hinting at the polished, urbane side of a town that increasingly attracts outsiders.
The next day, The Old German Bakery & Restaurant buzzed with small-town bustle and warmth, and my mother tucked into a Reuben on pumpernickel and sighed with contentment. Red cabbage was sweet and vinegary, German-style warm smashed potato salad was just right, and German pancakes filled a whole plate. Our waitress chatted affably, talking about her mother, one of many dark-eyed immigrants who became known as "Black Dutch" (a corruption of Deutsche—"German").
In the modest Pioneer Museum housed in the Vereins Kirche that was the town's first church, we saw a rare Lutheran Bible from the 1600s, one of many objects that crossed the sea. The former courthouse (now library) across the street displays townspeople's bilingual Bibles and German books—Goethe spelled out in Gothic lettering. A finely embroidered tapestry by a local artist depicts a historical Fredericksburg—rolling hills, typical limestone and half-timber houses, and Hansel and Gretel look-alikes who share the foreground with wild turkey and armadillo.
Nights were boisterous: live music was everywhere we turned. At The Auslander Restaurant and Biergarten, cuckoo clocks and a mounted moose head decked the cavernous hall, and waitresses wearing dirndls balanced platters of bratwurst, Reuben spring rolls, and "Texaschnitzel" with guacamole and sour cream—a dizzy mash-up.
But a few miles out of town and across a small creek, we slipped back in time at Palo Alto Creek Farm. In the limestone farmhouse, built in 1854 by a German farmer named Itz, beds were laid with vintage quilts; a butter churn graced the kitchen. In the morning, we took tea with gingerbread (the owner's family recipe) and visited the wobbly-legged goats born while we slept. We considered Fredericksburg's mix of "auslanders" who made it their own and the charm of places that have survived because they were lived in and loved. I looked at my mother and imagined she had the same thought: "Sehr schön."