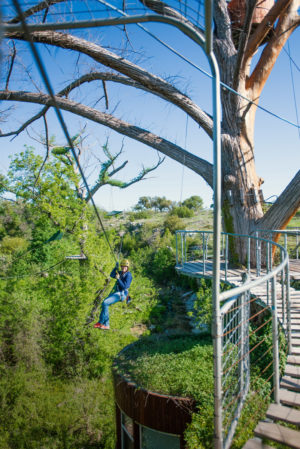 Cypress Valley Canopy Tours offers you a chance to live a glamorous Swiss Family Robinson life without worrying about pirates. Choose from one of four solar-powered treehouses built over a 40-foot ravine deep in a cypress forest just 30 miles from downtown Austin.
There are two single-room treehouses, each with a queen-size bed and small outdoor patio. The Lofthaven is a cozy 230-square-foot yurt with a tree trunk growing through the middle of the space. Here, two people can spread out thanks to a wraparound porch with tables, chairs, and a hammock. A short bridge connects you to a private bath house where you can soak in a tub (filled by a waterfall) and look out across the forest.
If you require more creature comforts, book the Nest. Two connected one-bedroom structures are stacked on a cypress tree with separate patios and multilevel platforms that allow you to switch your view according to your mood. The Nest has a full kitchen and is the only treehouse with air conditioning. It's great for a family vacation—you can sleep four to six people, but children must be over 10 years old.
Spend your days swinging through a canopy of old-growth cypress trees. The complete tour, which includes five zip lines and two skybridges, takes almost two hours. After, you can cool off in the pool or the small lake on the property. Then, back among the trees. No matter which treehouse you choose to sleep in, you will experience sunsets and sunrises from a unique vantage point. Songbirds will be your morning alarm; frogs and nighthawks cue the end of the day.
Get the TravelClub Newsletter
Explore the best deals, inspiration, and opportunities for your next travel destination to escape in style.