The Texas wine scene has changed quite a bit over the past decade. Not only has the industry grown as a whole, with more than 350 wineries in the state, but 4,000 acres of vineyards are planted throughout Texas. The largest concentration of these are in the Texas High Plains near Lubbock, and Texas Hill Country near Austin, but there are vines everywhere as new vintners work to discover the best varieties that will grow in the various soil types found throughout the state.
I had a chance recently to visit a few favorite producers in the Texas Hill Country, tasting with their teams on their current releases as their guest, as well as sampling a few selections sent for editorial consideration. Without a doubt, it is an exciting time in the state as winemakers as growers find their place in the industry, receiving recognition for their efforts both at home and beyond our broad boarders.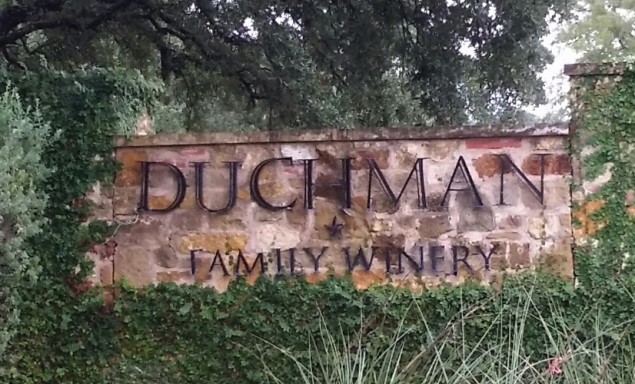 Speaking with Duchman Family Winery GM, Jeff Ogle, is always a treat, as the passionate wine lover has one of the best attitudes about Texas wines, as well as a genuine love of the grape. Visiting with him in their Driftwood, TX tasting room you can quickly understand why he loved his Texas wine, as the rustic, lively space is relaxed and comfortable, inviting guests to unwind and enjoy a glass.
The winery, which was started in 2004 by Drs. Lisa and Stan Duchman, has been dedicated from the start in making world-class wine from 100% Texas grown fruit, with a particular focus on Italian varietals. With about 20,000 cases of wine produced annually, the winery has remained committed to their goal of not only making approachable, delicious, food friendly wines, but also promoting the many varieties that do well in our Texas soils, showing the vast diversity of the state's terroir.
Jeff noted that though they are particularly fond of Italian varieties like their earthy Montepulciano, mineral, wild flower and red fruit filled Aglianico, and my favorite, their crisp, clean and lively Vermentino, Texas will always be a state of many, many varieties. Thanks to the extremes in temperatures, varying soil types and terroir changes we can grow a plethora of styles and types, with over 36 different varieties grown in Texas today.
Over the years Duchman has found High Plains fruit, where evening temperatures drop from hot summer days to cool nights, keeping acidity bright, balancing ripe fruit flavors, works best for many of their wines. They also believe in showcasing the quality of the fruit they work with, fermenting all of their grapes in stainless steel, both reds and whites. After fermentation some of their reds are then aged in oak, but all of their 600+ barrels they use are neutral, allowing the wine to develop over a period of time without imparting influence, aroma or flavor from new oak. This technique allows the true character of the fruit to shine, and has made Duchman one of the most beloved wineries in the state. Wines are available at Spec's, Total Wine & More, as well as their website.
A special wine project they started is intended to show their thanks to the many vintners and farming partners they work with around Texas, however the fun challenge for the team was how to incorporate wine from as many vineyards they possibly could, but still make a cohesive blend. Duchman Grape Growers Blend is primarily Sangiovese from Martin and Reddy Vineyards, but also includes Montepulciano from Oswald Vineyard, Dolcetto from Bingham Vineyard and Grenache from Salt Lick Vineyards in smaller percentages.  The small production wine is available at their tasting room for $20.
With a slightly different approach and thought process, Fall Creek Vineyards winemaker Sergio Cuadra believes that any grape variety, whether it has indigenous roots in Tuscany, Rioja or Bordeaux, can thrive in our Texas soils and climates. Over the years the non-traditional varieties, like Sangiovese and Tempranillo, have been considered to be the key varieties of Texas. Fall Creek is taking a slightly different approach to this.
The winery, owned by Texas winemaking pioneers, Susan and Ed Auler, Fall Creek Vineyards was the first commercially established winery in Texas, celebrating their 30th anniversary in 2013, at about the same time they hired Sergio upon the recommendation of famed winemaker and friend, Paul Hobbs.
The Chilean born and raised winemaker, who spent the 10 years before joining the Aulers as principle winemaker for Concho y Toro, Sergio, takes a slightly different approach, believing that Cabernet Sauvignon can grow just as successfully in Texas as Tempranillo. Arriving to his position at Fall Creek Vineyards just 2 years ago from his homeland of Chile on August 2, 2013, in what was one of our hottest summers on record, Sergio surveyed the estate vineyards of Fall Creek and visited various sites they source fruit from, believing logically that the fruit would be destroyed, or simply shut down, in the extreme temperatures of a Texas summer. To his amazement they had not been destroyed, in fact, the fruit was beautiful, which set him on a research path to understand why. Unlike some regions, where extreme spikes in temperature come without warning, quite unexpectedly, Texas has a long lead up to the hottest part of summer, with temperatures starting to rise as early as late spring, allowing grapes time to prepare, almost ramp themselves up for the hottest part of the year.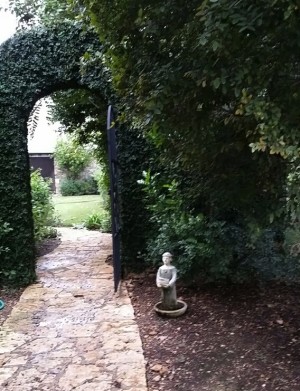 These constant high temperatures, with the proper amount of lead up time, allows fruit to remain healthy, ripening slowly while maintaining acidity. He began to understand how adaptable the vines can be, producing varietally correct, high quality grapes for wine. Specifically, just because a variety like Sauvignon Blanc or Merlot is known to thrive in cool climates doesn't mean it can't also thrive in hot, dry conditions. Beautiful fruit can be produced, it just may have a different array of aromas, flavors and textures than we may think of typically for some of the international varieties.
Today the winery is celebrating their 40th year since their first vines were planted in the Texas Hill Country with Sergio introducing a new line of wines to the portfolio that not only displays the quality of the fruit, soils and region, but also the longevity of the vines and wines.
The Fall Creek Terroir Reflection Series wines are created to showcase the straight forward image of the place in each of their wines. The Terroir GSM Blend of 40% Grenache, 44% hot weather Mourvedre and 16% Syrah elegantly displays the earthy, forest floor minerality of the clay and limestone soils of the Salt Lick Vineyard sitting right across the street from the new Fall Creek Vineyards Driftwood, TX tasting room (which also has a cozy cottage welcoming wine tasting guests wanting an overnight stay.) Licorice, caramel, warm spice and dark chocolate meld with ripe black cherry and blackberry for a juicy, robust wine that will meld with the flavors of Texas, including any meat or game that is grilled or barbecued. $45, available via their website.
About an hour away from Driftwood, home of both Duchman and Fall Creek tasting rooms, is Pedernales Cellars in Stonewall. This year's harvest was very late for them, as well as all of Texas, which meant their vineyard partners (as the winery uses sourced fruit from High Plains and Hill Country growers) had trouble fighting late season mold. It didn't, however, greatly affect the vintage as all indicators are showing that the 2015 should be one of the best in the history of the state, especially for white wines.
This is especially good news for Pedernales as one of their key varieties, Viognier, didn't fare as successfully the past few years, especially in 2013 with the winery not able to bottle the popular variety.
It did cause some quick thinking on the part of family owned winery, led today by brother and sister David Kuhlken and Julie Kuhlken, along with their spouses, Heather Kuhlken and Fredrik Osterberg. They knew they needed at least one white wine in their portfolio, so they came up with Pedernales Cinco, an aromatic, textured and rich blend of Viognier, Chenin Blanc, Roussanne, Albarino, and Blanc du Bois. Sadly, the wine may never be produced again, as the stone fruit and white flower filled wine with layers of citrus, caramel, apple, and apricot isn't something the winery set out to produce permanently, but happily the winery still has a handful of bottles available for sale on their website for $30 a bottle.
Though some think Rose wine is only to be enjoyed in the summertime, I disagree, as the fresh, pretty, pink wine made from anything from Pinot Noir to Malbec can meld with hearty, seasonal offerings, often with great acidity and without overpowering tannin to weigh down the palate. Pedernales Cellars Rose ($30) blends red fruit filled Tempranillo with hearty Mourvedre, creating a wine that is both bold yet fresh with layers of fruit, woody herb notes, and honey with a food friendly, inviting palate, also available via their website.
The Pedernales team also just got a bit of good news from around the state. For the 2nd time in the past four years, Pedernales Cellars won the "Top Texas Wine" and Texas Reserve Class Champion Honors out of 250 entrants at the recently held Houston Livestock Show and Rodeo International Wine Competition, held November 14-15. They also won the "Best in Class" at the San Antonio Stock Show & Rodeo International Wine Competition held earlier in November.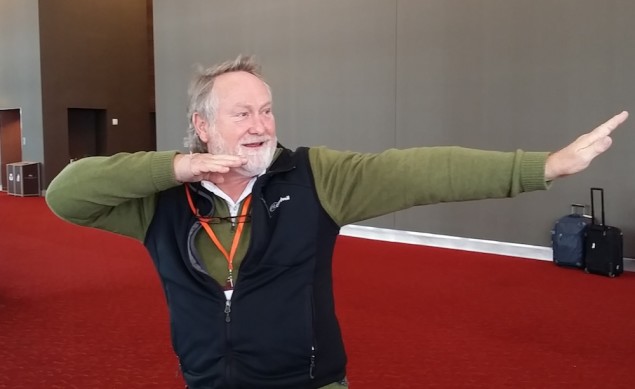 Kim McPherson is one of my favorite individuals in the Texas wine industry. He is a character. He is charming, funny, passionate, and fully dedicated to making high quality wine in Texas for McPherson Cellars, and honoring his father, Doc McPherson. To this day Doc McPherson is considered to be one of our state's finest vintners in its history. He was a true pioneer and considered to be the founder of the modern Texas wine industry, planting the first Sangiovese vines in Texas soils.
Though the variety continues to be a favorite of the winery, their elegant, aromatic, beautifully textured McPherson Cellars Roussanne is my favorite. The Rhone variety, often only used for blending, shines thanks to the iron rich soils of the Texas High Plains, allowing mineral rich, herbaceous, crushed stone notes to meld with juicy, lemon drop, herbal tea and honeysuckle creating a wine with texture, balance and ease. A perfect food wine any time of year. $16, available at Pogo's.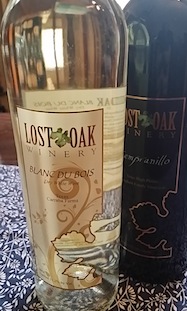 Not far from Fort Worth, in Burleson, is Lost Oak Winery. Started in 2006 by lifelong winemaker Gene Estes on his home estate of 52 acres with 5 planted to vines. These vines, along with another 3 acres planted off site produce the wines for Lost Oak Winery today, including their juicy, fruity, slightly off-dry Blanc du Bois. Low alcohol and blended with 16% Muscat Canelli, the golden apple, ripe lemon pie and melon filled wine is crisp and light with a touch of residual sugar, making this a nice wine to start an evening with or pair with light poultry or pasta dishes. $18, available via their website.
Though I haven't tried the wines, one of the latest additions to our wine scene in Texas is happening right now. This month Wedding Oak Winery with launch the first "incubator winery" project in Texas at their San Saba, Texas location with Old Man Scary Cellars Winery and their owner, Dr. Gabe Hisel. Hisel entered into the incubator relationship with Wedding Oak Winery as a cost effective way to open a winery and make it operational in the state without the extensive expenses of starting a new winery from scratch. Wedding Oak Winery, will provide the services of their winemaker, Penny Adams, who will oversee for Old Man Scary Cellars at the specifications of Dr. Hisel, while providing custom crush facilities, advising on retail operations, etc. for the new winery. Named for an old farmhouse on the Hisel Family estate in Hockley County, Texas, Old Man Scary Cellars produces wine from 85% Texas grown grapes from Hisel's 20 acre estate. Though the project is still in its start up phase the concept is an interesting one for the Texas wine industry as opportunities like these may lead to more wineries developing throughout the state, helping our overall economy.
And, what better than to drink a Texas wine in a Texas wine glass. Tumbleweed TexStyles, the company started by Texas educators Brian Wysong and Jeb Matulich in 2011 with the goal to promote their mutual love of all things Texas, including wine, beer, music, BBQ and so much more. The Frisco Liberty High School teachers combined their talents, with Matulich (the art teacher) drawing most of their designs and Wysong (the marketing teacher) working to promote the product. If you like Texas, you will like them and this site. Their Texas stemless wine glass retails for 7.50 each, their adorable Moscow Mule copper mug featuring the DeZavala Texas star is $25. Go ahead and pick up a Texas wine t-shirt for $25 while you are browsing, it is one of the softest cotton shirts on the market. Items available via their website, but are also carried locally at Gypsy Wagon and Movida Boutique.
Get the SideDish Newsletter
Dallas' hottest dining news, recipes, and reviews served up fresh to your inbox each week.