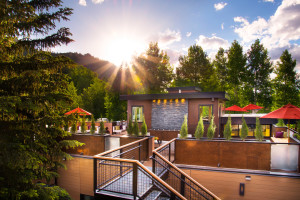 It's hard to resist jetting off to colorado for fresh powder and crisp mountain air when the Texas weather hasn't dropped to winter temperatures. And if you're a skier or snowboarder who keeps an eye on conditions, the allure of the Rockies is even stronger come November when Colorado's resorts open their runs for the season.
I took a direct flight from DFW International Airport to Vail Eagle Airport last winter, and hopped on a Colorado Mountain Express shuttle bus to my accommodations at Vail Cascade. When I arrived at the cozy, ski-in/ski-out mountain lodge, I wasted no time before heading to its Aria Athletic Club & Spa—a difficult feat, since I had picturesque views of ski lifts ascending the mountain to enjoy right outside my suite window. Aria didn't disappoint, though, with its welcoming central fireplace and ample lounges, and its purifying Grotta Giusti Mud Wrap negated any and all effects of the altitude I was feeling. (I also like to think it better readied my muscles and me to hit the slopes the next morning after an almost decade-long skiing hiatus.)
Vail Mountain is an easily approachable resort that's both family-friendly and attractive to seasoned skiers. It's hailed for its Back Bowls, or the challenging blue, black, and black-diamond runs that cover nearly 3,000 acres on the backside of the mountain. A favorite of intermediates and experts, the bowls are served by high-speed lifts and are unlike anything else on the mountain—both in terms of scenic views and experience.
If your snow sport skills are rusty and you're staying in Lionshead Village, one of the three base areas serving Vail Mountain, consider taking a half- or full-day class or a private lesson with an instructor from Vail Ski and Snowboard School. There's also the Vail Mountain Welcome Tour, which follows green and blue runs to help familiarize skiers new to Vail with the mountain's ins and outs. Once you've gotten your bearings and have hit a few slopes, break for lunch at Henry's Hut and Buffalo's Restaurant. Nestled atop Chair Lift 5 on Vail Mountain, the cozy dining hall fills up around lunchtime, but the scenic overlooks, refreshing beer, and warm toddies are worth the bustle.
After I'd gotten my fill of Vail Mountain's blues and blacks, I hopped another Colorado Mountain Express shuttle and took the two-hour trip southwest to Aspen. There, I opted for condo-style accommodations at The Gant.
Located a few blocks from downtown, The Gant is also within walking distance of the Aspen Art Museum, whose Shigeru Ban-designed building caused a fuss among Aspen locals but is actually quite captivating. (Ban's aesthetic incorporates the experience of skiing with an open-air rooftop, which guests climb several floors to visit for its scenic views—much like the top of a mountain—before heading back down.)
Another nearby destination that's worth the trip is the Ashcroft Pine Creek Cookhouse. There's even a "Kurt Russell's Home Run Ranch Patty Melt" on the menu, named for the nearby ranch the Cookhouse regular shares with Goldie Hawn.
The Cookhouse is about 14 miles south of Aspen in the heart of the Elk Mountains, and it is accessible only by snowshoe, cross-country ski, or horse-drawn sleigh. It's open for lunch and dinner, but the sleigh ride option is undoubtedly charming and idyllic at either time of day. 
Without leaving downtown Aspen, there are plenty of bars, restaurants, and sites of interest to explore within walking distance of The Gant and the town's other boutique hotels. Justice Snow's, located in the historic Wheeler Opera House Building that was originally constructed in 1889, is a great place for dinner with a side of history. Its intimidating bar menu has more than 95 rotating libations at any time, but more traditional drinkers can order a custom-crafted cocktail to suit their own tastes. It's not a surprise that Justice Snow's has been heralded by The New York Times, named to Playboy Magazine's "Best Bars" list, and recognized by Food & Wine among last year's group of the best bars in the U.S.
Trip and accommodations provided by Destination Hotels.
Get our weekly recap
Brings new meaning to the phrase Sunday Funday. No spam, ever.