In a very short time, in the grand scheme of wine, Washington has put itself firmly on the map of greatness. Washington first became known for its dry Riesling wines, along with celebrating classic French varieties like Merlot and Syrah, two that have had difficulty in other parts of America. These wines continue to shine, especially from producers like Chateau Ste. Michelle, Pepper Bridge, and L'Ecole No 41. I recently visited the state and stayed in the charming area around Woodinville, home of Chateau Ste. Michelle, about 40 minutes outside of Seattle. Here are a few selections that stood out. (Tastings were complimentary, along with some samples being sent or tasted for editorial consideration.)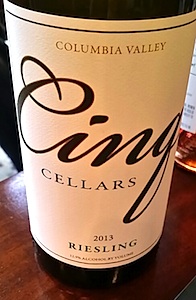 Elegant, refined and regal, Riesling has been one of the most beloved (yet often misunderstood) varieties in the world. Made popular in Germany, the variety to spread to both Washington and Oregon early on in their wine region development, as it is classically a go to white for wine lovers. However, it can also be made very wrong, with poor execution, creating wines that either had higher levels of residual sugar than wanted or overly expressive levels of petrol and mineral, too key qualities found in the variety. It is a variety, like Chenin Blanc, that can range from dry to sweet, with even wines that say they are of the dry style still maintaining several percents of residual sugar. Cinq Cellars Riesling is a completely dry wine with zero residual sugar creating a steely, mineral intense, petrol filled palate that is fresh and inviting. The winery was started by 5 friends who came together because they loved tasting wine together and opted to try out making wine together. Crafting each wine from fruit sourced from throughout Washington, the small production winery has the goal to let the true flavors of the fruit shine, this one with nice texture and freshness. $16 via their website.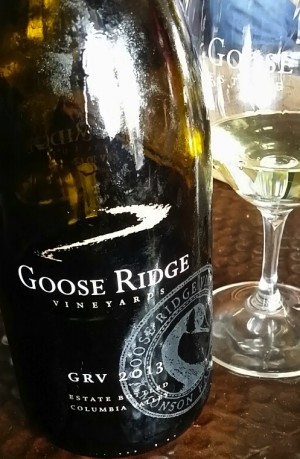 The white varieties of the Rhone Valley continue to gain recognition and popularity, both in wines from within the Rhone, as well as in other parts of the world that grow the floral, fresh and balanced varieties well (including Texas.) Goose Ridge Winery, with their family estate vineyards resting just over the Cascade Mountains on the south-facing slope in Washington's Columbia Valley appellation adjacent to the Red Mountain AVA has over 2200 acres of Bordeaux and Rhone varieties planted, including Cabernet Sauvignon, Merlot and Syrah. But, one of their shining stars is their white Rhone blend, Goose Ridge GRV. The wine is predominantly Viognier with Grenache Blanc and Roussanne completing the blend. Nicely rounded, and rich, yet also fresh with peach, almond, white flower and creamy notes from lees aging. Very small production (less than 300 cases) so look for the new release to be available via their website shortly for $24.
There are a few names that rise to the top when you are talking about Washington state wine including Leonetti and Figgins, Betz, Cayuse, ColSolare, and the wines of Long Shadows to name a few. I had a chance to try two of these on a recent trip. Long Shadows was scheduled but a weird summer storm knocked the power out in Woodinville and sadly the tasting room closed just prior to my appointment. Luckily, working without power as Syrah and Merlot fruit was being delivered to their winery, the charming and gracious Managing Partner of Betz Family Cellars, Bridgit Griessel who purchased the winery with her husband, Steve, in 2011, was able to taste with me on the latest releases of their impressive portfolio. Yes, I would have had other concerns at the moment, but she and her winery team simply noted that they would do things the old way, without power, as it had been done for centuries.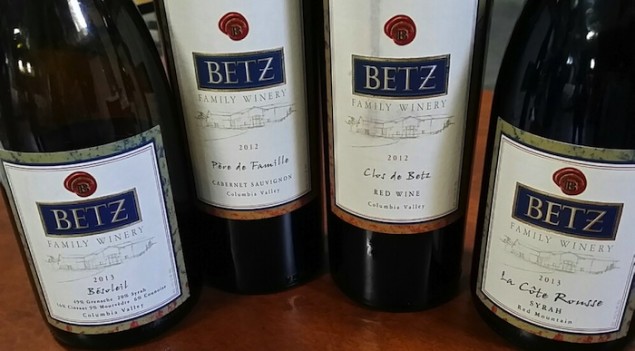 Betz Family Winery was started by Washington wine royalty, Bob Betz, and his wife Cathy, in 1997 after an almost 30 year career as winemaker at Chateau Ste. Michelle, which included earning his prestigious Master of Wine degree. Almost immediately after he launched he began earning great acclaim for his Betz wines, including being named Winemaker of the Year by Sunset Magazine and having his Betz Family Cabernet Sauvignon named the best wine in Washington by the Seattle Times. Looking towards retirement in the mid-2000's he had been approached by many prestigious wine companies for consideration in selling his winery. But he wanted to see his baby quietly nurtured, respected and cared for, so when the South African born and raised couple, Steve and Bridgit Griessel, approached him to purchase the winery, with a promise to maintain the high quality standards that he had put in place, Bob Betz took their offer seriously.
He sold the winery in 2011, agreeing to stay on as "patriarch" and head winemaker for the next 5 years. Luckily, the wines haven't missed a beat since he sold, as in 2014 their Pere de Famille is ranked #6 in the World in Wine Enthusiast Top 100 Cellar Selections. Dedicated to keeping the production small, quality high and focus in tact, the current release of Betz Wines are better than ever. The wines are bold, yet approachable, clearly telling the story of the region with intensity, structure and balance. 2012 Pierre de Family, the wine the winery is best known for, is a bold Cabernet Sauvignon with a touch of Merlot blended in to soften and round out the palate. Filled with ripe black berry, dried fig, bitter cherry and spice, creating an assertive, masculine wine that softens with a little bit of time to breath and will age beautiful for years to come. Their 2013 La Cote Rousse is a Syrah from Red Mountain. A big, spicy, smoky, black fruit filled wine with earthiness, taking on the intensity of the location, highlighting the natural tannins of the variety. Smoked meat, wet stone and ripe black fruit fill the concentrated wine with complexity and character. Betz Family Wines are available through their website via allocation. Their Betz Family Red Cuvee Frangin, more of an entry level red blend, is available at Pogo's for $39.
The wines of the Red Mountain AVA continue to be some of the best in the state, as the Betz La Cote Rousse displayed, but they are not the only ones producing stellar reds from this sun kissed mountain.
Fidelitas is dedicated to two things, producing incredible Bordeaux style wines and celebrating the beauty of the fruit from Red Mountain. Started by Charlie Hoopes, a UC Davis grad who spent much of his career with Snoqualmie, then Chateau Ste. Michelle in Woodinville, moving to Head Red Winemaker for their Canoe Ridge winery, and to ColSolare on Red Mountain. In 2000 he began his winery, Fidelitas, Latin for loyal, faithful and true, producing their first Cabernet Sauvignon/Merlot blend, Optu. Specializing in Red Mountain fruit, from both their estate vineyards and purchased fruit, the small production winery is crafting some stellar wines.
The current 2012 release Fidelitas Optu ($50) is crafted from the best barrels of the vintage which have been aged for 2 years in oak. The blend of 77% Cabernet Sauvignon with 13% Merlot, 7% Cabernet Franc and 3% Petit Verdot is from vines ranging in age from 3 years old to 30 years. The wine is fresh, youthful and smooth. This signature blend is filled with blackberry, cassis, black plum and spice with a balanced, approachable palate. An incredibly special wine highlights to complexity and elegance of Red Mountain, their Fidelitas Champoux Vineyard Block One Cabernet Sauvignon comes from fruit grown in one of the oldest vineyards in Washington dating back over 40 years. Aged in 100% new oak, predominantly French, for 22 months the robust, earthy wine is filled with mineral notes of graphite, pencil led, crushed stone and leather with lush black fruit lingering through. $100, both wines are available via their website.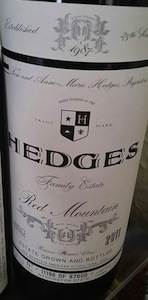 Biodynamically farmed vines allow the true terroir to speak at Hedges Family Estate Winery on Red Mountain. With Washington agricultural roots on one side, and French culture and lifestyle on the other, Tom Hedges and his wife, French born, Anne-Marie Liégeois Hedges, began their winery in the late 1980's with a focus on quality fruit from one place, Red Mountain. The extremes found on Red Mountain, with a dessert like climate, severe winds and temperatures, and very little rain, along with the variety of soils created from the Missoula Floods 18,000 years ago depositing high pH soils and flood debris, influence the character of the wines produced from Red Mountain vineyards, uniquely defining this distinct sense of place as unlike any other, and something that is celebrated today by the couple's children, Sarah who has stepped in on the winemaking side, and Christophe, who runs the sales department.
Demeter-certified, biodynamically farmed Hedges La Haute Cuvee ($120) defines the Hedges estate in its truest form. Sold only in magnum, the Cabernet Sauvignon wine is from vines that date back to the original family plantings in the early 1990's. Inky, bold and tannic in its young stages, the licorice, black cherry, wild herb and toasted cedar filled wine benefits from a bit of bottle aging, or several hours of decanting, prior to enjoyment. With that, layers of chocolate, soft herbs and ripe fruit lift from the glass, melding well with hearty meat and game dishes. Bold, dense and special. The Hedges Family Estate Red Mountain ($27) blends the key varieties of the region, traditional Bordeaux varieties with Syrah, displaying how the smoke and spice of Syrah when blended with Cabernet Sauvignon, Cab Franc, Merlot and Malbec meld for a complete, layered and interesting wine with personality. Again, a big wine with robust tannins, but with some time to breath the well structured wine opens to display the beauty and character of the region. Both wines available via their website.
If any New World region has tried to prove how delicious Merlot can be it is Washington. Pepper Bridge Winery, one of the oldest wineries in the state, started by Norm McKibben, a founding father of Walla Walla's wine industry, celebrates the soft, luscious variety crafted from their estate Walla Walla vineyards. Balanced, fresh and inviting, filled with black plum, blackberry, licorice and soft herb notes, the wine is an ideal pairing with anything from duck to beef to wild boar. $50, available via their website.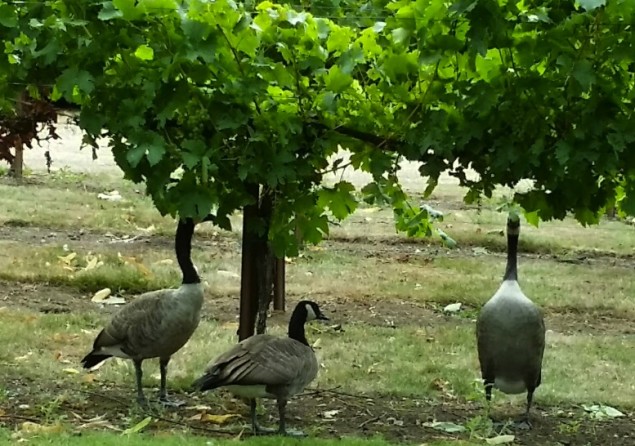 Chateau Ste. Michelle has vineyards and wineries all over Washington, including their stellar ColSolare, Spring Valley Vineyards, Northstar and more, as well as Oregon, California, New Zealand, Italy, etc. but it all started in their Woodinville home with Chateau Ste. Michelle, the founding winery of Washington State. Over the years some of the best known winemakers have spent time at Ste. Michelle, like Bob Betz.
Like any large producer they specialize in producing the highest quality wines to fit any budget, with a special wine now celebrating its 20th release focusing on another key passion of the winery, artists from throughout the Northwest and beyond.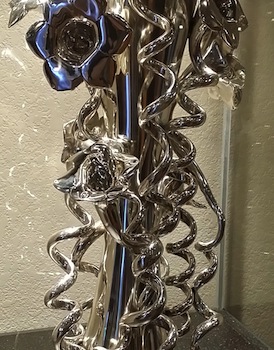 The winery Artists Series was started as a nod to the art of winemaking being much like the creation of any art form, from sculpting to painting, from writing to cooking. From its inception 20 years ago, with the 1993 label showcasing a print of a sculpture created for the winery by master Washington sculptor Dale Chihuly, winemaker Bob Bertheau crafts an exceptional Bordeaux-style blend that honors the art, and the wine. The 2012 release is the 20th in the series, again featuring a piece created by Chihuly, this one a beautiful sterling silver sculptor that is displayed in one of the tasting salons at the winery.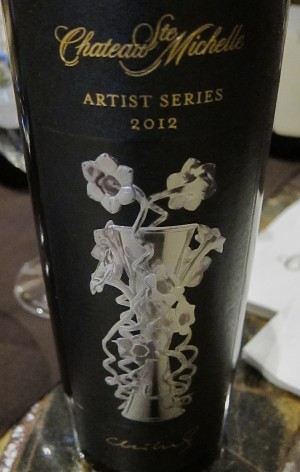 The wine, blending fruit from their Canoe Ridge Estate in the Horse Heaven Hills, as well as Cold Creek vineyard and Zephyr Ridge Vineyard melding predominately Cabernet Sauvignon with Merlot and a touch of Malbec and Cabernet Franc for a woody herb, black cherry, leather, dark chocolate and caramel filled wine with length, structure and elegance. The wine has just been released so will be available in distribution shortly, as well as through the winery website for $65.
One of the most highly acclaimed wineries in Washington is the famed Cayuse Vineyards in Walla Walla. Owner Christophe Baron found a field of stones in the sleepy, agricultural town almost 20 years ago and knew the potential it could have to produce outstanding wines, as it reminded him of the terroir of the "galets roulés" [rolled stone] vineyards in southern France. With poor soils, no rain and hot temperatures, along with the well draining, rocky soils he knew this location was ideal to grow vines that must struggle to find their nutrients. Struggling vines, that must dig deep into the earth to find food produces layered, textured, complex wine with distinct character and incredible taste. I have read about Cayuse for years, but the highly allocated wine is incredibly hard to get your hands on. Luckily, while in the region I was able to enjoy a glass of 10 year old, Walla Walla grown, 2004 Cayuse En Chamberlin Syrah. Consistently scoring in the high 90's year after year the tar, chocolate, leather and molasses filled wine melded seamlessly with dried and ripe fruit and sweet baking spice for a well rounded, earthy and dense wine. Though only available through very limited release, it is worth it to try to get your hands on a bottle or enjoy if you see it on any wine list.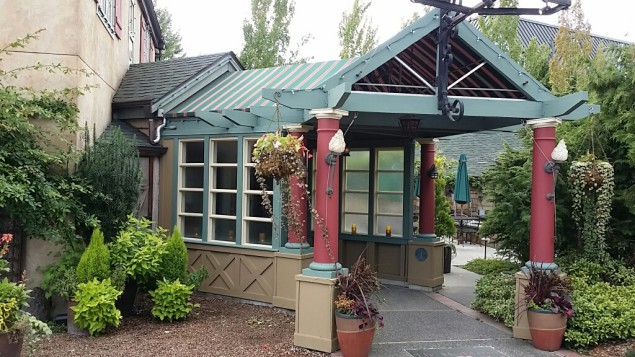 If you make it up to Woodinville a few must dos on your list should include a stellar dinner at the highly acclaimed, farm to table Herbfarm. The 9 course tasting menu is constantly changing to ensure every element from their expansive farm not far from the Woodinville restaurant is fresh, seasonal and delicious. The 26,000 bottle wine cellar is a wine lovers dream. Though dinners are paired for the night the ability to go "off menu" and add a selection of your own is offered, as well as taking home a special bottle from their expansive collection.
Without question, one of my favorite hotel experiences, is at the welcoming Willows Lodge (located right next door to Herbfarm.) For as often as I travel, and as many hotels as I have stayed, this one is always a joy. Whether sitting outdoors relaxing with a glass by their fire pit or in front of a fire in your room on a cold Northwest night, the lodge is an escape from the noise and busy lifestyle of Dallas. You have no choice but to unwind, relax and enjoy the hospitality that Washington wine country delivers.
Get the SideDish Newsletter
Dallas' hottest dining news, recipes, and reviews served up fresh to your inbox each week.