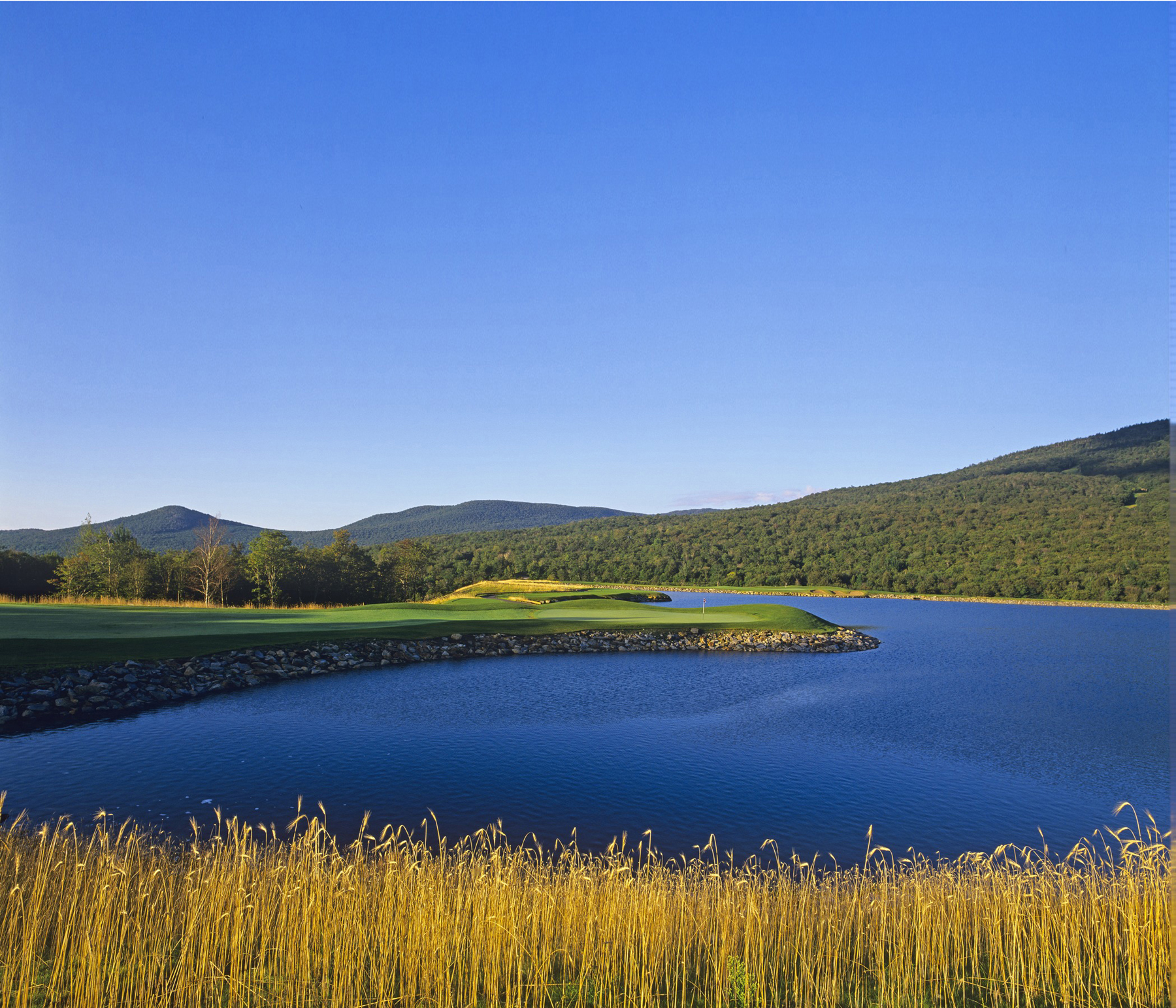 Stowe, Vermont
Culinary adventure is a key draw at Stowe Mountain Lodge, which offers 'mountain lodge chic' year-round.
Earlier this June morning it was 32 degrees, and ice had crusted on the golf-course bridge at Stowe Mountain Lodge in north-central Vermont. But now it was almost noon, and the sun was shining brightly and the temperature was rapidly climbing toward 60. It was a near-perfect day, in other words, for us to be kayaking lazily down the Lamoille River with our Stowe Mountain hosts, bound for a tasting and tour of Boyden Valley Winery & Spirits in Cambridge, Vermont.
The Lamoille was high but relatively calm this day, which meant a no-stress paddle with nothing much to do but watch the incredibly green countryside slip by. Vermont's nickname is The Green Mountain State for good reason; its lush forests of ash, maple, and birch trees show off every possible shade of the color. After drifting downstream for 90 minutes or so, we arrived at a put-in for the Boyden winery, which sits on 1,200 acres of loamy-soil farmland in the river valley. The picture-perfect farm has been in the Boyden family for four generations, winemaker David Boyden would tell us. In addition to the operation's 8,000 grapevines for wine production, David's father makes maple syrup—you can't get much more "Vermont" than that—while his brother tends to 300 cows, whose food is all grown on the premises.
The Boydens have been producing wine here for 18 years, David explained. They also buy from other grape-growers and procure local cranberries and apples (for their hard ciders). David and his wife Linda—who both learned winemaking in Europe—prefer to produce "old-style, European wines" at their spotless operation, which is housed inside a restored, 1875 carriage house that's painted red with white trim.
There, wines are fermented in big stainless-steel tanks and aged in French Oak casks. The Boydens then market and sell their product in 13 states, including Texas. (In North Texas, Boyden wines and spirits are sold at Dallas Whole Foods markets and at select Spec's locations.) Among their offerings are delicious white, red, and fruit wines; ice wines; specialty dessert wines; and cream liqueurs. The samples went down clean, balanced, and refreshing, especially when paired with chunks of French bread and a platter of Vermont cheddar cheeses.
The Vermont Water & Wine Tour we experienced is just one of many "locally immersed, hands-on" culinary experiences offered by Destination Hotels, the country's largest owner and operator of independent hotels—including Stowe Mountain Lodge. Destination, which has a total of more than 40 hotels, resorts, and residences stretching from Hawaii to Florida, has been amping up these foraging, fishing, and local-farming interactions at its properties lately, looking to cater to the increasingly important culinary-adventure crowd.
At Destination's Skamania Lodge in Stevenson, Washington, for example, guests have the chance to climb aboard a 24-foot Alumaweld Formula Vee boat for a guided King Salmon fishing expedition on the Columbia River. At the Royal Palms Resort and Spa in Phoenix, there are craft cocktails and farm-fresh culinary offerings inspired by the resort's unique setting: in the middle of a citrus grove at the base of Camelback Mountain. And at the company's Wild Dunes property in South Carolina, guests catch wild blue crabs on Capers Island, then enjoy a beachside crab boil.
Food is also a big deal at Stowe Mountain Lodge, an upscale, six-story, 300-room resort with a rustic "Vermont-Alpine" feel at the base of Spruce Peak and Mount Mansfield. (At 4,393 feet, the latter is the state's tallest peak.) Under new Executive Chef Ronnie Sanchez, a three-star Michelin-trained chef, the lodge's upscale-dining restaurant, Solstice, showcases the farm-to-table movement with heirloom grains, locally grown fresh produce, and locally raised meats. After partaking in several of the resort's warm-weather activities—during the cold-weather months, Stowe famously boasts the best skiing on the East Coast—we found that nothing hit the spot like the eatery's Vermont Salad (spiced pear, toasted walnuts, sun-dried cranberries) followed by the Stowe Mountain Lodge Burger (ground steak with Cabot cheddar and cider-cured bacon).
Stowe's warm-weather activities include eight different guided hikes, valet fly-fishing services, road and mountain biking, and an 18-hole, championship mountain golf course designed by Bob Cupp. Additionally, the lodge offers a 21,000-square-foot spa and fitness center that includes indoor/outdoor therapy pools and 18 treatment rooms. With 56,000 square feet of event space, Stowe Mountain is also a popular spot for corporate meetings. During my visit, for instance, there was a multi-day gathering of more than 250 people from the Lego Group.
Off-property, you'll find the nearby town of Stowe looking like a quintessential New England village, from its white, tall-steepled church to its art galleries and antique shops. For kicking back in the quaint burg, I recommend the cozy little Black Cap Coffee shop. It offers free Wi-Fi, baked goods, and a mean … Maple Latte? Hey, just go with it; you're in Vermont.
Trip and accommodations provided by Destination Hotels.
This story appears in the September 2015 issue of D CEO.