Nothing says summertime like Rosé, and few do it better than Provence. The sunshine and seafood of southern France bring the beautiful people in droves to enjoy the French Riviera. And, what are they sipping? Rosé.
Today it is the main wine produced in Provence, with over 80% of Rosé produced in the region staying there, sold directly out of wine shops and tasting rooms throughout St Tropez, Aix-en-Provence, St Raphael and dozens more idyllic towns along the coast all summer long. I had a chance to visit the picturesque region not long ago, traveling as a guest of Wines of Provence and Wines of France.
The landscapes, the colors and the picturesque clarity of light of Provence inspired some of the greatest impressionists art of all time, including the pairings of Renoir, Monet, Van Gogh and Cézanne, who was actually born in Aix-en-Provence and rarely left as the scenes of his home were inspiration enough. Lavender, juniper, wild rosemary, sage and thyme fill the air, romantic cafes line quaint village streets, and abundant vineyards roll into the sea.
Rosé wasn't always the main wine produced here. Rolle, the French version of the Italian Vermentino, is the popular white for the region, as well as light reds made from Grenache and Syrah. Wine has been made in Provence for 26 centuries. The Greeks initially brought grapevines with them when they settled Marseille. When the Romans settled the region in 2 A.D. they developed the wine industry, including the process of making Rosé. And now, thanks to the resurgence of interest in dry Rosé wines, made with just a hint of color, wines of Provence have thrived.
The terroir is ideal for vines. Nutrient poor, well draining limestone and gravel soils are perfect for growing grapes. Warm temperatures are kept in check by cooling breezes off the Mediterranean to the south and the Mistral winds blowing in from the Rhone, through the mountains. Combined, these keep vines dry and free of disease in somewhat humid conditions, especially mid-summer. Made from varieties of the region like Cinsault, Grenache, Mourvedre and Syrah, dry Provencal Rosé is a pink wine that is fresh, approachable and very classy.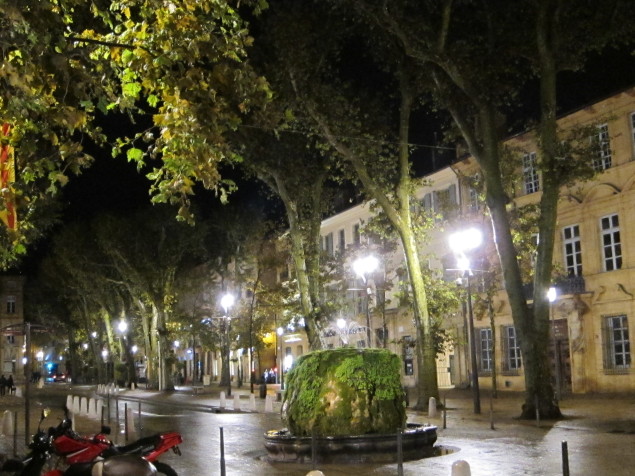 The region itself is divided into three main Appellation d'Origine Contrôlée (AOC), AOC Coteaux d'Aix-en-Provence, AOC Coteaux Varois en Provence and AOC Côtes de Provence, with the later further divided into sub-regions based on their various soil compositions and proximity to the mountains or the sea, including Côtes de Provence Sainte-Victoire, Côtes de Provence La Londe, Côtes de Provence Fréjus and Côtes de Provence Pierrefeu. Each location, based on their terroir (slopes, soils, elevation, etc.) will shift the amount of a particular variety used in the wine.
For instance, vineyards in AOC Coteaux d'Aix-en-Provence perhaps using more Syrah and no Mourvedre, or vineyards in Côtes de Provence Sainte-Victoire using a minimum of 70% of Grenache, Syrah and Cinsault in their blend, but the basic Rhone varieties are the star of the wines, each vinified separately after harvest then blended, or made into the assemblage, after fermentation. Over a dozen different varieties can be used in the blend, with the blend always being a requirement to be an AOC wine of Provence.
As with many things in France, the food is always an complimenting the wine, and vice versa. However, unlike other parts of France, where the sauce is king, Provence celebrates freshness with lots of seafood and fresh vegetables grown grown near the Sea, swimming in grassy, spicy olive oil from abundant olive groves and enhanced with fresh and dried thyme, sage, rosemary, basil, lavender, savory, fennel seed, marjoram, tarragon, oregano, and bay leaf, better known as Herbs de Provence. This is the Mediterranean diet at its finest. Yes, you still have amazing sauces, like a garlicky aioli, tapenade, pistou and rouille, garnishing stews and soups, like their beloved bouillabaisse (fish stew with tomatoes, saffron and a variety of seafood), hearty daubs, or meat and game stews, and aromatic ratatoullie made with fresh regional vegetables like eggplant, tomatoes, garlic, peppers, squash and lots of olive oil.
To pair, enjoy a few favorite Rosé wines.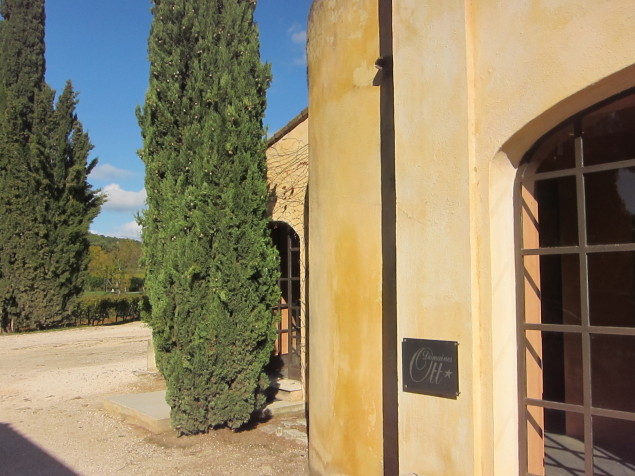 Domaine Ott, one of the most prestigious wineries of the region producing high quality Rose from three different vineyards was founded over 100 years ago, in the late 1800's by Marcel Ott who was determined to make post-phyloxera vineyards appealing, worthy of the incredible history the region held. Their estate vineyards are sustainably farmed in 3 distinct areas, two in Cotes de Provence and one in Bandol, each distinct and each representing the terroir surrounding those vineyards and each of the highest quality. Beautiful, delicate and incredibly elegant.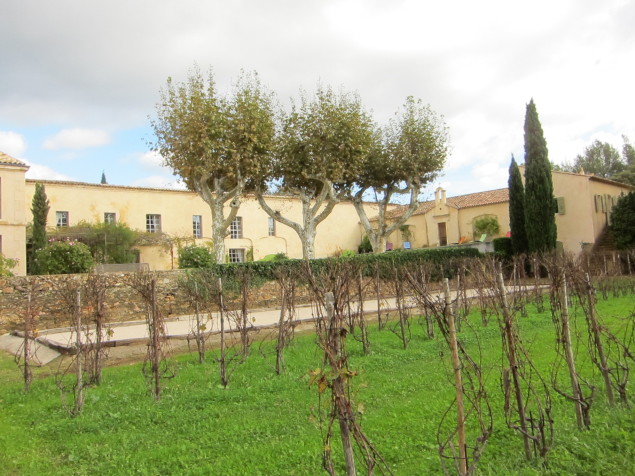 Domaine Ott Chateau de Selle blends low yielding Grenache with Cinsault, Syrah and a touch of Cabernet Sauvignon, grown in limestone and clay soils on a sunshine filled hillside in Cotes du Provence for a tangerine, juicy peach and toasted vanilla filled Rose with richness, weight and character. The Domaine Ott Château Romassan from the Bandol AOC blends spicy Mourvèdre with Cinsault and Grenache from nutrient poor limestone and sand filled soils, creating a wine filled with more berry, spice and citrus flavors with floral and herbal aromas.
Their Domaine Ott Les Domaniers Rosé 2013 is from the negotiant or buyer/seller portion of the company, sourcing some of the highest quality, old vines in Provence to produce a non-estate Rose meeting the same quality standards of all of their wines. The wines retail from around $20 for the Les Domanier, to $50 for the estate grown, single vineyard wines and are available at select Goody-Goody stores and Dallas Fine Wines.
Winemaker Charles Bieler started his Bieler Pere et Fils as an homage to his father, Philippe, and named his luscious Rosé after his daughter Sabine. Known for producing top quality wines, Beiler Sabine Rosé is made from a blend of Syrah (55%) blended with 25% Cabernet Sauvignon and 20% Grenache from 5 hillside vineyards in the region. Deeply colored, not like what has become the standard in the region, this Rosé leaps from the glass with ripe red fruit aromas, melding with spice and tannin from the fruit, without overpowering making a wine with approachable freshness. $13 at Off the Vine in Grapevine.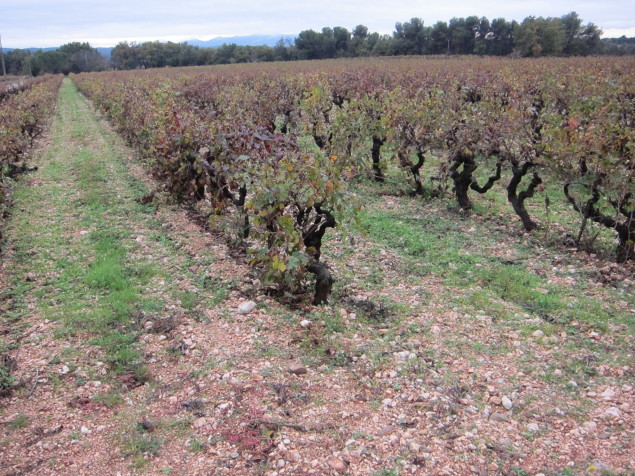 In Côtes de Provence Sainte-Victoire the Négrel family settled their estate, Mas de Cadenet in 1813. Mas, meaning domaine in the local provencal dialect, and Cadenet comes from "cade", a shrub from the juniper family. Their estate includes vineyards classified as both AOC Sainte Victoire and AOC Côtes de Provence. The Sainte Victoire upper-appellation produces ultra premium wines showcasing their terroir unlike any other in Provence, creating lively wines with personality. Run today Guy Négrel with his children Maud & Matthieu, his focus is on maintaining the quality and character of his family wines, while also embracing new techniques and innovations. Sustainably certified farming, with influence both from the warm winds of the Mediterranean, as well as cool winds coming in from the Alps, creating multiple microclimates for their vines grown in rocky limestone soils. The resulting wines are fresh and crisp with higher levels of acidity than in some other regions, but very balanced, structured and with aging potential. Though the thought is that most rosé is consumed within the year it is made, Guy Négrel was the first to vinify and age his rosé in barrel, maintaining freshness while adding texture and depth to the wine.
Their Mas Négrel Cadenet Rosé AOC Sainte Victoire is made in this style. Made from the oldest vines on the estate, with very low yeild this special wine, holding their family name, goes through alcoholic and malolactic fermentation in the barrel, and is then aged on the lees for a period of time to create a creamy, vanilla and caramel scented wine with layers of ripe and dried fruits. Their very dry Mas de Cadenet Rosé AOC Sainte Victoire is made more in the traditional method, vinifying in tank with just a bit of bottle aging to reveal a fruit filled palate that is very dry and crisp, balancing juicy red fruits with structure and a lively palate. The wines were previously imported into Texas and hopefully will be again soon, so keep an eye out as these are wines you will want to taste and enjoy.
Located near lavish St. Tropez, Château Les Garcinières dates back to 1748 when the winery was established by Cistercian monks, as many wineries and vineyards were throughout Europe, but owned since 1898 by the Valentin family. Made of 50% Grenache, 40% Cinsaut and 10% Rolle the juicy wine is filled with wild strawberries, ripe cherry, tangerine and melon, perfect for sipping poolside or pairing with grilled fish or seafood. $15 at Spec's.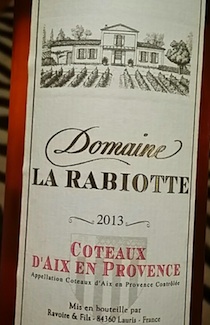 Ravoire et Fils Domaine la Rabiotte in Coteaux d'Aix-en-Provence is like sunshine in a glass, lifting spirits even on rainy days. The family run winery, just outside of Aix-en-Provence thrives on the passion for making quality wine with character from both the Rhone and Provence. Their Rosé is light and fresh, yet with good acidity and texture, making this vibrant wine one to enjoy with food, enhancing the juicy berry and zippy citrus notes of the wine. $13, available at Total Wine and More.
Relationships and smart business can often go hand in hand in France, as evident when the owners of Domaine Dujac and Domaine de la Romanée-Conti joined together to found their Provence estate in the 1980's. Domaine de Triennes is located northeast of Marseille, with the entire estate on a south-facing slope. The limestone rich soils are well draining and low in nutrients, making them excellent for viticulture. Their Domaine de Triennes Rosé 2013 showcases this with crisp acidity, freshness, lively vibrancy and balance making their red berry and cherry filled Rosé a perfect summertime treat. $18 at Spec's

The stunning Chateau de Berne, which also houses guest quarters and a restaurant, makes several different rose, red and whites wines from their vineyards in Lorgues, France, about 50 minutes from the Mediterranean Sea. One of the most present wines in Dallas (on several wine lists and sold at various retail locations) is their Impatience Rosé is fresh, filled with wild flowers, fresh herbs, raspberry & strawberry. Very dry with crushed stone minerality, raspberry, wild strawberry and orange, a touch of brininess and great acidity. A beautiful representation of Rosé. $20 at Central Market and PK's.
Commanderie de Peyrassol, now known simply as Chateau Peyrassol, was founded in the 13th Century by the Knights of Templar who were dedicated to protecting the Crusaders en route to, and in, the Holy Land. With the first recorded harvest taking place in 1256, and continuing on through the years, as the Knights of Malta became the owners in 1311 and maintained the vineyards until the French Revolution when the state took it over. Through changes, unrest, and upheaval, the location has always produced wine, always including the dry Rosé of Provence. Purchased in 1870 by the Rigord family, but always just as vineyard owners. In 1977 the family decided to bottle and market the wines of the estate with the first bottled vintage for sale to the public in 1981. Today the property is owned by Philippe Austruy, who purchased the property in 2001 and has spent much of the past 15 years updating the property, modernizing the cellars and expanding, with his nephew, Alban Cacaret, responsible for the day to day operations of the domaine. Located in the hills of the "arriére pays", or back country, of the Var, north of St. Tropez and Hyères, the massive estate controls over 2500 acres of land, of which almost 200 acres  are planted to rocky clay and limestone filled vineyards. Chateau Peyrassol Cotes du Provence Rosé was first created over 30 years ago, and still today is made from some of the oldest, low yielding vines on the estate, creating a very concentrated, delicate and fresh Rosé with length and character. $33 at Pogo's.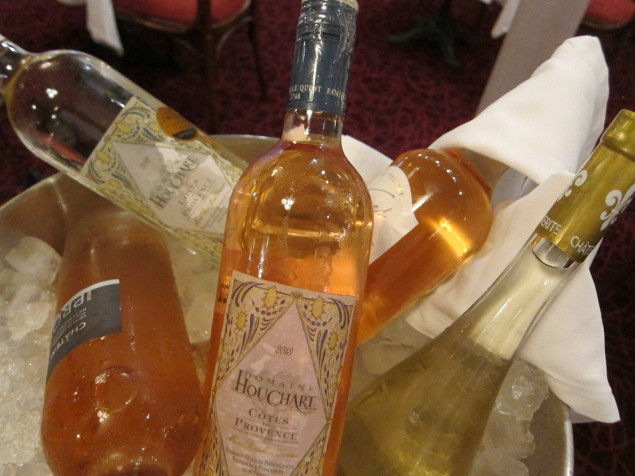 From Nice to the Camargue, there are almost 430 winemakers and cooperative wineries. Throughout the summertime they open their doors to visitors, tasting them through their wines and celebrating the beauty of Provence. With the Euro trading so close to the dollar, now is the ideal time to visit Provence. While tasting, you'll need a place to stay, and quaint Chateau with lodging and private guest houses dot the landscape, as well as boutique hotels in the cities. One chateau in particular that just went through a remodel is the beautiful Domaine des Peyre in Luberon. Though a touch outside the hustle of seaside life on the Mediterranean, this serene estate will welcome you with open arms, inviting you to stroll through their oak, olive, almond and cherry trees on their 32 hectare (about 80 acres) estate, of which 20 hectares (about 50 acres) are planted to vines. A beautiful vacation spot with five suites in the heart of the wine estate. Relax poolside with a glass of their AOP Ventoux Rose or AOP Luberon red, in the midst of their vineyards in-between excursions to visit nearby estates throughout Provence.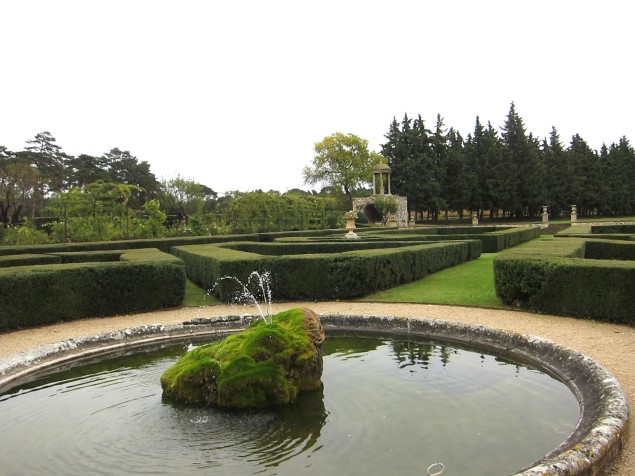 Château Beaulieu is nestled in the crater of the "Trévaresse," the only volcano in Provence to have thrived for over 2000 years in the Coteaux d'Aix-en-Provence appellation. Their estate was once the home to generations of Provence nobility, established as a fiefdom by Henri III in 1576. With picturesque gardens, a beckoning pool, exquisite meals and, of course, red, white and rose wines from their estate grown vineyards, highlighting the terroir and influenced by their volcanic soils, you will have a hard time leaving to venture to other estates nearby. Their luxury guest rooms are available from March-November with contact information on their website.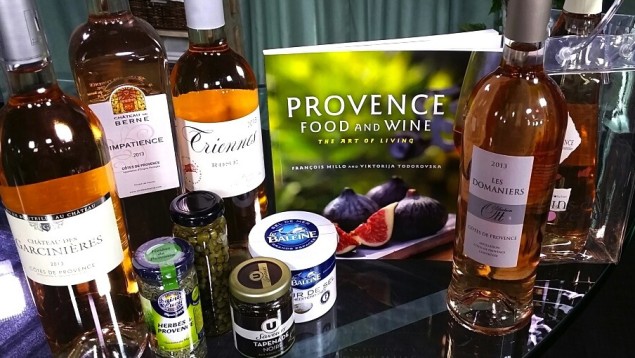 Can't get away, but want to enjoy some of the cuisine of Provence and the classic Mediterranean diet. Pick up a copy of Provence Food and Wine: The Art of Living, co-authored by Francious Milo with Viktorija Todorovska and filled with stories, recipes and recommendations for how to embrace the Provence way of life everyday. Available here.
Get the SideDish Newsletter
Dallas' hottest dining news, recipes, and reviews served up fresh to your inbox each week.